Google is arguably the largest search engine on the internet. Getting your website to show up on Google is an important step toward driving organic traffic. However, for most beginners, it begs the question. Why is my website not showing up in Google search?
Although search engine traffic is not the only means of gaining visitors. But it is one of the most targeted methods and it's absolutely free.
By not taking advantage of Google search traffics, you are potentially losing out on revenue which can be a huge deal for your online business.
Important Information: Learn how to dominate the Google search results page.
In this short article, I am going to go over why your website is not showing up in Google search. Without further ado, let's get started!
Potential Reasons Why Your Website is NOT showing up on Google
Reason #1 You Are Not Indexed By Search Engines
This happens to everyone who starts a brand new website. There are no exceptions to this, but we all start from zero, right? As a new website, you need to focus on creating valuable content.
The search engines will eventually make it to your website because they do want to add you to their index. It's how they expand and provide relevant information to their visitors.
If your website is not yet ready, they will delay that until you are because they want high quality and relevant websites for their own traffic.
People are not very forgiving when it comes to web-browsing and if your website is not relevant or offer the information that they seek. The chances of them coming back to your website in the future are near ZERO.
Little Tip To Check If You are Indexed
Let's say your website is smartaffiliatehub.com. You can go to Google and search for site:smartaffiliatehub.com
If you see your website listed than congratulations! You are indexed. However, if your website is too new, you might NOT find any results.
That's okay, just keep focusing on building your website and writing quality content.
Eventually, Google will send their spiders known as crawlers to your website to check for relevance and index it!
You can also expedite this process by adding your website to the Google Search Console.
What you need is a Google Plus account and register for: Google Search Console. By doing so, you will also find information regarding where your traffic is coming from.
Google Search Console also gives you information as to which URL of yours have been indexed by Google.
The next step is to access your website administrator panel and install a plug-in. What you want to do is type in "Google XML Sitemaps" and pick the one created by Arne Bachold. Once you find this plug-in, simply install and activate it!
Once you are done, you want to find this plug-in, locate, and click settings. You should see a page called XML sitemaps, click it. Select the option to create a new sitemap. It will now generate a link for you to copy and save.
You are almost done, now you have to go back to webmaster tools, click on your website and select Sitemaps. This will take you to a page where you can now submit your sitemap.
That is it! Now all of your pages and posts including future ones will get indexed by Google.
Reason #2 You Are Not Using The Right Keywords
This is a common mistake made by beginners to affiliate marketing or blogging. In the beginning, I had no idea why it's so important to properly use keywords.
Basically, if you use keywords properly, your website can be found in the search engines when a viewer is searching for the exact key phrase.
For example: Let's say your keyword is how to be better than Eric.
If you are ranked for that keyword, the viewer should be able to type How to be better than Eric and find your website.
I also recommend checking out my recommended keyword research tool to help you find low competition keywords that you can use to rank for. You can find the article in regards to my recommended keyword research tool by Clicking Here.
Reason #3 Your Website Has Very Few Contents
This is probably the most important one because, without content, you have nothing for search engines to rank or index. What you want to do is start writing quality content utilizing the Keyword Research Tool to help find low competition keywords.
Your pages and content are very important to Search Engines and if you have little to none, you simply won't get indexed.
If you can write frequent high-quality content and utilizing low competition keywords, you should be able to find your website pages on Google or other search engines very soon.
Reason #4 Your Pages Are Ranked Low
This can happen when you are targeting keywords that are highly competitive. I highly recommend reflecting back on reason #2 and utilize the Jaaxy keyword Research Tool.
Blogging or affiliate marketing is very competitive, so many people are already ranking for high traffic keywords. What you want to include in your content are long-tail keywords, so you can at least stand a chance as a brand new website on search engines.
It's like a large pond with many fishes. The competition is fierce because you now have to compete with one another, but if you can find a small pond without fishes there, you can actually survive with ease!
Reason #5 Using Black Hat Tools
This is frowned upon by search engines and will negatively impact your rankings! However, if you are new to affiliate marketing or blogging, you most likely have not tried this. It is still very important to educate yourself, so you wouldn't do it in the future.
Buying Backlinks – Did you know you can actually buy backlinks? Google has changed its algorithm and can detect if you are using backlinks that are not legitimate. Eventually, you will lose trust in Google and cause your website to fail.
Blog Spinners – These are programs that help generate content for your website with almost no effort. This sounds like a great idea for those who want to generate a lot of articles in a short period of time.
The consequences though are far more severe than what you are hoping to gain. Contents that rank high are unique and engaging with your viewers and no machinery will be able to replicate that. You are better off writing a 200-word unique article than using Blog Spinners.
Overusing Keywords – You don't want to spam your articles with a TON of keywords because they will see it as spam and can also reflect on the quality of your content. What are you trying to deliver?
Content that is full of keywords or a page with helpful content? Remember, write for your audience.
Thanks For Reading
Hopefully, you have learned a lot from this article today if you are new. It might even help those who are months into their website. Online success can rarely be achieved overnight and requires a lot of support and dedication.
The platform I used as a beginner is known as Wealthy Affiliate. Their platform provided me with the knowledge and tools to start Smart Affiliate Hub. If you are interested in learning from them as well. You can click on the banner below to check out my full Wealthy Affiliate Review.
Also, if you have any questions, please leave a comment below and I will be more than happy to help you out!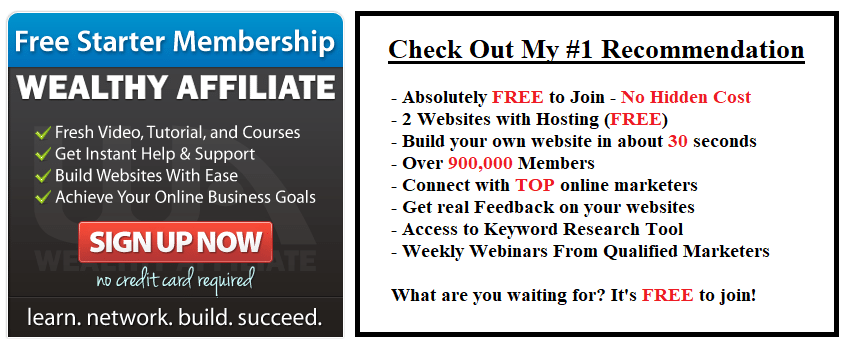 Kind Regards,