Adding affiliate links to your website is one of many ways to make money through affiliate marketing. For text-based content creators, WordPress is a great platform to get started.
In this article, I am going to show you how to add affiliate links to your website, so you can start monetizing and making money as soon as possible.
Remember: Your website should mostly be filled with content. Anything else such as banners, advertisements, etc should be kept to a minimal. You don't want your website to appear spammy.
First, let's take a look at your WordPress website! Regardless of your theme, it should look very similar to this:
As you can see from the above image, you will notice that I've highlighted 4 locations where you can apply your affiliate links. It's almost like a work of art.
Imagine if you spam your entire page with affiliate banners and links, it would look like an eyesore.
How To Add Affiliate Links To Your Website
Now let's get on with how to apply affiliate links to these 4 locations, starting with #1 Side Widget.
Box #1: Adding Affiliate Links To Your Sidebar
Refer back to the image above, the sidebar is a popular place for affiliate marketers to advertise their affiliate programs as well as Google AdSense.
To get started, you will need to access your Admin Dashboard > Locate Appearance > Click Widgets:
Now that you have located widgets, the next step is to locate your main sidebar. 
If you look on the left side of the page, you will see "Available Widgets". I want you to click and drag "Custom HTML" to the main sidebar.
Click it, and locate your affiliate banner link, copy and paste it there(:
Don't forget to save your work  once you're done.
Box #2: Adding Affiliate Links To Your Comments
On your WordPress website, you can edit your comments and include affiliate links to direct your visitors.
I don't do this very often because I mainly use this method to provide internal links to other articles to offer my visitors more information when they ask a question.
In rare cases, I will provide an affiliate link if the visitor requests a link to an affiliate product.
Box #3: Adding Affiliate Links By Inserting Them Into Images
Before you can insert your affiliate links to your images, you will first need to know how to upload images. Check out the image below:
Congratulations, you just learned how to add an image to your content! Now it's time for you to insert affiliate links into your selected photos.
As you can see from my photo, I aligned my photo to the left to help it blend in with my article. Once you click "Edit" a box will pop up allowing you to insert your affiliate links: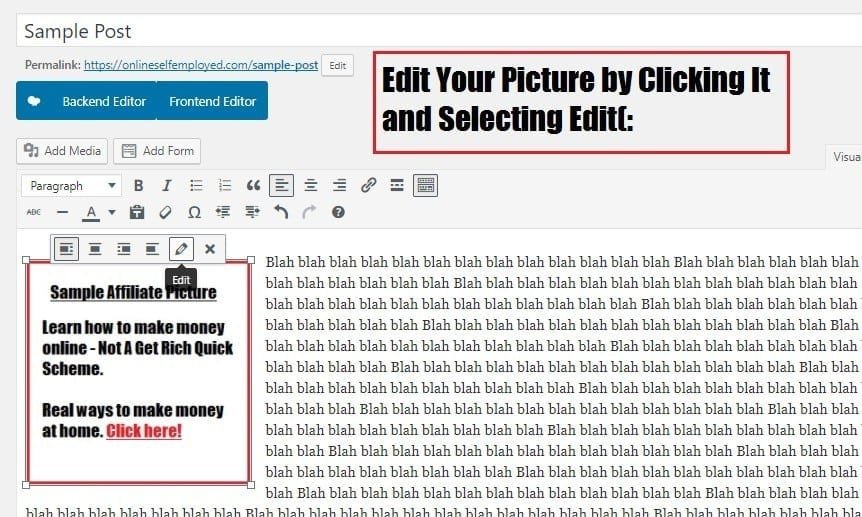 As you can see from the images above, you can change the image sizes and align your photos. I use this option fairly often to ensure that the photo blends in with my article.
You don't want your image too big because it makes the text appear to be much smaller.
Once you've inserted the link to the selected image, your visitors will direct to your link location by clicking on your image.
What I like to do is select images that are used for CTA (Call to action).
Basically, it's an image that lets your visitors know to click on them.
Note: You don't always have to link your visitors to your affiliates. You can use this same method to redirect them to another page of yours like a review article or informational content. (This is a great way to build credibility and trust).
Box #4: Adding Affiliate Links By Inserting Them Into Your Text
Similar to adding links to your images, you can also add links to your text. What you want to do is locate the text where you want to insert your affiliate links.
Once you've located the text you want to use, the next step is highlighting it. Once you've highlighted the text, you want to locate #2 on the image below (click it).
Noticed the box that popped up after clicking the add link icon? There are quite a few options here for you to choose from. Don't be overwhelmed because it's very simple!
First, you copy and paste your affiliate program URL into the URL box.
Next, you can select if you want whoever that clicks your text link to open a new tab or window. I usually check this box, so my visitors can easily refer back to the page they were on.
Once you're done, just click "Update".
Thanks For Reading!
Hopefully, this guide was easy to follow! Now you're ready to venture into the market and become an effective affiliate marketer.
If you are interested in becoming an affiliate marketer (for those who are new), you can get started today by joining Wealthy Affiliate and building your first TWO websites for free with training, tools, and more.
Or you can also check out my free course on how to start a blog for affiliate marketing today. Whichever path you decide to choose, your success is totally dependent on you. If you take action, you're giving yourself a chance for success.
If you have any other questions, please don't hesitate to leave a comment down below and I will try my best to help you out.