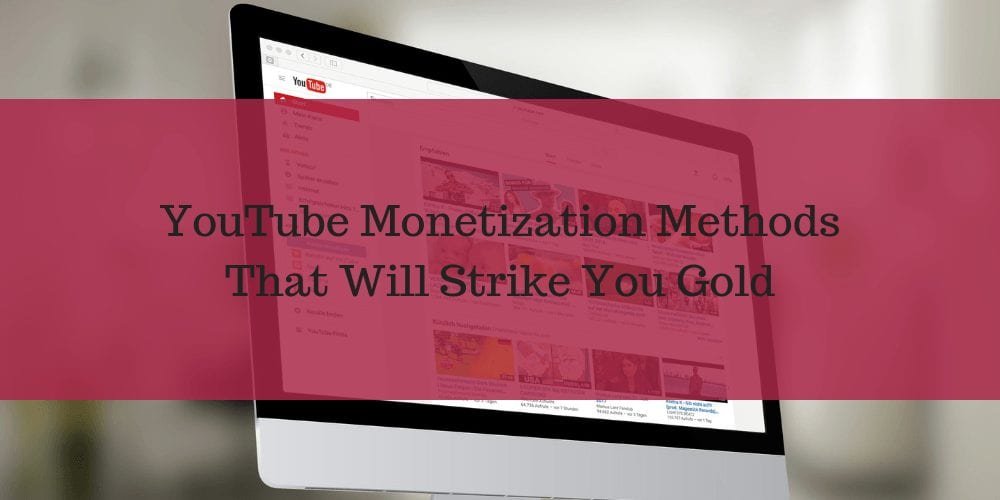 When it comes to monetizing on YouTube, most people think about Google Ads. Unfortunately, YouTube announced a significant change to their partner program in 2018 which demonetized many YouTubers.
As a result, those who relied on Google Ads to make money can no longer make money until they meet their new requirements. This is just another good example of why you should never place all of your eggs in one basket and why you should have multiple income streams.
Fortunately, there are other means to make money on YouTube besides Google AdSense (most common). Here are a few methods that you can utilize and make money on YouTube even if you don't have 100s of thousands of subscribers (although it does help immensely to have a big follower base).
Channel Your Traffic Back To Your Blog
If you run a blog, you can channel your traffic back to your blog. For example, let's say you run a fitness blog. Simply upload videos of a few basic training courses on your YouTube channel. And if your viewers find it beneficial, they subscribe to your blog's newsletter for a free personal advanced training course (Just an idea).
There you can monetize your email list without the fear of losing your YouTube account. After all, YouTube can suspend, remove, or ban you from uploading videos, so there's always that risk. Whereas if you run a blog, nobody can take it away from you.
Join Amazon Associates
Do you remember the last time you were on YouTube looking at product reviews? Trust me, you're not the only one. With the help of the internet, your typical shopper will spend most of their time doing research online rather than being at the physical store.
With Amazon being the top-dog in the eCommerce industry. By signing up for the Amazons affiliate program, you can include affiliate links to various products in your video description.
For example, the video and audio equipment you are using should always be included in your video description. This is just in case someone who is interested in starting a YouTube Channel and of course, the product(s) that you are reviewing.
Sell Yourself, Sell The House, And Sell Your Products And Services
Whether you're operating a consulting business or a simple eCommerce business. Why not leverage your YouTube channel to build and promote it to scale it further?
Video marketing has been around for ages! Just look at the television commercials. They are all leveraging video and audio media to get their message across. Whether it is to showcase an upcoming product launch or to promote existing products and services.
Get Sponsorships
You don't need millions of followers for brands to work with you. In fact, if you have a small, but concentrated viewership, you can still reach out to potential sponsors. After all, these sponsors are looking for results.
Let's say you have 10,000 followers, but they are all concentrated and highly relevant to your niche. The sponsor will get more for their money compared to someone who has 100,000 followers, but their followers are all over the place.
Leverage And Collaborate
We all start off as small potatoes. So it can be very intimidating at first to ask someone who is known as an influencer. But what's the worst that can happen? A simple no?
That's why you should always include in your message what you can do for them to improve their viewer's experience. That way, it doesn't seem like you are just trying to benefit from their viewers.
It's a simple, yet effective model that I follow. Before asking someone to do something for you. First, ask yourself, what can you do for them? Once you've established, ask away and again, the worst thing that can happen is getting rejected.
And that concludes this super short article. I am a bit under the weather, so my responses will be a bit slower. However, still ask away any questions you may have and I will try my best to help you out!
Kind Regards,