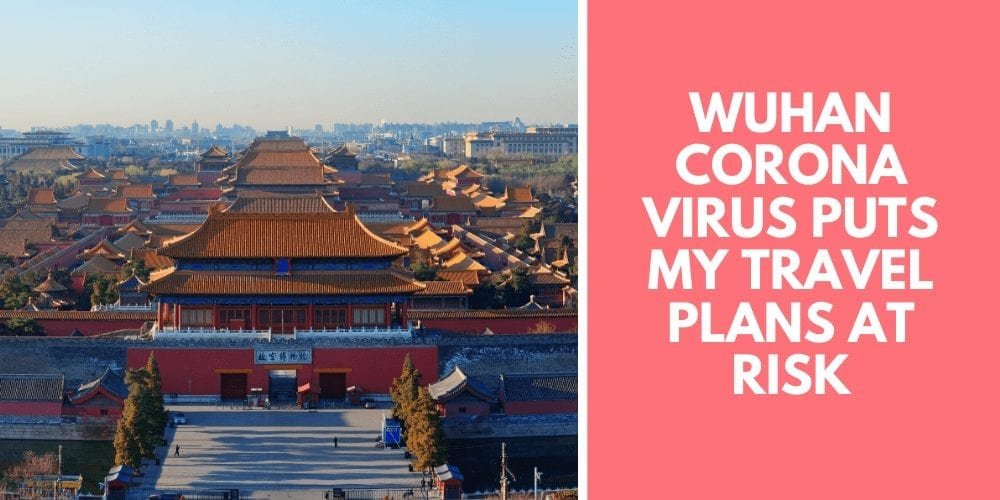 The Wuhan Coronavirus is being talked about all over the world right now. And in 13 days, I have a scheduled flight to Beijing to meet up with my girlfriend in Hebei.
We planned to travel to Vietnam and Thailand during my stay.
Unexpectedly, a coronavirus from Wuhan China strikes us without warning and now my travel plans are at risk.
I'm not the news, so I won't be constantly updating on what is going on with the Wuhan Coronavirus. I'm just sharing my thoughts on this matter since I mentioned many months ago that I will be traveling back to Beijing in February of 2020.

– Eric Chen
With everything booked; hotels, tours, and plane tickets. I am reluctant to cancel this trip. Call me reckless, but this is a trip that means a lot to me.
And it's not about the money that bothers me. My girlfriend and I have been talking about this trip for well over half a year now.
It's the fact that I am emotionally ready for this trip and it might come to a halt if things get out of control.
With the constant rise in fatalities (currently 41 people), it's hard not to think twice especially with my (not so great immune system).
In my defence, it has gotten better over the years with better eating habits and daily exercises.
Ben from One Mile At A Time (travel blogger), is cancelling his flights through China and is also considering cancellation of his entire Asia trip.
But for myself, I have a direct flight to Beijing, China. It's not that close to Wuhan China, but it is the capital.
Therefore, I don't doubt that many Wuhan residents travelled to Beijing to celebrate for Lunar New Year through air or land before the Coronavirus made the news.
In my opinion, China is handling this matter rather well…
Closing off entry to and from the origin of the coronavirus will help prevent more sick people from infecting others.
However, the damage has already been done. More and more reported cases from not only China but other countries of the world.
With so much media coverage on this matter, I hope that most people who have recently travelled from Wuhan to isolate yourself from your family, and the public for the recommended 14 days.
According to the New York Times, "People without symptoms could be spreading the virus, researchers say."
May God be with you all. I am going to wait it out and make a decision some time in the beginning of February on my travel plans.
I selfishly hope that everything gets better, so I don't have to cancel my trip. But I also sincerely hope that everything gets better, so fewer deaths occur.