Why Your Business Needs Repeat Business. As consumers, we have many options to choose from. Let's say you're craving for a quick burger with some french fries. There's probably a McDonald's down the block or a Burger Kings if you prefer that instead.
Here's another example, let's say you're in the area searching for a gas station. There's usually multiple gas stations in one area, therefore you have options to choose from based on your perception of the company or simply the cost per gallon.
As a result, many businesses are competing for our business. For that reason, I've decided to directly compare it to the online business space.
What you'll find rather difficult is to acquire and generate that first sale from your visitors. Most people just won't trust you enough to buy from you.
Again, they have options as well and a much easier way to search for alternatives.
Instead of physically being at your competitor's location. They can simply search the internet for an alternative.
It all comes down to building trust. People buy solutions to their problem. For example, why do people buy cars? To get around of course.
Why do people buy clothes? To keep warm. Why do people buy cellphones? To be able to communicate with each other from different locations.
You can say all you want, but people just aren't going to trust you at first. People are afraid to spend their hard earned money only to find out that your product sucks.
A good example is why people spend thousands of dollars per year on Apple Products? It's because they trust their product.
And the reason Apple is such a huge success is due to the fact that they have a ton of repeat customers.
They also have a ton of information such as name, address, and most importantly credit card information.
So not only do they have a huge list of customers, but people who are also ready to buy.
Once someone is comfortable enough to buy from you once, they're likely to buy from you again if your product meets or exceeds their expectation.
The Relationship With Your Clients
Through perseverance, you'll one day see light in your path to success. Not every client is equal, some may only want to try your product once and never return for more.
While others may want to do repeat business with you because your products or services are just that damn good.
By far, you'll see most of your success will come from having repeat business. People who are comfortable with your ability and the pricing that you offer.
Clients will come and go, that's inevitable. But that doesn't mean you should sit around and hope that people will stick around.
There's a simple action that you can take right now to remind people of your existence as well as build your relationship.
Start Email Marketing
The email is in the list, you're going to hear me say this over and over again. By collecting your customer's information such as a name and an email, you'll have a method of contact.
Do you want to build an email list? Click here to learn how to build your email list today with AWeber.
You can't control what your customers do after they leave your website.
In fact, most people will not remember who you or your business is once they exit your website.
So before someone leaves, you can use email marketing strategies to capture their information, so you can begin nurturing your leads and turning them into customers.
Use Email Marketing To Follow Up
The power of email marketing is the ability to follow up with your visitors even after they've left your website.
Once someone subscribes to your newsletter, they are showing obvious interest in you and your business.
Now you just have to follow up and try to acquire more sales through relationship building.
What I realized is that most people don't buy after seeing a product or service once. That's why Google Ads have retargeting abilities.
Unlike Google Ads or other Ad agencies, you don't have to spend additional money to reach out to an already subscribed client.
Repeat Business Cost Less And Makes You More Money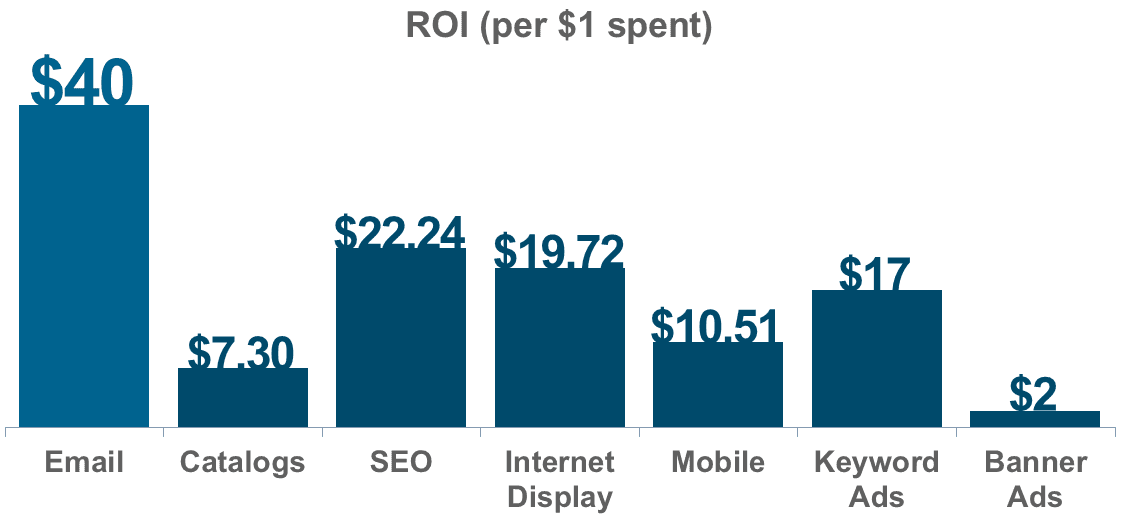 It sounds crazy at first, but repeat business will cost you less money and make you more money in the long run.
The reason why is because repeat business is customers who have previously purchased from you and trust you enough to buy from you again without the need to re-market to them.
In Conclusion
With that being said, email marketing is one of the best ways to get repeat business. It does cost money to manage, but it will make your life a whole lot easier.
Personally, I use AWeber as my email marketing service provider. There I'm able to create campaigns that get automatically dispatched to my subscribers.
It's almost designed to walk my subscribers down a path to help them accomplish the reason why they signed up for my newsletter in the first place.
Like I said from the beginning of this article, you have options. You don't have to sign up with AWeber if you don't want to.
Other than that, I wish you great success. Please leave a comment down below if you have any questions and I will try my best to help you out.
Cheers,