Welcome to another daily blog from your Host Eric! I am very excited to type this article! I don't even know why I'm so excited, so don't ask me why(: I received the following question from a good friend a couple of days ago.
Is it a good time to start an online business in 2018? The answer is, absolutely! As a matter of fact, the sooner you start the better, so let me explain why you should stop hesitating and start your journey to great success online NOW.
Why you should start your very own online business in 2018?
Reason #1 Build Domain Authority: The domain is your website's name! For example, smartaffiliatehub.com is my domain. The longer your domain has been around, the greater your authority and will result in better ranking in search engines. Domain authority is based on 3 factors: Age, Size, and Popularity.
Reason #2 Niche Competition: The longer you wait, the more fierce the competition becomes! Honestly, If I thought about starting an online business years ago, I would probably outrank Google.com by now. Just kidding >.<
Reason #3 Job Security: As we progress in technology, many of us are afraid of being replaced by this so-called technology in the future. Artificial Intelligence is under development, so it's time for us to realize the time is coming.
Most jobs will be replaced by artificial intelligence because they will be able to handle most jobs without taking breaks, eating, sleeping, and costing companies regular wages. Check out the CNBC article on robots will replace half of the jobs.
Reason #4 Working With A Passion: Many people work not because they love their regular 9 to 5 jobs. It's because money is the biggest factor to wake up early in the morning to grind for the money.
You are not working because you like what you're doing because you're working to accomplish someone else's objective.
An online business will allow you to embrace what you are passionate about. If you aren't satisfied with your current job, why not take a chance at building your own success instead of building on someone else's success? Nobody pays you, better than you pay yourself.
Reason #4 Expand Your Local Business: If you are currently running a local business, why not expand your clientele by expanding it to the internet? Local business can only cater to certain people base on geographic location. While internet business can cater to people around the world. Click here to build your online business with a step by step tutorial.
Reason #5 Reducing Child Care Expenses: If you are a mother, childcare can be very expensive. However, that is not even the main point! You also miss out on valuable time that you would've used to spend with your children to develop a stronger relationship. You can spend time with your children, not having to spend money on child care, and earn money online! That is a win, win, and win situation(:
Reason #5 Freedom: Many people spend more time at their job than at home with their loved ones. Considering how short life actually is, why wouldn't anyone want to earn money while having the flexibility to spend time with loved ones?
An online business will allow you to work at home or anywhere that has access to the internet. Do you want to complete your to-do list such as traveling? Well, with an online business, you can travel and earn money at the same time.
Reason #6 Supplement Your Income: Are you currently working a full-time job? I don't recommend quitting your full-time job right now to pursue an online business because you're not going to make money right away.
I don't want you to come back and tell me how much you are struggling now because you quit your regular job and started an online business.
Online business is like any other business, it takes time! You can develop your online business now to create a supplemental income to your current job and eventually a full-time income.
Reason #7 Start-Up Cost Is Low: Unlike a regular business like a local store, restaurant, etc. Online business is very inexpensive to start! As a matter of fact, I have a FREE method that will provide you with the website, hosting, resources, tools, and much more! Keep reading until the end to find out(:
Reason #8 Internet Users On The Rise: There are currently about 3.8 billion users on the internet and it's increasing annually! That means you will never run out of people to cater to your business to.
Types of Online Business Ideas
Blogging: This is the most popular method used by most people including top corporations. Blogging allows you to build credibility and trust with your visitors. Blogs are used to provide helpful information that targets a specific audience on the internet. This is very easy if you have the knowledge or a passion for your niche subject. Do you want to make money while sharing your knowledge with your visitors?
Google AdSense is the dream opportunity for bloggers because if your blog brings in huge traffic, you can potentially earn lots of money. Also, top corporations will want you to advertise their company because they want your traffic(:
Affiliate marketing: This one directly correlates to blogging, however, it not only focuses on Google AdSense for passive income, but you can also promote certain retailers that are relevant to your niche. When a visitor makes a purchase using your affiliate link or banner, you earn a commission. Check out my affiliate marketing 101 guide.
Freelance Content Writer: If you have talent in writing, you can earn money by writing for other websites. You can bid for a writing job on popular websites such as guru.com and freelancer.com. However, if you are very talented, why not create your own blog and earn money on your own? Do you remember I mentioned nobody pays you, better than you paying yourself earlier?
Sell E-Books: If you love writing, why not publish your own books? One of the best ways to make money by selling e-books is writing books that teach someone something. Let's say you are very good at a video game, you can write guides that can improve someone's gameplay.
Start an E-commerce Store: Instead of selling only at your local store which caters to people who are near you. You can bring your merchandise online to improve your sales numbers drastically. Just make sure you account for the cost of shipping haha!
Dropshipping: If you don't have the products, you can still create an online store that sells real products. You can create a store with services like Shopify. You simply create a website using their template, list items and start advertising the website through social media or paid advertisements. You can earn a commission when someone makes a purchase on your Shopify website.
Graphic Designer: If you are talented in graphics, you are always in demand especially if you are GOOD. Websites are always requesting high-quality banners to attract visitors and they will pay top dollars for talents like you.
Become a YouTuber: Do you like to share videos with the world? Are you creative and good at video editing? If you are, you might become the next BIG YouTube star! YouTube has over 1.5 billion logged in users watching videos per month, so what are you waiting for? Show the world why you are the next big star!
My #1 Recommendation
If you are interested in becoming a blogger and running your own online affiliate marketing business to generate money like me. I have a platform that you can join for FREE.
There are many scammers who create websites that provide you with lucrative photos of what you can potentially have if you buy their system. Those are absolutely crap and the only thing you're doing is making them richer and yourself poorer.
You can become an affiliate marketer today with ZERO experience and knowledge. Why don't you check out my review on a well-known platform known as Wealthy Affiliate? You can do so by clicking on the last picture below. If you have any questions, please leave a comment below(: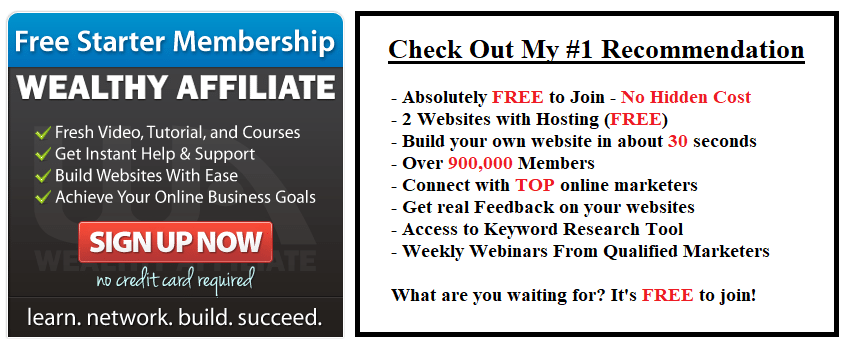 Be your own boss today,