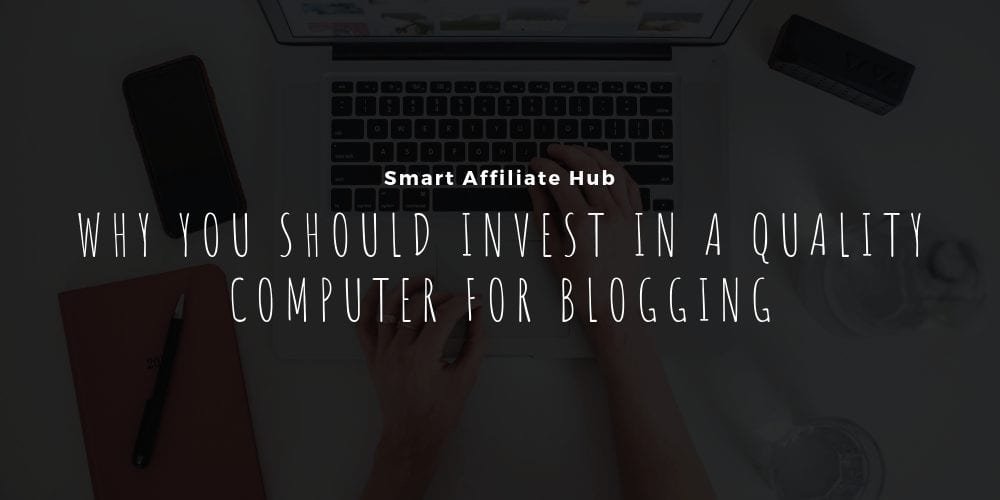 If you're trying to make a living through blogging, I highly recommend choosing a computer system that is suitable for your daily tasks.
Now there are many budget type computers in the market, but I'm going to tell you, why you should invest in a quality computer for blogging.
Note: None of the links to the computers in this article is an affiliate link. Which means I will not be earning a commission if you decide to buy.
Before we continue with this article, I'd like to mention that I am no computer expert. I am only sharing information based on my own experience.
Spending Less Will Cost You More
Sometimes it's tempting to just buy a cheap computer that costs under $500.00. In the beginning, it might feel like you're saving a lot of money, but in the long run, it will actually cost you more money.
A cheap computer is usually poor in performance. Which means whatever you do, it will take more time for things to load.
Here's an example of a budget computer that I don't recommend from BestBuy!
When it comes to blogging, oftentimes you'll need to conduct research. When doing so, you're probably going to open a few tabs in your internet browser to gather information.
A low-end computer will struggle to run smoothly when you have too many tabs opened. Which means you won't be able to productively get things done in a timely manner.
We're all subject to a certain amount of time per day. Having to wait for your computer to load will cost you time from doing other things to increase your revenue.
Here's an example of my cousin!
His mother purchased a low-end computer for the purpose of school work. Right out of the box, the computer was operating at turtle-pace. Things took forever to load and it barely had enough memory to store his assignments.
2 months after regular use, he ended up replacing the computer for a slightly better one. If his mother would've spent more money, to begin with, he wouldn't have to replace his computer twice.
And also, he would've been able to get a far better computer for the price they had paid for two lower-end computers.
In the case of blogging…
You'll want to get things done efficiently to maximize your time spent on the computer.
For example, when I'm working on my blog, I'm not only creating content, but I'm also marketing my content to get maximum exposure.
If I have to wait for everything to load (thank you low-end computer), it will cost me time from getting things done preventing me from moving on to the next task.
If you want to make money from your blog, you'll want to treat your blog like a real business. A real business requires real investment. Here are a few things to expect when starting an online business.
Your computer is one of the required tools to make money online. So why go cheap on it?
Choose A Computer With Lots Of RAM
In short, RAM on your computer allows you to perform many tasks such as loading applications, browsing the internet, playing video games, etc.
By having low RAM on your computer, it can render some high performing tasks undoable. If you need to open many tabs in your internet browser, you'll experience a lot of lag making it frustrating to work with.
Like the computer I mentioned above, it only comes with 4GB of RAM which is fine for checking your email and performing minor tasks. But once you start opening multiple tabs within your internet browser, you'll realize how incapable it really is.
Some Recommended Computers For You
#1. Omen by HP 2019 15-Inch Gaming Laptop ($1,259.90)
Omen by HP is an excellent computer, not only for gaming but for your everyday use. In fact, this is my current laptop and it has helped me push out many hundreds of articles here on Smart Affiliate Hub.
Even though I don't use it for gaming, it's the capability to run high-performance games that make it so when I work on my daily blogging activities a breeze.
Also, since the hardware is designed for gaming, that means it will continue to perform at an optimal level for a long time because most gaming computers are designed for future-proofing.
#2. Asus TUF Gaming Laptop FX 504 ($729.00)
Asus has always been a great name brand for computers, so the Asus TUF gaming laptop will not disappoint. It is far less expensive compared to the OMEN by HP according to the listed price on Amazon.
However, it does have far less RAM compared to the OMEN by HP (8 GB of RAM to be exact).
But, it does have the 8th generation Intel Core i5-8300H processor which clocks at 3.9 GHz. This allows you to play the most demanding games, but most importantly.
It allows you to use software such as photoshop or other blogging tools with ease which is important if you create your own images for your blog.
#3. MSI GP63 Leopard-041 Full HD Performance Gaming Laptop ($1,299.00)
If you're looking for a laptop that is built to last, MSI GP63 Leopard-041 is a great choice! MSI is a well-known brand in the computer gaming industry.
It is built for high performance and as a blogger, having a machine that is capable of image and video editing is a must.
In fact, this machine might even be overkill for your blogging tasks, but in the long run, it's going to save you money from purchasing another laptop for years to come.
All in all, I think this is the best laptop for travel bloggers who does a lot of photos and video editing!
In Conclusion
I would list more computers, but these are the ones that I have personal experience with. That means there are many more capable machines out there for your blogging needs.
Don't settle for a low-end budget computer because it's going to cost you more money in the long run. That's why I don't shop for low-end budget items.
Having to replace it a couple times will cost you just as much as a higher-end product. Why go through the trouble of replacing your computer as well as struggling to get things done on a slow machine?
I hope this was helpful! Blogging is not expensive, but budgeting yourself on important tools such as your computer will only set you back.
If you have any other questions or would like my opinion on a computer, please leave a comment down below and I will try my best to help you out!