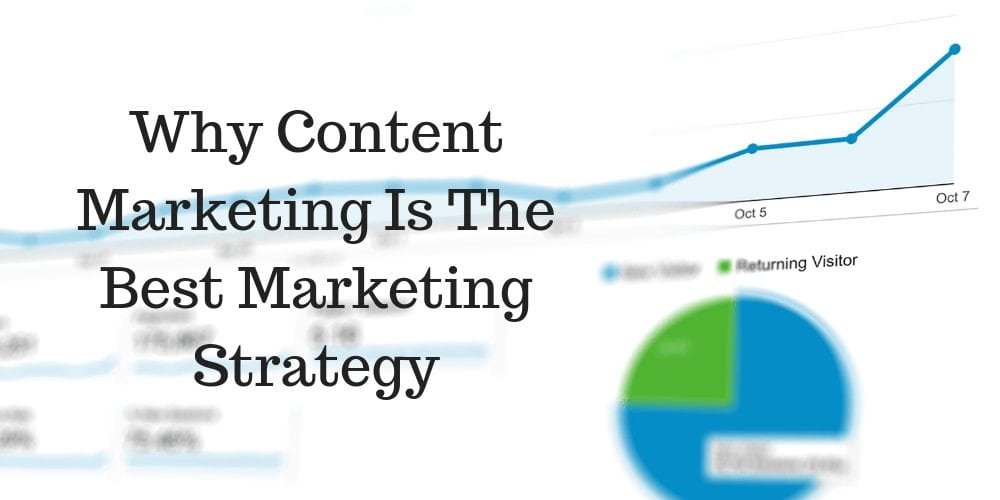 Content is queen and marketing is king. As a fellow blogger, content marketing is extremely important. Whether you are promoting a product or service, creating content whether it is a simple blog post or a visual banner helps maximize conversion.
Over the years, marketers have utilized content marketing to build value, gain a customer, etc. Unlike many other marketing methods, content marketing will continue to grow for many years to come.
If you are not using content marketing as part of your marketing strategy. Here are the reasons why you need to get started now. Without further ado, let's get started!
Reason #1. Search Engines Love Content
Search engines are big on content because their users are searching for content. For example, if someone wants to know why a Cheetah runs so fast, they'll need content that explains it. If their users don't find what they're looking for then they won't use that search engine anymore.
With Google being the top dog in the search engine world. If they lose users that means they will eventually lose on ad revenue as well. Why do people pay Google for advertisement? It's because Google has lots of active users.
That's why over the years, Google has been making updates to their algorithms to provide the best value and best user experience. Literally, no matter what you search on Google, you're probably going to find an answer.
When creating content, you should focus on the following:
Quality
Relevance
Freshness (Nobody wants to read old news)
Keyword targeting (Use a keyword research tool like Jaaxy)
Quality links within your content
Social Signals (Likes, Shares, etc)
The above are all important because it shows Google that your content will probably provide a decent experience to the user who is reading it. By fulfilling all of the above, you will do much better on search engines and your users will more likely to convert depending on what your purpose is.
Reason #2. Content Delivers Value
The fact is, low-quality content doesn't deliver value. That's why quality is one of the requirements when it comes to content marketing. By adding value to your content, the following will greatly appreciate it:
Search Engines (Google, Yahoo, Bing, etc)
Your Users (Readers, Customers, etc)
Let's say your article is about how fast a cheetah runs. If a user is able to find the answer when reading your content, then you've served its purpose. Often times long and thorough articles are needed to get the point across. However, depending on the question you are answering. Short answers might be a better way to go.
In short, as long as your content makes sure that the person finds what he or she is looking for then you've done a great job. In fact, with this approach, you won't sound like the typical salesperson.
Reason #3. Content Marketing Is Affordable
Unlike other marketing strategies like pay-per-click. Content marketing doesn't require you to spend hundreds or even thousands of dollars per month. When spending money on paid campaigns, your traffic stops once you stop paying. Whereas for content marketing, your traffic is not dependent on money spent.
In fact, content can be produced for free if you're your own writer. Like most things in life, there is a process to do it. For content marketing, it all starts with the content first.
Here are steps that you should follow when producing content:
Conduct research on your topic.
Ensure that your content delivers value. What is the content trying to solve? What is the issue and what is your solution?
Is your content relevant to your niche? Writing a fitness guide for a make money online blog will not get you much traction.
Go back and make sure you apply proper keywords for search engine optimization.
Add internal or external links when necessary.
Utilizing Social Media for marketing your content.
There you have it, the process is actually free, but does require effort. If you are a new blogger or internet marketer, money is probably going to be an issue. That's why content marketing is so crucial to the success of a beginner. Even experienced bloggers and internet marketers utilize content marketing for long-term success.
In Conclusion
If this doesn't convince you Why Content Marketing Is The Best Marketing Strategy, then I really don't know what will haha. Unlike back in the days, people didn't have as many resources to find answers. Now before someone actually makes a purchase, he or she will conduct basic research and that's where you come in as an internet marketer.
Focus on content marketing because it will continue to be effective long-term. It won't get you instant traffic like paid marketing methods, but content marketing is far more sustainable because it doesn't require money.
Hopefully, this clarifies why you should use content marketing as your marketing strategy. If you have any additional questions, please leave a comment down below and I will try my best to help you out!
Have a good day/night,