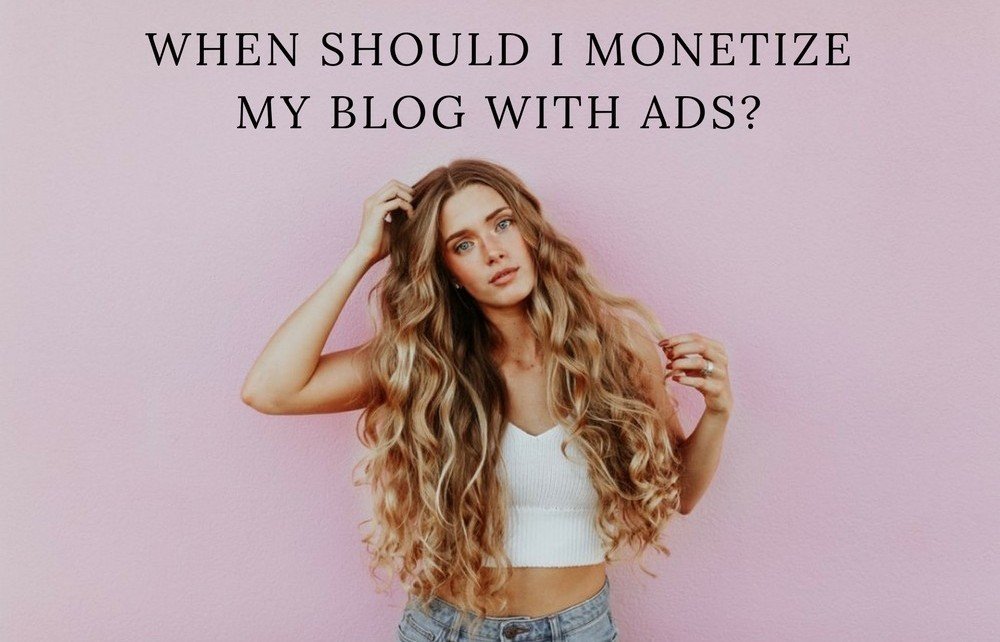 "When should I monetize my blog with ads?" A common question that we all ask ourselves when starting a blog. It's certainly an understandable question to ask because that is the goal right?—To eventually, replace a regular day job and live the ultimate lifestyle with the freedom of time, money, and location.
Keep in mind though, before you can monetize your blog, you need readers. Without an audience, having a blog is like not having a blog. This is why I always recommend new bloggers to focus on building a readership before monetizing.
In this article, you will learn about why it's a bad idea to monetize your blog with ads too early, how to properly monetize your blog and an alternative to Google AdSense.
A Fatal Mistake Made By Most Bloggers & Affiliate Marketers
I'm not going to lie, I can definitely relate to this because I've made this fatal mistake myself. Google AdSense is well-known in the world of blogging, but monetizing with Google AdSense too early can be fatal.
Here's the reason why it's not a good idea to monetize your blog too early with Google AdSense:
You don't have enough traffic to earn decent money: In order to make good money with Google AdSense, you must have lots of people visiting your website. It's actually a simple numbers game, the more traffic you get, the more likely someone will click on an ad.
It makes your website look like an advertisement platform: Have you ever visited a website and never return simply because you couldn't find any good information? This has happened to me many times because the website or blog was overly crowded by annoying ads that deliver no value to me.
Google ads are not good for conversion. It's actually counterproductive: Most blogs who monetized with Google Ads too early doesn't become successful. A successful blog has a readership base and how can you build a readership base when you have ads everywhere sending people away.—Do you see the problem there?
The Right Way To Becoming A Successful Blogger
When you're starting a brand new blog, I wouldn't put any advertisement on it (at all). Your object is to build a readership. Your object is not to have your readers click on an advertisement and leave your blog.—Why would you want to gain traffic just to send them away? It makes no sense right?
Chances are when your readers first visit your blog, they don't even know who you are yet, so the best way to build a relationship is to capture their email by having them subscribe to your email list. Learn how to build an email list by clicking here.
How Early Should You Monetize Your New Blog With Ads?
You should not monetize your blog at all with ads until you've built a sizable readership base. The only form of advertisement on your blog should be an opt-in form to build your email list. So to answer the question of How Early Should You Monetize Your New Blog With Ads?
My recommendation is to have a few thousand pageviews per day. If you have under 2 to 3 thousand page views per day, you should focus on building your readership base instead.
When you have 2 to 3 thousand page views per day, you have a readership base who are returning to your blog for more information. Even if they decide to click on a Google ad, they will eventually return because they know you.
Don't Monetize Your Blog, Monetize Your Email List
The benefit of monetizing your email list is to have a form of contact. Similar to car sales, your salesperson will more than likely ask for your contact information after a test drive if you insist that you cannot make a purchase today. This allows the salesperson to reach out to you, so he or she can eventually sell you a car.
The same concept applies when it comes to a blog. When you run Google ads to send traffic away, you have no way to get that person back.
When someone subscribes to your email list, you can send them a series of emails through an autoresponder. This helps you build a relationship between you and your readers, establish yourself as the go-to person in your niche, and allows you to recommend affiliate products to solve their problems.—This is where you make money(: Don't have an email list yet? Get started today!
An Alternative To Google Ads After Building A Sizable Readership Base
Once you have a sizable blog, you should sell ad space rather than letting Google sell it for you. When you let Google sell it for you, they get a cut and that's money you could've earned on your own.
My recommendation is to purchase a self-advertising platform that gives you complete control over your ad space. Check out OIOpublisher if you are interested.
This software is available as a WordPress plugin. It allows your potential customers to check out your ad options, pricing, and eventually make a purchase. The good thing about this plugin is that you don't have to approve every customer. If you don't want to advertise a certain product(s). You can simply disapprove the ad and the customer will receive a full refund.
While you're waiting for your first customer, you can use OIOpublisher to run Google Ads if you like, so you're not wasting ad space(:
Depending on the size of your blog and how popular it is, you can charge hundreds or even thousands of dollars per month for each ad space. (This gives you a better idea of how much money you earn per month and it's completely passive income).
Learn More About Making Money Online And How To Start A Blog
Are you interested in making money online or how to start a blog? Unlike many years ago, starting a blog is now easier than ever. Anyone with zero website building knowledge can start a blog in minutes. If you are interested, feel free to download my eBook (PDF) by clicking on the banner below. It comes with information on a few business models that I personally used to make money online.
It comes with recommended platforms that have allowed me to create smartaffiliatehub.com—I started without a clue on how to blog or install plugins.
Escape the rat race by taking action with the provided 7-Day Action Plan along with an actual certification course to build your online money making an empire.

If you have a spare moment, please share this article with your peers on Social Media. Also, please leave a comment if you have any questions, comments, or concerns.
Kind Regards,