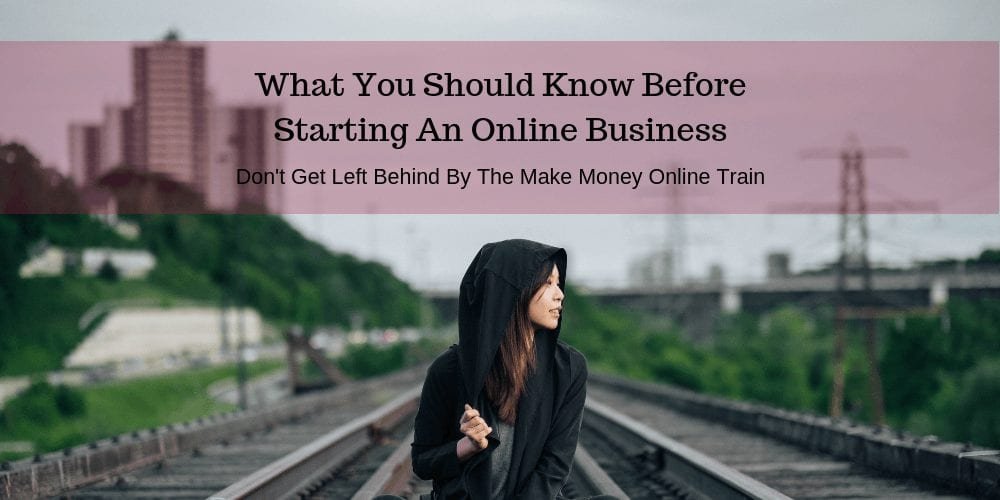 Unlike going to school, there's no graduation ceremony when it comes to running an online business. Especially when it revolves around the internet. Things can change so quickly, that you're constantly testing new ways to generate more traffic or revenue.
Fortunately, the foundation of an online business is still the same. If you want to start earning a degree, you'll have to go to school. If you want to start a blog, then you'll have to purchase a domain name and website hosting.
In this article, I will focus on what you should know before starting an online business. It's certainly a good idea to learn from your mistakes and failure. Unfortunately, not everyone recognizes the mistakes that they make. Do take this article as a reference on the mistakes that you are probably making.  Without further ado, let's get started!
What Kind Of Problem(s) Are You Solving?
When you make a search on Google, what are you looking for? Chances are, you're looking for a solution to a problem. For example, when I wonder how fast does a cheetah run, I would use Google to find the answer.
By understanding the problems your customers may have. It will help you better cater to their needs. Let's say you're in the weight loss niche. How are you helping these people lose weight?
The solution can be a simple how-to tutorial or an actual product that you recommend your customers take as a supplement. Regardless of what your solution is. As long as you're solving a big problem, you will become very successful.
A good example would be Uber and Lyft. They are solving a big problem in the cities and that is transportation. With Uber and Lyft, people can now get around the city at an affordable price compared to the typical taxi. Besides price, it's also super convenient. No more waving down taxi's for a ride because your Uber and Lyft driver can come to you directly.
Regardless of your niche, you'll have to take some time to do research. The bigger the problem you can solve, the better!
Can You Be Competitive With Pricing?
With so many options out there, it is very important that you stay competitive. If your pricing is too high, customers will leave and just buy from your competitors.
Let's face it, running an online business is not free. If your pricing is too low, not only will it be difficult to stay profitable, but your customers will start to doubt the quality of your product or service.
It's like going to the $0.99 store, you don't expect to find anything that will last you a very long time. Usually, it's products that you will only use once before disposing of it.
The best way to see if you're competitive is by researching your competitors. What kind of pricing are they offering for their products? Are they offering a better product for less money? Or are they offering the same product for less money? By doing so, you will have a good idea of how to price your products and how to improve it if you're lacking some of their highlight features.
If you're trying to establish your online business, I recommend that you price your products in the middle compared to your competitors. That way you have room to either go up in price or go down in price. Like car sales, if your starting price is too low, it's going to be extremely difficult to convince people to pay more.
Go Big Or Go Home
The cost of entry for starting an online business is its biggest blessing and curse. If you're going to start an online business, you really have to go big or go home. Many internet marketers or online business owners don't treat their business seriously and that's what led them to their downfall.
If you want to make a few hundred dollars on the side per month then yes, you can treat your online business as a part-time side gig. But if you want to maximize the potential of making money online, you'll have to really put in the and energy to scale it.
First, you have to start your online business, next you'll have to start marketing and networking to get your name out there. This will all require time, and it's the same process for any successful business.
If you're going through the same process, why not go big? You might not be the next Bill Gates or Elon Musk, but you'll be far better off than if you go small instead. Choose an evergreen niche that has proven time and time again to be extremely successful.
Keep It Simple
Making things simple will help you scale much quicker because people hate effort. When considering what kind of product or service to offer, you must take simplicity in serious consideration.
Why do people buy calculators? It makes calculations simple. Instead of doing all the math manually, you can simply punch in the digits and get the results accurately and quickly.
Car manufacturers are doing the same. We now have push-button start and keyless remote door lock/unlock. Taking out your keys is too much work and using leads to misplacing them. By simplifying the process, people are more likely to buy.
The next time you go car shopping, think about it. Would you rather have a car with an actual key to turn on the ignition or to lock and unlock your doors or have a simple push of a button?
Use your competition as inspiration. By researching your competition and seeing what they're doing. You can attempt to do it better! Some car manufacturers require a separate key fob for remote engine start. Why not incorporate that function in the regular key, so you don't have to carry so many?
Understanding Different Types Of Marketing
With so many options to market your online business, it is best to understand what's available. Back in the days, people relied heavily on newspaper, billboards, tv commercials etc. Now those can cost a pretty penny, but with the internet, there are ways to do it without costing an arm and a leg.
Here are marketing channels that you can learn as a beginner:
Pay-Per-Click
Pay-Per-View
Video Marketing
Cost Per Impression (CPM)
Podcasts
Solo Ads
Forum Marketing
These are all great methods to drive traffic to your online business. It's best to learn about all the methods, so you'll understand how to get targeted customers. The problem with some of the methods is that it can cost you a lot of money if done the wrong way.
What you should do is set aside a budget that you're willing to test the water with. Maybe pay-per-click (Google Ads, Bing Ads) work best for you. Maybe video marketing work best for you. You'll never know until you try.
You Need To Have Patience
Unlike a job where you get paid on a weekly or bi-weekly basis. Don't expect instant gratification from an online business. It's going to take time to grow and to become something profitable.
Maybe internet marketers give up before giving their online business enough time to grow. You need to have patience. On average, it takes an online business 1 to 2 years to start seeing traction.
Focus on building an online business the right way, you can check out my free eBook on affiliate marketing and starting an online business. Just keep in mind, have patience because even if you do it the right way, it will still take time.
Set Up An Email List
A successful business is built on repeat customers. A reliable email list provider like AWeber allows you to create email sequences that get automatically sent out to your subscribers. This will enable you to bring people back to your blog or purchase more products and services.
Without an email list, you'll have no way to contact your customers. Let's say they buy something once, they're likely to buy again, but you'll have to tell them first.
Due to privacy reasons and spam, most people will not give you their email address. By offering an incentive or what internet marketers call a lead magnet. You will be able to generate more leads and sales.
In Conclusion
This concludes my list of what you should know before starting an online business. I will continue to add on to this list as it crosses my mind. If you have already downloaded my free eBook. I will update you whenever this list gets updated as well.
Before you start an online business, do use this article as a reference, so you know what to expect and what to do. Take notes and ask me questions by leaving a comment down below.
Cheers,