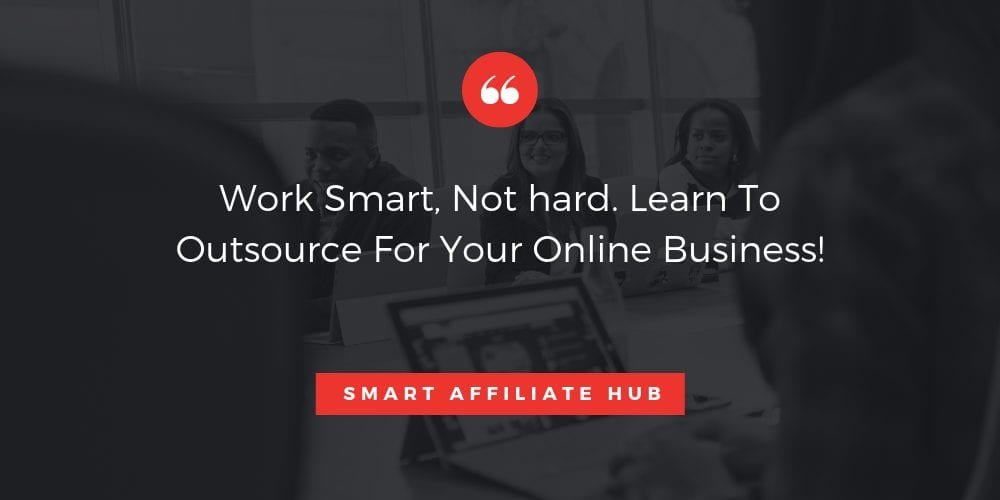 Running an online business can be exhausting. Especially when you're running it alone, sometimes it does get lonely. That's when you start to wonder, what can you outsource for your online business?
Starting Smart Affiliate Hub, it was like working 2 jobs. I didn't quit my day job to pursue this career because I knew I wouldn't be able to survive. I understood that I will not be making money in the beginning.
If you're in the same boat, then you too should understand how quickly it is to get burnout. And that's not how you want to live life especially when making money online is supposed to bring in more freedom and flexibility.
In this article, I am going to go over a few things that you may be able to outsource for your online business. That way, you can focus more on things that matter.
Remember, no matter how small or how simple the task may be. It is still going to consume your time and energy. Without further ado, let's get started!
Writing Your Ebook
If you've been blogging for quite some time now, chances are, you should have enough content to produce a small eBook.
If you're offering a free eBook as your lead magnet, it is important that you make it the best that it can be.
It's going to give your subscribers the perception of who you really are. If your eBook is crap, then the odds of your emails being helpful is probably not so great either.
Instead of writing it on your own, you can outsource someone who does it for a living. Just provide them with the content and let them produce the results.
Creating Your EBook Cover
Like your eBook, the cover is equally important. If you are not a great graphic designer, I would recommend outsourcing this as well.
There's a saying, don't judge a book by its cover. But when is the last time you purchased a book just because you thought the cover was interesting?
Maybe one day, you may decide to publish it as a physical book. The cover alone is going to drive a huge percentage of sales.
Writing Your Blog Posts
Your blog is essentially your voice. Your blog is essentially the tool that drives traffic organically from search engines.
Depending on the type of blog you're running, you might want to outsource. Let's use the HuffPost for example. The number of blog posts that they produce per day is astronomical.
There's no way they can operate like that with just one person as the main writer. They have multiple writers pushing out content on a daily basis.
Transcriptions For Podcast
Pat Flynn, the founder of The Smart Passive Income, is well-known for his podcast. Now I don't know exactly if he outsources for his podcast transcriptions, but I can't imagine transcribing everything on your own especially if you're doing so on a mass scale.
Having a podcast with great audio is not enough. What you say within your podcast is what makes or breaks.
It can very time consuming to transcribe everything on your own. If you can afford it, I highly recommend outsourcing freelancers who do it for a living, so you can focus on the presentation.
YouTube Intro Clips
Do you remember the last time you watched a YouTube video? How impressed you were with their introduction? Well, that's why you too should take it seriously when creating your videos before publicizing it.
If you're creating videos for your business, it doesn't hurt to include your brand logo and a short introduction of who you are.
But let's face it, not everyone is tech savvy and can create amazing YouTube intro clips that actually grabs attention.
Simply outsource someone to create it for you and you can reuse it for your current and future videos. You don't have to pay per use and that's the beauty of it.
Work Smart, Not Hard
The purpose of outsourcing for your online business is not the act of being lazy. It's all about working smart, not hard.
We all work for different purposes. Personally, I run Smart Affiliate Hub so I can have more time with my loved ones.
Currently, I only outsource a few things on my blog, but that's because I enjoy what I do and I have enough time to do it.
Will I outsource more people for blog post writing? It's certainly on my mind. It's going to save me a ton of time since I do produce content at a relatively frequent rate.
Part of running a business is to eventually remove yourself from the business. Have you ever seen a business owner clean his or her own restroom? Have you ever seen a business owner who does everything?
Hopefully, this was helpful!
If you have any questions or need help with anything. Please don't hesitate to ask by leaving a comment down below.
Kind Regards,