Save
One of the biggest reasons why I wanted to make money online is to live a different lifestyle. A lifestyle where I have complete control. As long as I'm stuck working a regular day job, trading my hours for dollars. I'll never be able to live life the way I want to. I want to help you achieve that goal as well. That's why I want you to understand the two types of passive income.
In order to live life with the freedom of money, time, and location. You'll need to figure out a way to remove yourself as the income source. A job is dependent on you being there, so there's no way you can do it with a regular 9 to 5 job. When internet marketers tell you that they are making money while having lunch or in their sleep. That's exactly the kind of lifestyle you want to be living.
Opportunity Alert!
Do you want to learn how to make money passively?
The only problem with this is that it requires you to stick it through times when you're practically working for free. There's no magic bullet to overnight success. Making money online is a marathon, not a 50-meter dash. Learn and apply what you've learned from well-known internet marketing educational programs like Wealthy Affiliate or from my blog.
The Difference Between The Rich And The Poor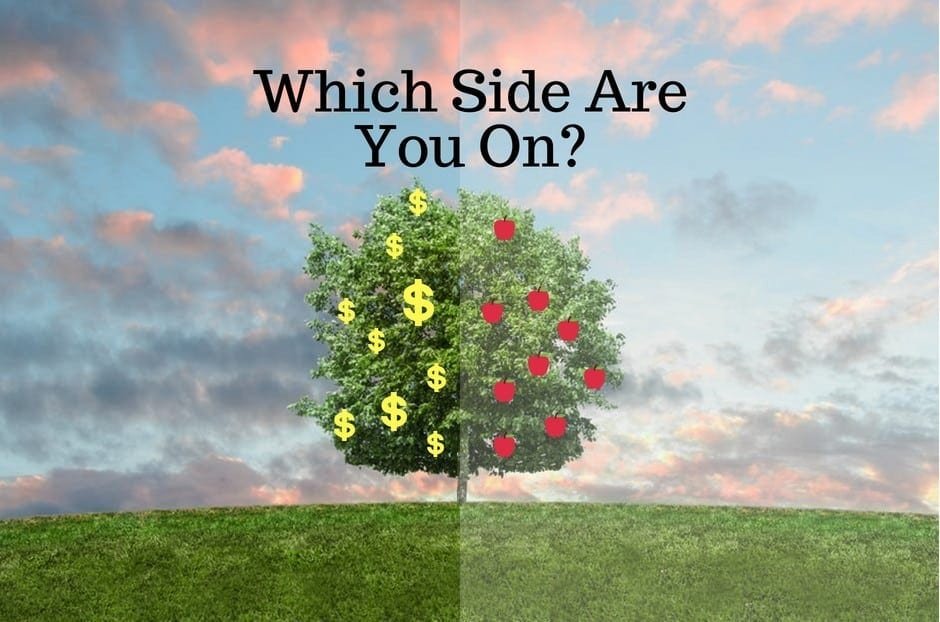 Unlike the poor, rich people have multiple income streams. Now that doesn't mean they have multiple jobs because that would be impossible. No matter how flexible your job is, there is no way you can work in different locations at the same time.
While poor people are stuck to one job and it's usually not a high paying job either. The minimum wage in San Francisco, California is currently $15/per hour. Which means on an average day, you'll be earning $120.00 before taxes on an average 8-hour shift. That's roughly $28,800.00 per year before taxes.
Most rich people can earn that in a month, so how is it possible?
Well, the only explanation I have is that they have several sources of passive income making them money, so they don't have to. Because of these passive income sources, he or she wouldn't have to physically work at a job to earn pennies on the dollar.
Now that we understand the importance of passive income. Allow me to go over the two types of passive income! Ready? Let's do it!
#1: Leveraged Income
Leveraged income is when you leverage the time and effort of other people to earn a profit. Companies around the world use leveraged income to increase their net worth. For example, a car dealership owner is leveraging the labor of their managers, service advisers, porters, and salespeople.
That's why you'll never see the owner roll up his or her sleeves to do any of those jobs. Basically, you outsource for help to do the work, so you can focus on other aspects to make even more money.
As a blogger or internet marketer, you can do the same. Once your blog is big enough, you can hire freelance writers to produce blog posts for you! If you look at giant blogs like the huffington post.
You'll notice that they have multiple writers producing new content for them every single day. Without these writers, the huffington post will not be as big as it is.
So instead of writing every blog posts on your own. You can leverage your writers to earn a profit. Think about it! You can still make a decent living without having to write everything yourself.
Here's another example! Amazon leverages contractors to deliver packages to their customers home. This allows them to create job opportunities as well as grow their distribution network resulting in more sales.
#2: Residual Income
What comes to mind when you think about residual income? Well, residual means a quantity remaining after everything has been subtracted. For residual income, it's money you make from the work that you've done in the past. For example, a good blog post will continue to generate money for you for many years.
That's why I always recommend my readers to produce evergreen content. That way, your blog post will stay relevant for many years and that's what allows it to generate money over and over again.
Another way is to create digital products. You only have to create it once and it can continue to make money for as long as you want it to. Let's say I want to create a digital eBook on Amazon. I can either outsource a writer to create the book for me or I can do it myself.
Regardless of which path I choose, I'll only need to do it once. As long as my eBook is listed on Amazon, money will continue to roll in as long as it sells.
That's why some affiliate marketers can tell you that they are actually making money in their sleep. As a beginner, your blog post will not make you much money from the get-go.
However, once you've built some trust and authority with the search engines. You will eventually climb the ranks and as a result, you'll get more exposure. The sales will start to flow in. The feeling of waking up, checking your email just to realize that you've made some money is unreal.
In Conclusion
Passive income is passive income. It doesn't matter which method you choose to use. Personally, I recommend both methods to maximize your earning potential. However, at first, you're probably not going to need leveraged income because you're still building a brand.
As long as you have passive income in your monetization strategies, you'll eventually see positive results. Can you imagine what life would be like if you could make money in your sleep?
Let me know by leaving a comment below if you have any questions!
Kind Regards,