Blogging is an easy way to express yourself and share information with your readers. However, not every blogger becomes successful.
If you want to be successful with blogging today, you'll need to focus not only the content that you produce, but also how well your blog design is, your marketing strategy (content marketing, social media marketing, and email marketing), as well as link building for search engine optimization.
If you're in it for the money, you'll also need to find ways to differentiate yourself from the majority. And that's why I'm going to provide you with the top 5 reasons why your blog is failing.
By understanding the top 5 reasons why your blog is failing, you can work out ways to prevent it from happening. Let's get started!
#1. You Are Not Building An Email List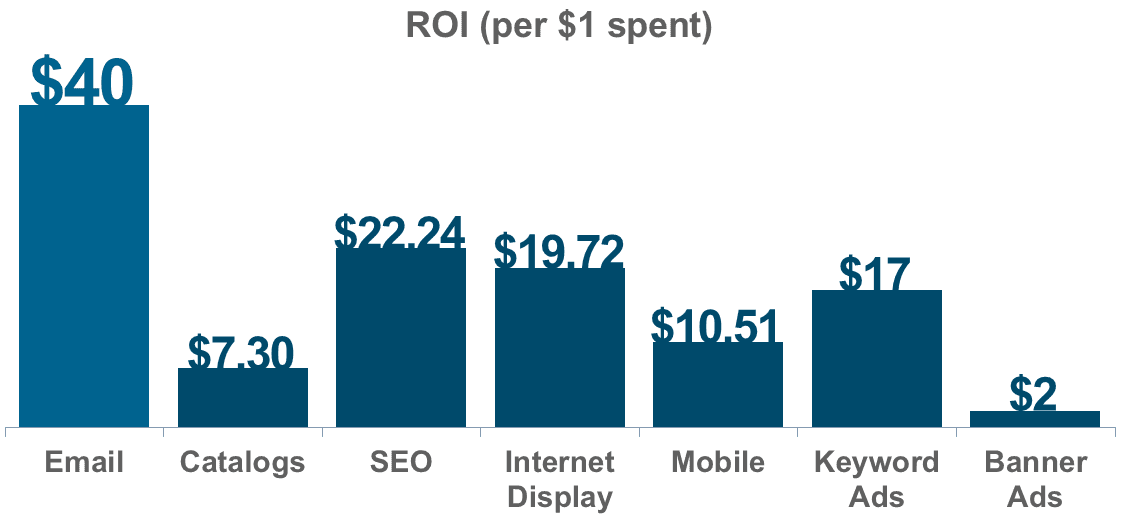 An email list is essential for any online business who wishes to succeed. By not collecting emails from your readers, you're basically preventing your blog from building a loyal readership.
The purpose of an email list is not only to promote products and services. It's also a way for you to get your subscribers to come back to your blog whenever you post a new article.
There are many email marketing service providers in the market (I personally use AWeber, check out my review). Any well-known provider will integrate nicely with WordPress.
Benefits With Email Marketing: With a reliable email marketing service provider, you can begin to send your subscribers with updates on your latest content which also helps with keeping your brand on their mind.
There are millions of blogs and it's not hard for someone to forget about you as soon as they leave your website.
However, if you're constantly reminding them of your existence by updating them through email, they'll have a hard time forgetting about you.
It's also a great way to survey your readers and ask them for their opinion on what you should blog about. This is a great way to generate ideas for future blog posts that cater to your readership (they're basically telling you what they want to read).
And lastly, you can promote products and services by sending out a newsletter to your subscribers.
Companies do it all the time. Once you've purchased something from them in the past, you'll often receive future emails in regards to similar products.
If you have not started collecting emails, I strongly suggest that you do it now. Don't leave money on the table. Take advantage of AWeber's free 30-day trial.
#2. Having A Great Personality
Everyone is unique especially when it comes to personality. Having a great personality can often help people remember who you are.
With so many blogs out there, you want to be unique in your own way as well as being genuine with your readers.
At the end of the day, you're still a human being and you're the reason why your readers are coming back for more of your content.
It's all about engaging with your audience and that's why it's so important to write with your voice as well as responding to your comments.
People will naturally come back to you if they think you're amazing, so be amazing!
#3. Lack Of Updates
A successful blog is usually updated regularly. It's especially important if the industry you're blogging about changes all the time.
Your readers are there for up-to-date information. Not something that is no longer important.
By having a lack of updates, your readers will quickly disappear and wander off to other blogs where they do have up-to-date information.
I'm not Neil Patel or anyone special. Everything I write about, I've done research on. And there are amazing tools such as Buzzsumo or UberSuggest to help you generate trending topics that are up-to-date for your website.
You can also outsource your writers if you don't think you have the time to consistently post quality content on your blog.
Another thing I recommend doing is update your older blog posts if they're no longer up-to-date.
This will ensure that you're always providing the latest information without the need to create multiple blog posts talking about the same thing.
Why have 3 articles that barely rank on Google when you can have one super article for that particular topic that ranks well?
#4. You Are Not Passionate About Your Blog
Do you know why most people hate their job? It's because they are not passionate about it. The same applies to running a blog.
One of the biggest culprit to a failing blog is not being passionate about it.
Money is important, but if you don't like what you're doing, it's going to be a tough journey especially when you're probably not going to make much money through blogging in the beginning.
When you're passionate about what you do, it wouldn't feel like a chore. In fact, you'll enjoy it whether you're making money or not. The money is just an added bonus.
So ask yourself this, are you passionate about what you do? Are you willing to accept the fact that you're probably not going to make much money in the beginning and are you okay with it?
#5. You Are Not Treating Your Blog Like A Business
Unless you're not blogging for money in the long run, it's important that you treat your blog like a business. A business is what generates money. A hobby is simply just a hobby.
To be successful at blogging, it's not just about creating content. You'll also have to learn how to market your content, build a readership, retain your readership, as well as how to grow your blog over time.
In fact, most people quit because they don't view their blog as an actual business. If you pretend that you've invested a million dollars into your blog, what would you do to ensure its success?
In Conclusion
Now that you understand the top 5 reasons why your blog is failing, it's time to think about what you're doing wrong and fix it.
Nobody is perfect, in fact, failure is a recipe for success. If you're making the mistakes that I've mentioned above, it is time to learn from it.
Remember…
Don't forget to build your email list because it's the only way you can build a loyal readership base. It's the same as asking someone to subscribe on YouTube.
Don't forget to incorporate your personality into your blog. You're not just someone behind a computer screen. You're unique and people will like you for who you are.
Don't forget to update your blog regularly. People are looking for updated information, not something that's been forgotten years ago.
Don't forget that passion is important when it comes to blogging. If you're not passionate about your blog, then you've already failed.
And lastly, don't forget to treat your blog like a real business otherwise you're not going to generate the money like a real business.
If you are new to running an online business, I strongly suggest that you check out Wealthy Affiliate, my highly recommended online business platform that teaches you exactly how to make money online.
I hope this was helpful! If you have any questions, please feel free to leave a comment down below and I will try my best to help you out.