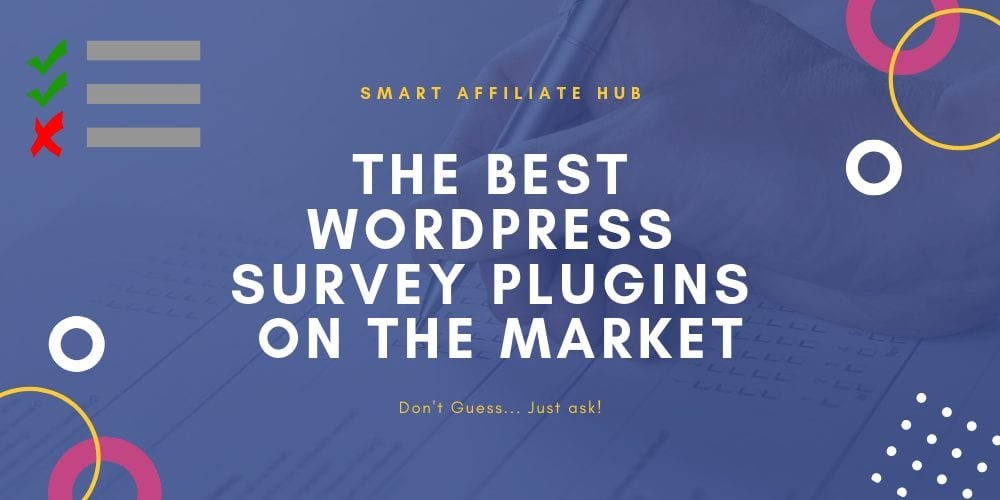 Even though I am the owner of my blog and sometimes I get carried away thinking that I am the almighty ruler of Smart Affiliate Hub.
But in actuality, Smart Affiliate Hub is nothing without you; my readers.
That's why it's important that your website caters to your audience. There's no point in assuming or guess what your audience will engage and interact with.
By surveying your audience, you can use the data to determine the type of content that meets their specific needs. By doing so, you will see far greater results with your content efforts.
That's why companies around the world are surveying their customers to find out what they care about the most. Just recently, I was invited to survey Amazon.
Fortunately, if you operate a WordPress website, there are plugins that allow you to survey your audience. In this article, I will go over the Best WordPress Survey Plugins on the market.
By the way, this list is not in any particular order. Try them out and use the one that you like most.
The Best WordPress Survey Plugins On The Market
#1. Survey Monkey
Survey Monkey is a user-friendly survey plugin that comes with many amazing features such as:
100 expert templates
2,500 questions approved by survey scientist
Custom themes
Add your own branding logo
Choose different fonts
Build custom thank you pages
Survey quality metric system to predict how well your survey will perform
Send your surveys via the web, email, social, and more
Surveys are easy to complete by your users
Again, let's go back to user-friendly. Survey Monkey's dashboard is clear and easy to navigate. Personally, I don't do anything too complicated.
Pricing for Survey Monkey:
Standard – $37.00 per month billed monthly
Advantage – $32.00 per month billed annually at $384.00
Premier – $99.00 per month billed annually at $1,188.00
If you decide to upgrade to the pro version, you can export survey results in HTML, CSV, and PDF formats. And you'll get to display the results in different graphs.
Do you want to share your survey results with others? You can do that as well with an embed code, social media, and direct link.
#2. WPForms
WPForms is a very popular contact form plugin. Now it also comes with a survey and poll add-on. Unfortunately, you can't access this feature unless you purchase their pro plan ($199.50/annually).
What makes WPForms so easy to use is that it is actually a drag and drop form builder. It comes with interactive survey reports that you can export. So if you want to share your report in real life, you can.
You can also embed your survey anywhere on your WordPress website, so your audience can easily access your survey with any difficulties.
#3. Survey Maker by OpinionStage
Survey Maker is a plugin created by OpinionStage. But first, you need to create an OpinionStage account. Once you've created your account, you can start creating your surveys.
Once you've created your surveys, they can be displayed anywhere on your WordPress website. It also comes with basic customizations such as fonts, color schemes, etc.
It also gives you data on impressions, leads, engagement, and how long a visitor was on the survey. This is a great way to test if the questions you are asking is actually worth asking.
For example, without tracking, you won't know if the question you're asking is worth it because maybe you just didn't get any traffic. But if people are viewing it, yet they are not completing the survey, then it shows that you should ask a different question.
Here's an image for the pricing:
In my opinion, the free plan is more than enough. You don't really need to upgrade unless you desire more features.
#4. Crowdsignal
Like WPForms, Crowdsignal is another great survey plugin with a drag and drop question editor. It also allows you to customize your surveys such as font, size, color, HTML, pictures, and videos.
You can add surveys to your website in the form of a banner or simply email them to your email subscribers. If you haven't started building your email list, here's a tutorial on how to do it.
If you want to make sure that you get accurate data, you can integrate password protection, IP address restriction, and captcha protection.
Lastly, if you want to export your data, you can do so in the form of PDF, XML, and more.
#5. Quiz And Survey Master
Quiz and Survey Master is a free WordPress plugin that offers unlimited surveys and responses. It also comes with the ability to customize your thank you page.
Once your survey is completed, you can also send them to your email subscribers.
Results are sent straight away to your email or you can access the data via your WordPress dashboard.
In all honesty, I think the free version is enough, but if you want everything under the moon. They do have a premium plan that costs $198.00/annually.
Check out the pricing page here.
#6. Gravity Forms
Gravity Forms is another WordPress plugin that I recommend checking out. It comes with many features including the option to create surveys. Like WPForms, you can also create other forms using their form builder.
The only con I can think of is that it doesn't provide you with charts and graphics. But you can still export your survey results and display them on your WordPress website using a WordPress tables plugin like TablePress.
Keep in mind, in order to access the survey feature, you'll need to have the Elite plan which costs $259.00/annually. Click here to check out their pricing page.
Personally, Gravity Forms is my least favorite, but it's still a very amazing software for conducting surveys.
In Conclusion
With so many options at different price points, it is up to you to decide which one works for you. Regardless of your choice, these are all great WordPress survey plugins and will help you better understand what your audience is looking for.
In fact, you can even us survey questions to find out what kind of content your audience wants to see. This can help you generate new topic ideas and product recommendations.
I hope this was helpful! If you need help with anything else, please let me know by leaving a comment down below.
Also, quick question, have you conducted surveys on your WordPress website before? If you have, leave a comment down below with what you've learned through your surveys.
Kind Regards,