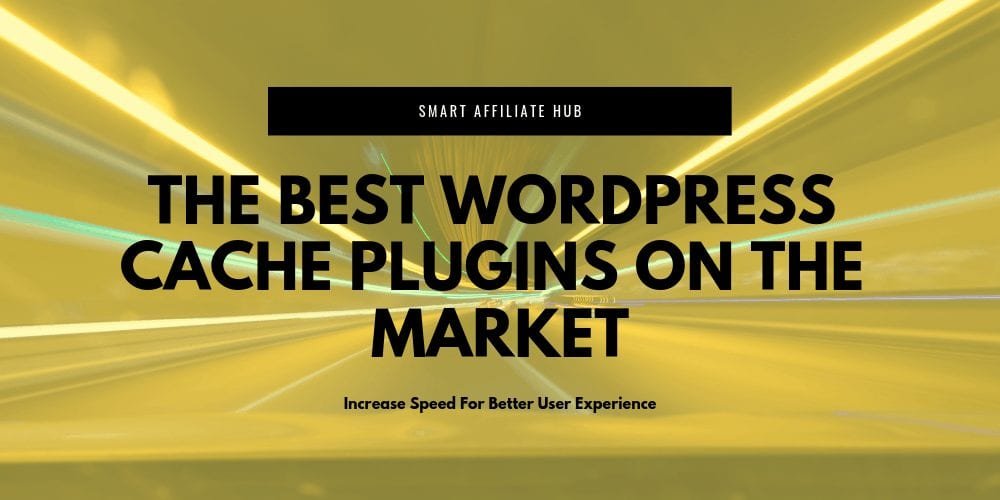 Is your website running slower than a turtle? Well, I'm sorry to hear, but the good news is. You found your way here and I'm going to show you the best WordPress cache plugins on the market.
According to Kissmetrics, 47% of consumers expect a web page to load in 2 seconds or less.
And if your website takes longer than that to load, many people will abandon your website.
Which means the speed of your website is costing you a ton of traffic. And traffic is just the beginning, let's not forget about leads, sales, etc.
By increasing the speed of your website, you will not only deliver a better experience to your users, but you will also generate more leads and sales in the long run.
Fortunately, there's a great way to speed up your website. The solution is called, caching.
What Is Caching?
To help you better understand what caching is, let's start off with the basics of how it works when someone tries to visit your website.
First, when someone tries to visit a page on your website, a request is to your server. And the server will redirect the results to the visitor's web browser.
All of this happens in the background and what your visitors see is the final result, your website page along with menus, images, blogs, text, headers, footers, videos, etc.
Let's say your website only contains a few texts with no images, videos, etc. The server doesn't need to process too much which results in faster load time.
However, most websites are not as simple as a few texts. You may have a complexed website with a ton of images, videos, scripts, etc. Which makes it longer to load.
And that's where caching comes in. Caching temporarily stores recently viewed content, images, videos, to reduce server lag.
WordPress Has Caching Plugins
Woohoo! WordPress plugins marketplace has caching plugins available to you. With a properly configured caching plugin, your website will reap a ton of benefits.
You'll notice faster load time for your website which provides a better user experience. And let's not forget SEO benefits. Here's an image on how faster load time can affect your Google rankings:
However, there are lots of caching plugins on the market that claim to speed up your website. I've installed a few in the past because I wasn't sure which one was better.
For some reason, I've tested caching plugins on various websites and what I realized is one may work better for mine, but not for yours and vice versa.
That's why I'm going to provide you with a list of WordPress caching plugins that I believe are the best on the market. I am not going to put them in any particular order. But I will start off with the one that I use.
#1. WP Rocket (I'm Using This One)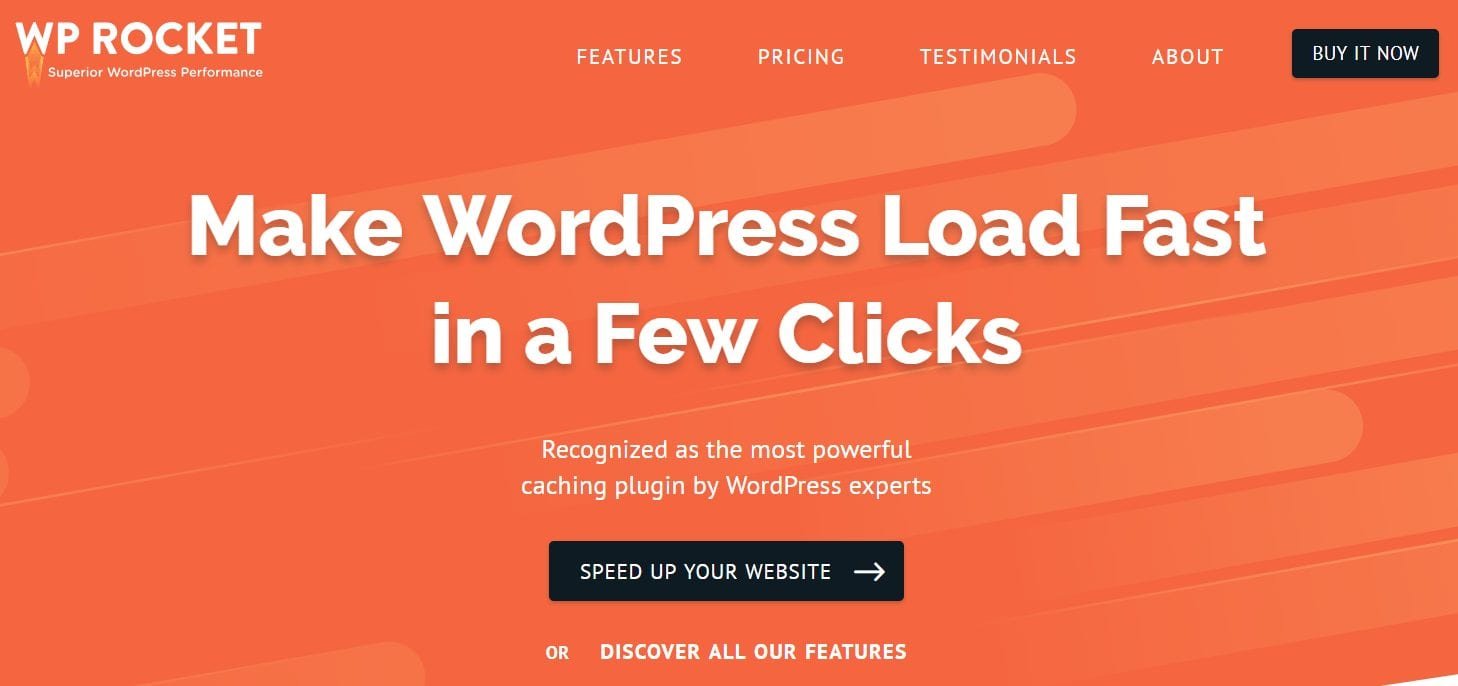 WP Rocket is one of the most user-friendly cache plugins for WordPress. I've used many other caching plugins in the fast and I believe Wp Rocket is the best option for beginners. The interface is easy to follow and understand unlike many of its competitors.
It's simple, yet powerful. If you are a developer or website owner, you can make changes through its advanced settings if you like. For most people, you don't have to worry about it.
To use WP Rocket, you'll have to purchase a plan. For starters, the pricing starts at $49.00/year for one website. If you're running up to 3 websites, you can get their plus plan for $99.00/year. Lastly, if you are a developer, you can purchase their infinite plan for $249.00/year which allows you to use WP Rocket for an unlimited number of websites.
Now I know there are many free WordPress cache plugins, so why pay for it?
You do get what you pay for and it applies here as well. For only $49.00 per year, you can have a plugin that is extremely user-friendly and easy to set up.— Many free WordPress cache plugins will break your website if you don't configure it properly.
Plus it comes with features to boost your SEO ranking by minifying your JavaScripts, HTML, and CSS files to increase page load time. It also comes with a built-in lazyload function which significantly improves your loading time if you use a lot of images on your website.

As I said, I do use WP Rocket myself and I have reviewed WP Rocket. If you want to get a better understanding of this plugin, feel free to check out my WP Rocket review.
#2. W3 Total Cache (Included In My Free WordPress Installation Service)
With over 1 million active installs, W3 Total Cache is one of the most popular WordPress cache plugins on the market. That's why I am offering to install and configure this for anyone who uses my Free WordPress Installation Service.
W3 Total Cache is completely free to use with full access and no upsells.
This caching plugin works for both mobile and desktop versions of your website. If you are using CDN for your website, you can integrate it with W3 Total Cache.
The only thing I don't like about W3 Total Cache is that it can be a bit complex to use. If you are a beginner, you can stick with the default settings.
I've also written an article on how to increase your site speed with W3 Total Cache. Keep in mind that it is not universal, so do test your website every time you make a change.
Other than that, it's free to use, so you can't really complain.
#3. WP Super Cache
WP Super Cache is another popular caching plugin with over 2 million active installations. Similar to W3 Total Cache, this caching plugin is completely free as well.
For beginners, I recommend sticking with the simple mode. But if you're experienced with coding and website development, I would recommend the expert mode.
In short, WP Super Cache is not as simple to use as WP Rocket, but it is free and it does come with many options making it one of the best WordPress caching plugins on the market.
#4. WP Fastest Cache

Unlike many other caching plugins, WP Fastest Cache doesn't come with as many configurable settings. This makes WP Fastest Cache one of the easier WordPress caching plugins available.
To help reduce the size of files, WP Fastest cache minifies HTML and CSS files as well as disable emojis on your website.
It also comes with browser caching to reduce page load time for your repeat visitors.
Lastly, it also combines CSS files into one to reduce the number of HTTP round-trips.
WP Fastest Cache also comes with a premium version ($39.99/lifetime) of the plugin which includes features that increases your page speed such as database cleanup, mobile caching, image optimization, etc.
#5. Comet Cache
Comet Cache is another popular caching plugin. Not nearly as popular as others, but still has an astonishing 60,000 active installations. What I really like about Comet Cache is the capability of caching logged in users as well.
That means it's perfect if you are running either a membership website or an Ecommerce website.
Comet Cache also supports CDN networks, so you can serve all of your cached files on your website from the content delivery network of your choice.
This plugin comes in both a free and premium version. If you decide to upgrade to the single website license, it will only cost a one-time fee of $39.00.
In Conclusion
No matter what kind of WordPress website you are operating, a cache plugin will only benefit you by boosting the speed of your website which improves the user experience.
Hopefully, you've learned the importance of caching your website and any other questions you may have in regards to caching. If not, please ask them down below and I will try my best to answer them.
Overall, they are are all great caching plugins and you should test them out to see which one fits you best.
In the beginning, I was okay with just the free WordPress cache plugins but ended up paying for a premium one. The good news is, they are not that expensive to own.
But if you really cannot afford to pay for a premium WordPress cache plugin, then stick with the free ones because they will do just fine.
Just use this article as a simple guide to finding the best WordPress cache plugins on the market. Again, if you need help with anything, please let me know and I'll try my best to help you out!
Kind Regards,