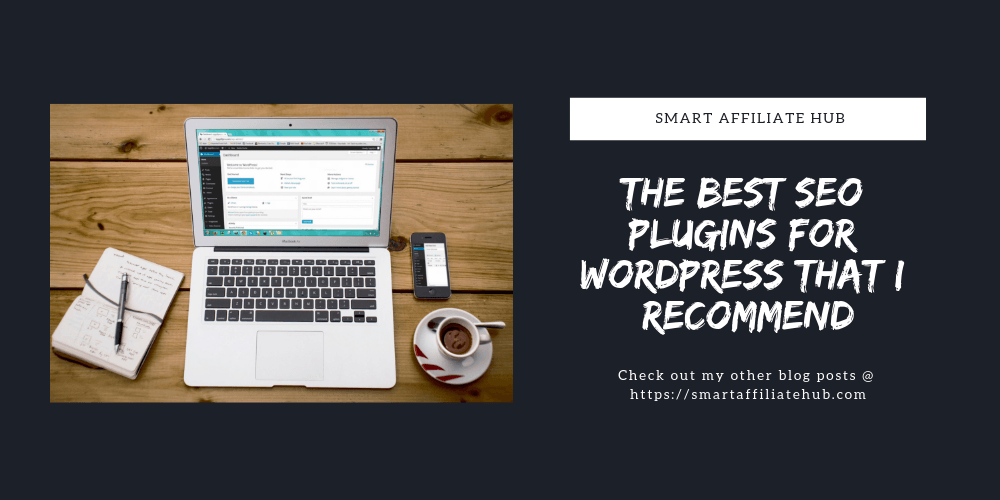 It's finally 2019, another year has passed, lots of changes, but the one thing that remains the same is the importance of optimizing your website for search engines.
Note: I will continue to update this blog post as I discover more SEO Plugins for WordPress.
With so many blog posts being generated per day, you'll have to go the extra mile if you want to be noticed. The internet is a great place to find information and that's why Google is so popular.
Those who recognize the importance of organic searches will flourish and those who only rely on a paid advertisement will soon realize that their business model is no different than the gambling model.
There's no guarantee that you will profit from your ad campaigns and your traffic stops once you stop paying. So it's not a very sustainable method unless you have a lot of money, to begin with.
I'm not saying you should dismiss paid advertisements either, but if you want to build a sustainable long-term business, you should really be prioritizing your website for SEO so you can get your share of juicy organic traffic.
Fortunately, you don't need to spend thousands of dollars to get SEO agencies to optimize your website. There are many great SEO plugins that you can install right now on your WordPress website.
In this article, I will go over the best SEO plugins for WordPress. Do take it with a light grain of salt because it is my opinion based on my experience with each tool.
#1. Yoast SEO
Yoast SEO is an extremely popular WordPress plugin. In fact, over 5 million websites have installed this, making it one of the most if not the most popular option when it comes to getting your website ready for the search engines.
With Yoast SEO, you don't have to create XML sitemaps because it will do it for you. Oh, and just in case you're wondering what an XML sitemap is:
A sitemap is basically a map of your website that tells search engines bot where they can go and where they can't. This is extremely important if you want search engines to crawl your website and eventually index your content.
Yoast SEO awesome comes with the ability to identify duplicate content, so you don't have to worry about getting penalized by search engines. And lastly, it gives you the ability to input your focus keyword(s).
One thing to note is that Yoast SEO offers both free and paid versions. If you decide to upgrade for $89.00 per month, you can get the following upgrades:
Suggestions or internal linking
Link redirection management
No annoying advertisements
Page previews on different platforms
and 24/7 customer support
I'm currently using the paid version, but I recommend trying the free version first. The truth to the matter is, you can get some of their upgrades for free if you download and install additional plugins (I just don't want to have too many plugins active which might slow my website down).
#2. All-in-One SEO
All-in-One SEO is a great alternative to Yoast SEO. It's also extremely popular and currently has over 2 million websites who have installed this plugin.
The name alone is pretty self-explanatory. It's an all-in-one solution for all of your SEO needs. Like Yoast SEO, it comes with every essential feature for free.
If you want additional features such as the following:
Advanced  Support for WooCommerce
SEO for Categories, Tags and Custom Taxonomies
Video SEO Module
Access to Video Screencasts
Access to Premium Support Forums
Access to Knowledge Center
Depending on what you need, there are 3 different price plans:
Individual (Single License) – $97.00 annually without promotion
Business (Up to 10 Websites) – $139.00 annually without promotion
Agency (Unlimited Websites) – $699.00 annually without promotion
If you are running a basic blog, the free version will suffice. However, if you are running more than 1 website and you need the additional features, a business license will allow you to use the pro version for up to 10 websites.
Now if you are running an agency where your clients pay you to set up their website, the agency license will give you full access to an unlimited number of websites.
#3. Broken Link Checker
Oops! We can't seem to find the page you're looking for. Not only is this annoying to your readers, but you can also get penalized by search engines like Google for having broken links.
This can happen if you have a lot of internal and external links to your blog content. Within your own blog, if you change an URL, you can find and fix it very easily, but it's not the same for links from someone else's blog.
Let's say you decided to add a link from another person's blog because they delivered immense value. Everything's good, but all of a sudden, they decided to change the URL without properly redirecting it to the new URL. You will now have a broken link on your website.
Fortunately, there are plugins available such as Broken Link Checker. It will help you identify any broken links on your website, so you can easily remove, edit, or dismiss the problem.
This is not only beneficial for SEO, but your audience will also appreciate it. You don't want to send your audience to a page that no longer exists.
#4. SEMrush SEO Writing Assistant
Have you heard of SEMrush before? I bet you have if you're in the internet marketing space or trying to optimize your website for SEO. Now SEMrush offers an SEO Writing Assistant plugin for WordPress.
In order to start using the plugin, you'll need to have an account with SEMrush. Simply register for a free account, but do keep in mind that a free account will only give you access to one template. If you plan to use this plugin, you might want to upgrade to their premium plan.
As the name suggests, it's an SEO writing assistant. It analyzes your content and gives you a score based on how SEO-friendly it is.
Similar to Yoast SEO, you can add your target keywords and the plugin will provide you with recommendations based on the keywords that you choose.
Is this absolutely necessary? Not really, but it's a great tool especially if you don't have someone proof-reading your content.
#5. All-in-One Schema Rich Snippets
A snippet is basically a brief summary of your post, page, etc. Your snippet is very important because it's what appears in the search engine results page. If your snippet is not enticing enough to click, you'll lose visitors.
The All-in-One Scheme Rich Snippets will enable you to add things such as Articles, Recipes, Videos, People, Products, Star-ratings etc to your snippet.
If you are running an eCommerce website, this can save your potential customers time since they can see star-ratings directly on the search engine results page.
#6. The SEO Framework
The SEO Framework is a great plugin to consider for your WordPress website. It provides you with recommendations on a colored scale. It will show you exactly how to optimize your content for search engines.
The good news is, SEO Framework is completely free with zero ads or upsells. The Yoast SEO plugin also provides you with valuable information, but this is also a great tool to have.
#7. Squirrly SEO
New to SEO? Have no fear, Squirrly SEO is here. Simply input your desired keyword as well as the article you're writing.
While you're writing, Squirrly SEO will provide you with an SEO live agent. It will provide you with suggestions explaining how you can incorporate that keyword in your content.
It's like having an SEO expert holding your hands as you're writing.
You can also use Squirrly SEO to analyze your competitors' content, so you can strategically plan out your articles, so you can eventually outrank them!
This alone makes Squirrly SEO a very useful plugin if you're using WordPress.
Important Update 07-03-2019:
Squirrly has released focus pages to take SEO to the next level. Do you have a few pages that you consider to be your cornerstone content?
Focus page is designed to analyze those pages according to important ranking factors and make the necessary adjustments to do well on search engines like Google!
With so many options, it is easy to make the mistake and choose an SEO plugin that will do you more harm than good. Learn about why Squirrly is different than the typical generic SEO plugins.
Squirrly has been around for around 6 years now and they do take customer feedback seriously.
For 2019, they have made significant changes to shape Squirrly into one of the most versatile SEO plugin in the market.
Here are 5 Reasons Why You Should Be Excited about Squirrly SEO 2019. I look forward to seeing more updates from them in the near future.
Update: 2020 – Squirrly Introduces the First-Ever Non-Human SEO Consultant
You can now receive expert level advice from a consultant that has studied over 600,000 websites with progress history of over 7 years.
In Conclusion
I can't stress enough when I emphasize the importance of SEO. You don't need to spend thousands of dollars to hire an agency to optimize your website for search engines.
As long as you're willing to take the time and implement some of these amazing SEO plugins for WordPress. Are there more options available? Absolutely, but I only recommend the ones that I feel are the best.
Are you currently using one or more of these SEO plugins? If yes, please state which one you are using with your opinion on it.
Hopefully, this article acts as a great reference guide to help you select SEO plugins that can help grow your online business.
If you have any additional questions, please leave a comment down below and I will try my best to help you out!
Kind Regards,