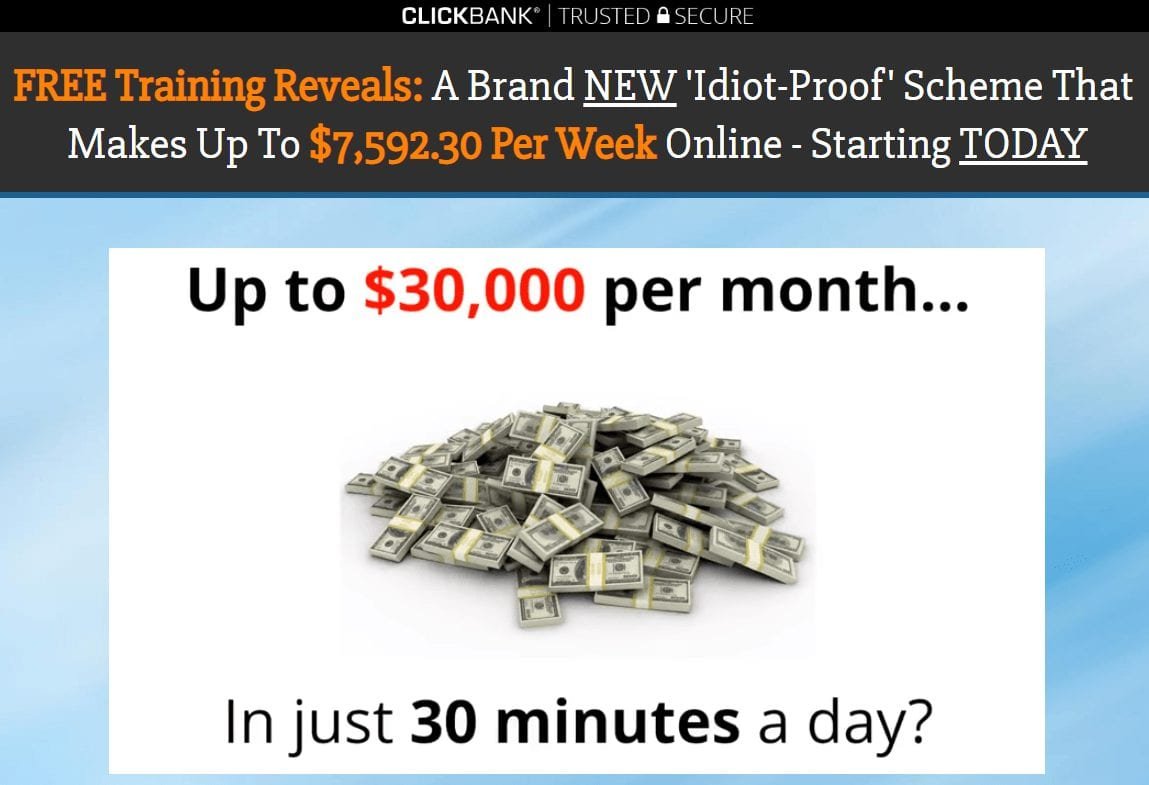 Is Smart Money Methods a scam or a smart scheme designed to drain your wallet? Making $30,000 per month with only 30 minutes per day sounds awesome on papers, but is it true?
I'm glad you're here because as enticing as it sounds. It's always recommended to due diligence before you spend your hard-earned cash. So far I've done plenty of product and system reviews to accurately determine its legitimacy.
Like other reviews I've done, I will give Smart Money Methods the benefit of the doubt. By the end of this article, you should have enough information to make an informative decision.
Smart Money Methods Review 2021
Name: Smart Money Methods
Website: https://smartmoneymethods.com/
Price: $37.00 Plus Potential Up-Sells
Owners: Unknown
Recommended? Continue Reading To Find Out
What Is Smart Money Methods?
Smart Money Methods claims to be a brand new method and something you've never seen before. One that will make you up to $7,592.30 per week (I don't know how they came up with this random number) with only 30 minutes of input per day!
Like many ClickBank products, the sales video does not tell you anything about their system and what you have to do to make money. Again it's like trying to sell a car without showing the customer the car first. What if the car is missing the engine and transmission?
I've been making money online for quite some time now and trust me, anything worthwhile is not easy. Anything easy is not worthwhile. To make money online requires real work and it takes time to scale.
So far, I am not pleased with their dishonesty about making money online is easy to do. It's the same claim that gives a bad name to make money online opportunities.
Note: I did not purchase Smart Money Methods. I am basing this review on other similar products that I've researched in the past.
How Smart Money Methods Work
The Smart Money Methods uses their sales video to get you hooked. It boasts heavily on how much money you can potentially earn. It's to get you to believe that making money online is extremely simple.
It's a common practice for get-rich-quick schemes. They prey on those who are financially struggling. Why? People who are financially struggling could use the money as soon as possible.
Legitimate ways to make money will not guarantee instant gratification. In fact, I didn't make any money during the first few months of my blog life. Even after I started making money, we're not talking about thousands of dollars, nope not even hundreds of dollars.
A few years ago when I have first discovered the possibility of making money online, I was scammed a couple of times and they all carry similar traits with Smart Money Methods.
I was disheartened, I didn't believe in making money online until I signed up for a free platform called Wealthy Affiliate. There I learned how to start a blog (building a solid foundation), write content, marketing, monetizing, and more.
Once you go through legitimate training, you'll understand why making money online is not easy. First, you have to create a blog, next, you have to produce high-quality content, and even then you'll have to work on SEO and marketing.
Just because you created great content, it doesn't mean people will come. However, as long as you stay consistent with growing your blog. You can eventually make money in your sleep. The point I'm trying to make is that you can't make money that fast.
The Smart Money Methods is targeting people who have never tried to make money online. Complete newbies are the ones that will fall for such an obvious get-rich-quick scheme.
The good news is, if you purchased this system, ClickBank will give you a full refund within a set time-frame. Again, I did not purchase the Smart Money System, but as an internet marketer. I can tell you that there will be potential upsells.
Note: ClickBank will not refund any additional purchases made outside of ClickBanks platform.
First, they capture your email address, so they can remarket to you in case you don't buy. But let's say you do buy Smart Money Methods for $37.00. That's only the beginning! In the internet marketing world, we call that a trip-wire product.
They don't make money from trip-wire products because they are there to get a customer. Chances are, it barely covers advertisement. Where the money is being made is in the backend.
Is Smart Money Methods A Scam?
I have concluded that Smart Money Methods is a scam. Yes, they do give you something in return for your money, but they are dishonest with their sales video. Again, if someone sells you a car without showing you the car first. And you discovered that the car is missing an engine or transmission. Would you call that person a scammer?
That's exactly what Smart Money Methods is doing to everyone. They boast about your potential earning without showing you anything. I am going to be firm and say that you're not going to make $30,000.00 a month with 30 minutes per day.
If it's legitimate then why are they selling it for only $37.00? You can definitely save that $37.00 because I don't recommend Smart Money Methods. Instead, if you are interested in learning how to make money online; the right way. I have a great option for you. Please continue reading to learn more about it.
How I Make Money Online
In 2017, I discovered affiliate marketing, a life-changing opportunity. Basically, I make money online by recommending products and services to my readers like yourself.
In order to build an audience, I only recommend products and services that I trust. Basically, I treat Smart Affiliate Hub like a real business. If I want to earn a sustainable income, I'll need to have repeat customers.
The ultimate satisfaction is helping people while making money on the side. That's why I started a make money online blog to help those who are also searching for a legitimate way to make money online.
One is free to join with everything you need to create a website plus training. However, to really take advantage of the platform, you'll eventually want to upgrade to a premium membership ($47.00 per month).
Note: I don't want you upgrading right away because I want you to be sure that this is what you want to do.
Then again, most people don't get started because of money, so I started my own WordPress Installation Service for choosing my recommend website hosting provider. With this option, you can get started for as low as $2.75 per month or less than $0.10 per day.
If you have any questions, comments, or concerns. Feel free to leave a message down below and I will get back to you as soon as possible!