Bitcoin The Crypto-Currency: Should You Invest In Bitcoins?
Welcome to another beautiful article from your host Eric! Today, we will talk about what Bitcoin is and whether you should invest in it or not. This review is based on my personal opinion, so please take it with a light grain of salt.
What is the Origin of Bitcoin?
Bitcoin is a new currency that was created in 2009 by an unknown person using the alias Satoshi Nakamoto. Transactions are made with no middlemen – meaning, no banks! There are no transaction fees and no need to give your real name. More merchants are beginning to accept them: You can buy web hosting services, pizza or even manicures. – Source CNN Tech
Why Bitcoin was Invented
Bitcoin was invented because Satoshi Nakamoto wanted a form of currency that can be exchanged electronically without the use of third-party companies such as a bank or PayPal. You can also use Bitcoins to make online purchases anonymously and securely.
Unlike credit cards which can take weeks or months to finalize. Bitcoin transactions can be finalized in about 10 minutes.
Others would use Bitcoin as a form of investment. In 2017, Bitcoin became one of the hottest topics when talking about investing. This is the reason why I decided to create an article about it because everyone is asking for my opinion on whether they should or should not take the risk and invest in Bitcoin today.
Purchasing Or Selling Bitcoin
After learning about the origin and why Bitcoin was invented. The next question is how to get bitcoin? There are market-places you can find on the internet via Google.
I found one that seems to be very reputable named Coinbase, it is a marketplace where you can buy and sell most digital currencies.
It is very simple to purchase or sell as long as you have access to the internet via a computer or a smartphone device. Also, if you have used Venmo before then you should be fairly familiar with how sending and receiving currencies over the internet works.
The Bitcoin.com App
Personally, I've downloaded the app called Bitcoin.com, what it does is connecting you to a decentralized network with other Bitcoin users. Once you have finished registering the app, you will be able to generate a personal address within your personal wallet. This personal address is used to prevent impersonation and required when buying or selling Bitcoins.
An example of your Personal Address would be something like this: 18AjBaDX7zpbC9LGnbrCBBzrVzA7ixXNcK
Once you have this address, all you need is to have funds to buy Bitcoins as an investment(: You can purchase bitcoins via credit card or via a linked bank account.
Avoid Bitcoin Scams
Bitcoin is currently on the rise as of November 17, 2017. The market for Bitcoin is booming and so are the potential scammers lurking in the dark to cheat you out of your hard-earned money.
I have noticed a lot more topics over social media and google plus regarding Bitcoin and some of these claims to be offering Bitcoins for under market value. This is another example of if it sounds too good to be true, it usually is.
I've experienced messages from anonymous users on Twitter telling me to sign up and start investing today. I am not claiming they are ALL fake, but definitely, make sure the website they direct you to is secured.
Tip: Make sure it is "HTTPS and not HTTP". The HTTP is NOT a secured website.
My word of advice: only makes purchases from reputable sources and do your research if you are not sure. Google is a great source to check if what you're given is legitimate or a scam.
Ponzi Scheme (Trust Scam)
Avoid websites that claim to be able to double or triple your money overnight! This is a very old scam and can be easily detected. They will require you to make a payment first and MAYBE they will double your bitcoin. However, once you start sending larger payments, they will eventually take your money and never respond back.
Bitcoin Price on the Rise!
If you've been following the news on Bitcoin, you should know Bitcoin is currently on the rise, but for how long? Nobody knows and that's what makes investments tricky.
This is my opinion of course, but I feel that new investors are at a higher risk compared to those who invested early. Back when Bitcoins were under a thousand dollars, it was used to make purchases online and very few see it as a great investment.
The Supply And Demand
Now that Bitcoin has been on the rise, it entices many people to start investing. This is basic supply and demand, the big investors are holding onto their stock while late boomers are trying to join the party. Naturally, this raises the demand and limits the supply which raises the value.
Nobody knows when Bitcoin will reach its peak, but we can assume the investors will start to worry once Bitcoins become EXTREMELY expensive.
Once the first group of people panic and start selling, others will follow. In the matter of hours or maybe even minutes, it will become very hard to sell Bitcoins because everyone is panicking. Those who are not quick enough to get rid of their Bitcoins will be stuck with a HUGE loss.
You Are Risking More Than Its Worth
Right now, you are risking over $7500 for a daily profit of about $100.00. I don't know about you, that seems very risky to me, but that's part of investing.
Obviously, this is only my opinion and not TRUE, so you can definitely read this and take it with a light grain of salt. Investing is a great way to make money fast, but you need to know when to stop.
Do I recommend investing in Bitcoin? NO, but you are free to take the risk.
If you are looking to make money online and trying to reach long-term success, I would highly recommend checking out my #1 Recommendation.
My #1 Recommendation
The following contains the banner to your #1 Recommendation. There you will learn how my recommend platform can help you establish an online business of your own for ABSOLUTELY FREE.
If you have any questions or concerns, please leave a comment below!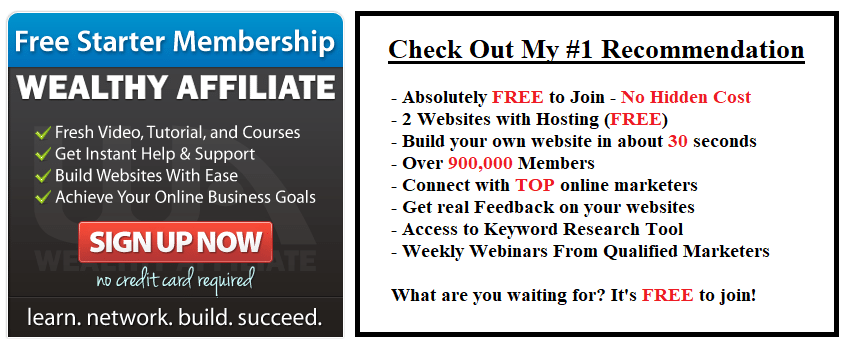 Kind Regards,