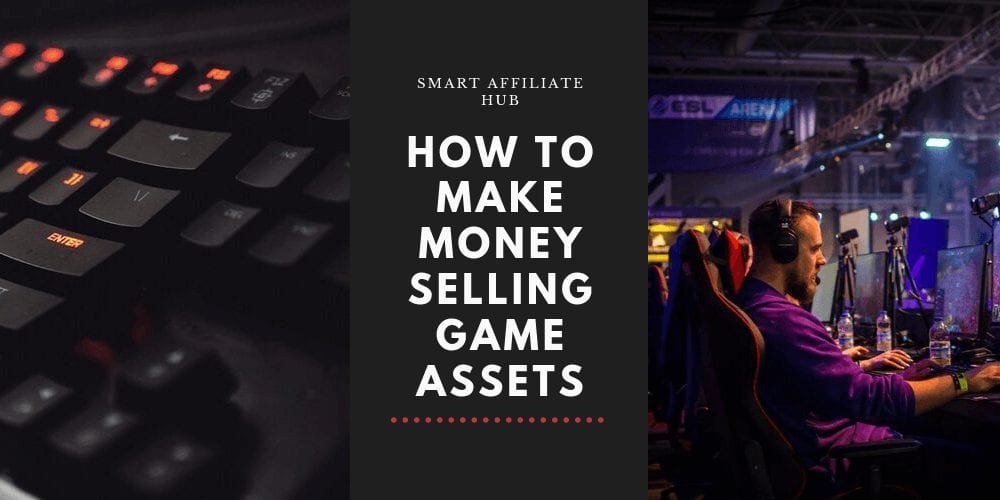 Do you consider yourself an expert gamer who no longer have time to play certain video games? Or do you want to learn how to make money selling game assets?
Note: Not every video game allows real-world trading. Please refer back to your video game guidelines before selling their game assets for real-life money.
Buying and selling virtual goods have been around for decades, but most people are afraid of this method because of the huge risk of getting scammed.
The lucrative part about buying and selling virtual good is the opportunity being endless. There are so many games in the market and each can be used to earn revenue!
What we will be covering today:
We will talk about a platform that is secure for both buyer and seller.
We will talk about how to get the product for cheap.
Your potential earnings per sale.
Without further ado, let's get started with this article by introducing a marketplace that I've personally used in the past!
Introducing PlayerAuctions
PlayerAuctions is a digital marketplace that connects buyers and sellers for various gaming products. Founded in 1999 by gaming enthusiasts, they have grown to become a leading eCommerce platform for trading virtual gaming products.
(The following picture was taken directly from PlayerAuction's website)
PlayerAuctions have over 220,000 Registered Users, 205,000 Registered Sellers, 300,000 Annual Transactions, and 3,800,000 Visitors.
What can you sell on Player Auctions?
In-game currency: This is arguably popular among most games and probably the most commonly sold item overall.
In-game items or skins:  You can sell items or skins that are usually hard to obtain in their respective game.
Game Accounts: Most people don't have the time nor patience to work on their gaming accounts. You can sell an already developed account to meet their needs.
High-level accounts with lots of accomplishments will always be in demand.
However, as the buyer, you'll always be at risk of the original owner recovering the account after the sale. This can happen months or years down the road.
Power leveling, Coaching, and Boosting: This is a very popular service because most players would prefer to advance their own account instead of buying an account from a third-party which increases the risk of getting hacked.
This is service is done usually by hand via one of your workers or yourself. You simply log in to the gaming account using the information provided by your customer.
Depending on what kind of service your customer paid for, you might have to level up skills or collect resources until the order is completed based on the agreement.
CD Keys: These are usually activation codes to a subscription. For example, PlayStation Plus. – Consumers reach out to you for discounted pricing.
The key to this service is speed. If you can provide them with CD keys at a quick delivery speed, you will likely earn more repeat business because CD Keys are usually subscription base.
Redeem Codes: These are codes for your consumers to redeem anything from currency/map additions/unlocks, etc. For example, Shark Cards for Grand Theft Auto.
This is also something people reach out for discounted pricing. And like CD Keys, you want to be quick with your delivery.
Gaming Gear: Products like gaming mouse, keyboard, t-shirts, posters, more can be sold as well! This is not the most popular because it requires actual shipping and handling.
How You Get Paid For Selling Your Game Assets
(They do charge fees, but that's better than getting scammed and losing everything)
How to get products with discounted pricing to earn a profit
First of all, every game is different, so I highly advise you to do some research on PlayerAuctions to see how much each item you try to sell goes for. This will help you determine the profit per sale.
Step #1 – Find a vendor:
You want to find a reputable source first! I've consolidated a list of websites you can check out to find your vendor.
(Sythe.org),(G2A),(Green Man Gaming),(Is there any deal),(Kinguin),(Instant Gaming), (Gamers-Outlet)
Step #2 – Negotiate with the vendor:
It never hurts to contact the vendor to work out a deal that would benefit both parties. The better the deal that you can negotiate for, the more profit you can make. *Your leverage is buying in bulk
How To Sell On PlayerAuctions
Step #1 – Register an account
Registration is fairly simple, you can register via Email, G-mail, or Facebook.
Step #2 – Seller or Buyer Verification
PlayerAuctions requires both buyer and seller to verify specific details such as photo identification, etc. That is how they keep everyone safe from frauds and charge-back. This is a one-time verification!
Step #3 – List your items
Once you have verified your information, you can start listing your items for sale!
Potential Earnings
Potential earning depends on the amount of research you put in. I've seen many people making over 6 figures buying and selling in-game Currency.
Let me give you a scenario of my own experience!
I purchased gaming accounts from this vendor for $7.00 because he mass-produced it. I ended up listing 8 accounts on PlayerAuctions for anywhere from $50.00 to $150.00 depending on what it has.
The first account was sold 7 minutes after listing and the other was sold half an hour after!
Just for those 2 accounts alone, I spent $14.00 and my profit was $94.04 after fees!
Let me show you a picture of some of my disbursements!
The truth is, making money online is not an easy task, otherwise, we would all be rich by now. Thank you for taking the time to read through this blog and I hope you all great success.
If you have additional questions in regards to how to make money selling game assets. Please leave a comment down below and I will try my best to help you out.