Were you recently denied by an affiliate program? It's certainly discouraging, but can also be encouraging at the same time.
Rejections happen when you don't meet their standard and that's okay! We all start from zero.
It's something we all experience in the very beginning. In fact, I still get turned down by some affiliate programs.
The good news is, most affiliate programs provide you with a reason why you were rejected.
So you can make adjustments and better your online business before re-applying or finding another affiliate program.
In this article, I will go over the reasons why people get rejected and what to do when you get rejected by an affiliate program.
Common Reasons Why People Get Rejected
Reason #1: You Don't Have A Website
One of the most common reasons is not having a website. I've had friends who wanted to become an affiliate marketer like me but didn't want to go through the process of making their own website.
They thought having social media presence is enough to promote products with affiliate links. Social media is powerful, but it's not enough to build brand, credibility, and trust.
It's not impossible, but you'll need to build a pretty popular channel to be effective.
Would you click on a random person link on social media?
That is why whenever you apply for an affiliate program, they will almost always ask you for your website URL.
Reason #2: Your Website Is Too New
What if you have a website, but still gets rejected? This can happen because the company wants to make sure your website has enough content and traffic.
Your website is a way for companies to measure how much traffic you get. A new website will not produce as much traffic compared to an established website.
Reason #3: You Did Not Provide Adequate Information
As an affiliate marketer, you are required to provide personal information because you will eventually get paid by your affiliate program.
Some affiliate programs like Amazon will require your tax ID for tax purposes. Your application can get rejected simply by not providing enough information.
When applying for an affiliate program, you want to be as thorough as possible. You want to make sure you fill out everything they require.
What To Do When You Get Rejected By An Affiliate Program
It is definitely not the end of the world and you should take it as a way to improve yourself and your website.
If you got rejected for not having enough content? Well, this should encourage you to publish more helpful content.
You need to keep a positive mindset because you were rejected for a reason. You can always improve and re-apply at a later date.
Let's use myself, for example, I applied for Google AdSense on the first day after making this website and was rejected a few days later.
I didn't give up, but instead, I focused on making my website better. I was eventually approved for Google AdSense on a 14-day old website.
These days, I don't rely on Google AdSense anymore. Instead, my website is focused primarily on affiliate marketing.
Important Information About Affiliate Programs
There Are Plenty Of Fishes In The Sea
During your search for an affiliate program, you might have noticed the options are endless. There are hundreds and thousands of affiliate programs within your niche.
You should never feel discouraged when you get rejected because there are others who offer similar pay structures, if not better.
There Are Independent Affiliate Programs And Affiliate Networks!
Besides the independent ones where you apply within their website. There are affiliate networks that are easier to get approval for and the pay is usually more dependable.
Click here to learn the differences between affiliate programs and affiliate networks.
I've tried working for an independent affiliate program before and never got credit for selling something.
That's why I decided to expand my search and find affiliate networks that allows you to join, track, and earn from multiple affiliate programs all in one place.
Clickbank: The approval rate is easy and offers a lot of products for you to promote. I would do some research on the products before promoting them through them.
I've found some get-rich-quick schemes that would destroy the credibility on my website.
Amazon Associates: The approval is also very easy, but you'll definitely have to provide your website URL.
The pay might not be as lucrative as Clickbank, but the legitimacy of Amazon is more than enough of a reason to join.
My Recommended Affiliate Program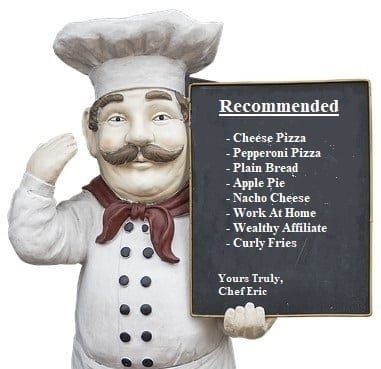 Personally, I recommend joining Wealthy Affiliate even though it is not the same as Amazon Associates or Clickbank.
Wealthy Affiliate is an all-in-one foundation platform for current and future online businesses.
Once you have set up your very own website with their training, you can promote just about anything you want.
You can even promote Wealthy Affiliate and earn great commissions with their affiliate program.
Wealthy Affiliate is free to try with no obligation to upgrade.
Their platform provides you with enough resources, tools, and training to get you started on your online business.
My Final Thoughts
Your website is your blood, sweat, and tear. If someone tells you that you're not worthy to join their affiliate program.
You need to use that as a motivation to exceed their expectations. You don't need to re-apply to them if you don't want to because, with dedication and determination, you will eventually have more options to choose from.
If you have any more questions or need help with anything. Please don't hesitate to leave a comment down below and I will try my best to help you out.
Kind Regards,