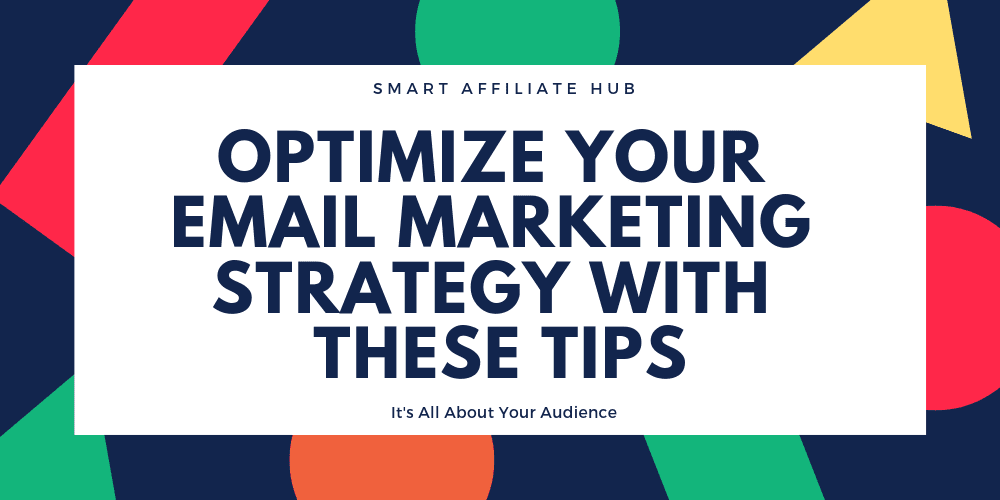 Whether you're operating a multi-million dollar brick and mortar business or online business. Your end goal is to sell and to make money. Often times, we only focus on selling and forget about what triggers the buying decision from a customer.
Now there are the impulsive buyers that will buy right away simply because they want it. And there are people that shops for months without ever making a decision.
In this article, I want to focus primarily on online businesses. And for that very reason, I will go over ways to optimize your email marketing strategy to convert more customers. Without further ado, let's get started!
Note: If you have not set up email marketing for your website. You should check out the following article on how to build an email list with AWeber.
Tip #1. Grab The Attention Of Your Audience
Before you do anything else, think about the things you can do to grab the attention of your audience. This is especially important when creating your landing page to capture emails.
Think about companies that you recognize whether it's through an internet campaign or television commercial. What made you remember them? Was it something that stood out compared to its competitors?
The more you can get your audience to remember you and your brand, the better. Let's use Apple Inc. for example, they are recognized around the world. As soon as someone sees their logo, they instantly recognize the brand and will trust their products.
It's so powerful that no matter what Apple introduces, it will sell. I can't speak for the number of sales, but they will sell to someone.
So for your landing pages, you should test out different elements, messages, etc. The end goal is to ensure people will remember you and your brand.
Tip #2. Why They Need To Buy Your Product Now
When creating your email marketing campaigns, you have to evoke the need to buy your product now. First, you must understand how your product will form a connection with your audience.
For example, when there's a fire, people instantly think of water. So depending on your niche, you have to think about the issues that can occur and how your product can solve it.
For the make money online niche, the issue is usually the desire to work from home, make money online, quitting a day job, etc. So the product should depict the benefits and how they can reach their goals through it. So when creating your campaigns, you need to present these points.
Tip #3. A Picture Is Worth A Thousand Words
Text content ranks very well on search engines, so many bloggers and internet marketers are under the impression that text content is all they need to focus on.
With Social Media being such a popular area of the internet, a picture is worth a thousand words. You can create highly engaging content via pictures, infographics, etc.
Going back to tip #1. grab the attention of your audience. Most people convert simply because what they see is simple yet it gets the point across. Not everyone has time to read and if your focus is mainly on text, then you will miss out on a ton of conversion.
That's why I recommend adding pictures to your text content wherever it makes sense. In the case of email marketing, you should test out different pictures or infographics instead of using only text.
Tip #4. Link To Product Or Service Review
Similar to the purpose of yelp, people like to read reviews before making a buying decision. By including links to product or service reviews, you will build up more confidence in your potential buyers.
If you are promoting a product or service that you own, it doesn't hurt to provide a link to the product review or better yet, a video testimonial. Products with many positive reviews will have far more potential of selling compared to one that has zero or many negative reviews.
Tip #5. It's All About The Value
In the end, it's all about the value of your products and services. A product that serves no purpose or solves no problem or desire is destined to fail. When creating your email marketing campaign, you should consider why people subscribed to your newsletter in the first place.
For example, if your subscribers subscribed for video courses on losing weight. Their goal is to obviously lose weight, so the products and services that you include in your emails should address exactly that.
Tip #6. Always Test Your Effort
Nobody can 100% predict that their email marketing campaign is going to work. That's why it's so important to test your effort. Whenever you're making changes to your blog, email marketing campaigns, etc. You have to know what is working and what is not working.
The good news is most email marketing service providers like AWeber tracks each email sent which includes open rates and click-through rates. I recommend conducting split tests to get the best results. Here's a split testing guide that you can download for free from AWeber.
In Conclusion
Before you can use any of the tips above, you must first understand your audience. If you don't take the time to understand your audience, you will never be able to meet their needs and desires.
Afterward, you can go through each tip listed above and implement them into your email marketing campaigns. It takes trial and error and doesn't guarantee success, but blindly sending out emails that may or may not be relevant to your audience will not do you any good either.
Hopefully, this short article was helpful! If you have questions or need help with anything. Do leave a comment down below and I will try my best to help you out!
Cheers,