Learn Everything About Online Marketing
Running a business is not a walk in the park, there are many things to learn and you want to ensure that your business stays afloat. With how popular the internet has become, it comes to no surprise that many successful businesses are leveraging online marketing.
According to Statista, there were approximately 1.79 billion digital buyers worldwide. Consider that there are only 7.69 billion people in the world (as of 3/21/2019), that's quite impressive.
You just can't deny that the internet is where many people shop these days.
Now getting yourself a website is a start, but that's not enough. In order to compete in such a competitive space, you'll need to put in the effort to increase your online visibility to your targeted audience. And that's why you need to learn about online marketing.
And here are a few reasons why you need to take advantage of online marketing.
Reason #1. You Can Connect With Your Audience From Anywhere In The World
Unlike a physical storefront, people are spending a lot of time on the internet. Besides YouTube, many people spend their time on Social Media, reading blog posts, checking their email, etc.
Online Marketing allows you to reach and connect with people virtually. Instead of sitting at your store hoping that someone shows up. You can make yourself available by joining different channels online to help build awareness around your business.
For example, yesterday, I made a purchase for a new iPhone case. I wouldn't have bought it if I didn't see the advertisement posted on Instagram while I was casually scrolling through.
Reason #2. You Can Reach Targeted Customers
Marketing can be expensive and there's no reason to market to the general population. Not everyone is going to be interested in your offers and that's why online marketing is so effective.
Unlike the traditional methods where you have to spend a huge amount of money on billboards, television commercials, etc. You can utilize programs and channels to market to your targeted audience.
With online advertisement and social media, you can specify who you want to show your ads based on specific criteria.
For example, you can include factors like age, gender, geography, income, interest, etc.
With that being said, with online marketing, you won't have to waste money advertising to people who are least interested in your offers. You can pay to reach people who are most likely going to buy from you.
Reason #3. You Can Track Your Online Marketing Efforts
Marketing is not a straight shot. Sometimes your marketing efforts will work and sometimes it won't. The important thing is to be able to analyze what's working and what's not.
With online marketing, you can utilize tools to track your marketing efforts which gives you accurate data on what you're doing. Are you driving sales? Increasing leads?
With that information, it can help you figure out how much money you need to spend on marketing for the best return on investment (ROI). Yes, you don't have to blindly throw away your money.
Different Areas Of Online Marketing
For a brick and mortar business, there are different methods such as billboards, television commercials, local ads, etc. Now when it comes to online marketing, it's pretty much the same. There are different types of online marketing that you should learn and consider.
#1. Affiliate Marketing
Affiliate marketing is a collaborative effort where the advertiser owns the product and the publisher promotes the product. When the publisher sells a product through his or her affiliate link (provided by the advertiser), he or she gets paid a percentage of the profit.
You may or may not want to use affiliate marketing for your business, but it can help bring in additional customers that you normally wouldn't have reached.
#2. Search Engine Optimization (SEO)

SEO or search engine optimization is a method that helps improve your website's chance of ranking high in search engines like Google. For example, let's say you're selling refrigerators.
You can generate a lot more traffic, leads, and sales if you rank for the term refrigerator. This is because people who are searching for that keyphrase will see your website first.
Here's a list of important resources for SEO information!
When it comes to SEO, you want to do it the right way. Or you run the risk of getting penalized by search engines like Google. If you depend on search engines to generate traffic, leads, and sales. A nuke from Google will completely destroy your online business. Here's how to avoid getting penalized by Google.
#3. PPC Marketing (Pay Per Click)
Why I highly recommend SEO as it helps to generate free organic traffic through search engines. PPC marketing can help you generate the same type of traffic except at a faster rate.
By spending money on ads, it will get displayed on the search results page. The only difference is, you don't have to wait for your content to rank. It's basically paying to cut in line!
If you decide to go this route, it's important to conduct keyword research. This will enable you to target certain keywords that you want your ads to show up for. A great tool that I personally use is Jaaxy Keyword and Niche Research tool as well as UberSuggest.
Can't decide on SEO or PPC? Learn about which one you should do here.
#4. Content Marketing
Content marketing is extremely popular for those who get most of their traffic through search engines. The purpose of content marketing is to build a long-term relationship with your audience.
As you can see, Smart Affiliate Hub is based on a blog and the blog posts that I publish are free to consume. Now obviously, I don't make any money if everything is free.
And that's what makes content marketing so powerful. First of all, if you don't me, you're probably not going to buy from me. By offering you free information, you're more inclined to subscribe to my newsletter and or buy from me in the future.
However, for content marketing to work, you'll need to consistently produce helpful content over time if you want to get results. The good news is, quality content gets ranked on search engines which results in more organic traffic over time.
#5. Email Marketing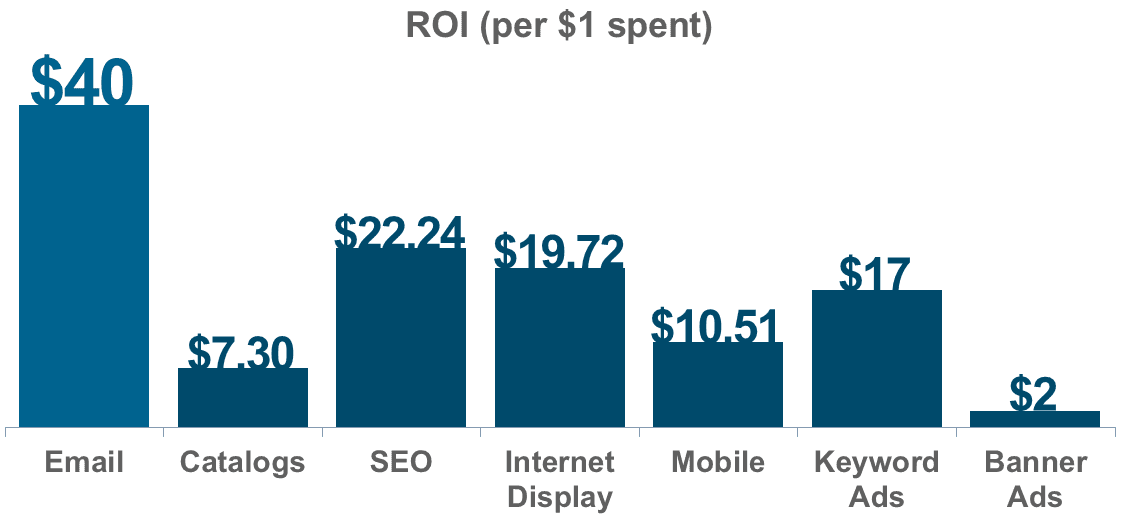 Email marketing is one of the best marketing tools to maintain and nurture your leads into customers or repeat customers. For example, let's say someone purchased from you in the past. You can send out emails to these customers in regards to promotions, deals, information, etc.
As you can see from the image above, email marketing yields the highest return on investment for every $1.00 spent.
In my opinion, content marketing and email marketing works hand-in-hand. You use content marketing to build a relationship and to gain a subscriber.
Once you've done that, your email marketing strategy is designed to nurture your leads and to eventually generate a sale from each subscriber.
If you haven't started building an email list yet, here's how to build an email list with AWeber (30-day free trial).
#6. Social Media Marketing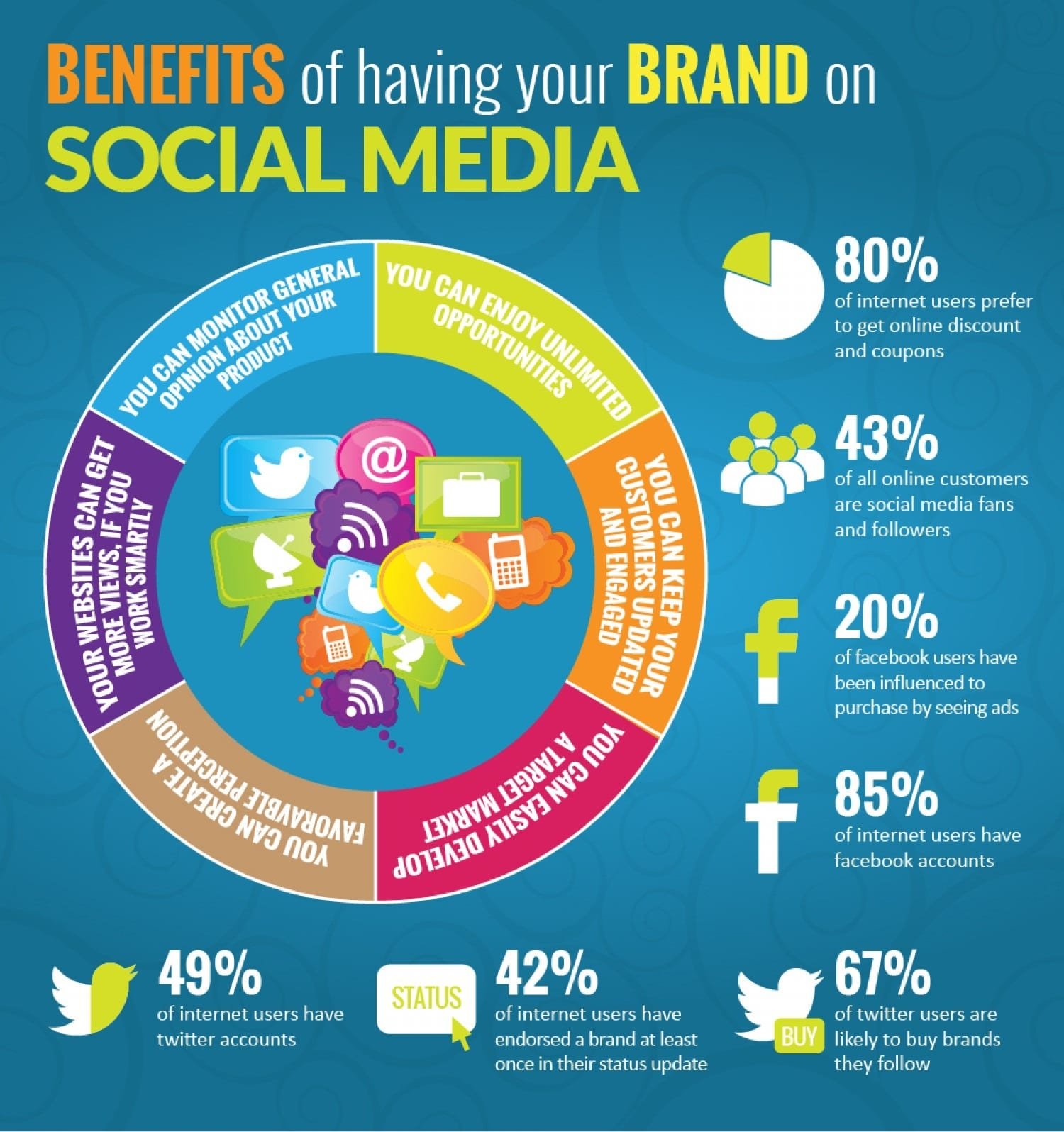 Social media marketing includes both free and paid methods. Now we all know that Social media is free to join, so you can simply create an account for your business and promote your products and services.
Personally, I believe every business should have a fan page on Facebook (one of the biggest Social media platforms).
Most Social media platforms also include their own paid advertisement option. So if you want to display ads on each perspective platform, you may but for a cost.
#7. Landing Pages (Sales Funnels)
Now sales funnels and landing pages alone will not generate traffic for your website.
However, by promoting your landing pages through networks like social media, content marketing, paid advertisements, you can essentially increase the likelihood of generating a sale.
Landing pages (sales funnels) are designed to help guide your visitors to make a decision. Whether it is to subscribe to your newsletter or to purchase a product or service.
My personal favorite sales funnel creation software is ClickFunnels, check out my ClickFunnels review here.
In Conclusion
Online Marketing is the roof for a mixture of strategies that you can leverage to increase brand exposure for your business. Now you may not need to use all of what I've discussed in this article. But it certainly doesn't hurt to understand them and maybe even try them out to see what works for you.
The internet is a competitive space, so it's best that you leverage everything is available to you, so you won't go in with a disadvantage. Let me ask you this…
Which online marketing strategy have you used? Or which online marketing strategy are you familiar with?
Please share your thoughts by leaving a comment down below. If you need help with anything, please ask and I will try my best to help you out.
Kind Regards,