Keyword Research Tool – Improve on SEO and Generate Organic Traffic

Keywords are used to determine the relevance of your content and finding the right one is very important. This will help you generate organic traffic and help Google determine what kind of advertisements to place on your website. This affects the overall performance of your Google AdSense advertisements.

There are many tools out there, but the one that I recommend is Jaaxy Research Tool. You can check out my full review on it by Clicking Here.
You can also use a tool provided by Google themselves! Google AdWords Keyword Planner allows you to find trending keywords and cost per click for keywords.
Important Keywords in Keyword Researching:
Monthly global search volume: This gives you an approximate number of people who are searching for a particular keyword per month.
Average Cost Per Click (CPC): The higher the average cost per click is, the more money you can make per click.
Search trends: This will allow you to foresee the potentials of the keyword. Some keywords can be extremely popular on month and reach rock bottom the next. The search trend will allow you to see the trend of popularity.
Monthly local search volume: This is very important depending on which geographic location you want to target. There are some countries where your particular keyword wouldn't do so well, so the monthly local search volume will allow you to see the number of people who are searching for the keyword in your country.
Why It is Important To Make Sure Your Advertisement Blends In
I still remember back in 2005 when I first started exploring the internet. Advertisements were everywhere and I didn't even know most were advertisements until now.
Fast forward to 2017, most visitors would see an advertisement as an annoyance. I know I do. It makes sense because it's been around since 2013 and we've seen it millions of times over the course of 14 years.
This is why I don't advise spamming your website/blog/articles with advertisements because not only will it NOT get clicked, your visitors are likely to never return.
Did you know people tend to click an advertisement when they don't even know it was an advertisement?
This is why blending in your advertisement is important. You need to have enough text content before you consider adding in advertisements.
Can you imagine an article with 500 words and 3 advertisements within? I would laugh and click [X] on the top right-hand corner of my browser right away! — Seriously, are you trying to provide me with information or are you hoping the advertisements would entice me to click it?
The advertisements are usually relevant to your content, so if you can make it blend it. It would look like an extension to your article providing more information on solving his or her problem.
This varies from website to website, so I recommend playing around with it to see what provides the best click-through rate! Oh, by the way, let's explain what click-through rate is!
Click Through Rate is the measurement of the number of clicks received on their ads per number of impressions.
Example: (Total Clicks on Ad) / (Total Impressions) = Click Through Rate
How SEO Can Help You Generate More Traffic For Google AdSense
It's the undeniable truth when it comes to top ranking websites receives MOST of the organic traffic. SEO or search engine optimization will help your website rank at the top of search engines like Google, Yahoo, Bing, etc.
Do you recall going past the first 3 pages when you make a search on Google? I'm sure we've all done it before, but usually, we stick with the first 1-2 pages.
Google and other search engines are smart by placing the MOST relevant websites on the first few pages, so you wouldn't have to spend hours searching for the right website.
This directly correlates with Keywords, so if you somehow skipped that portion of this article. Please go back up and review the Keyword Research Tool(:
Depending on the search volume of your keyword, even if you are listed beyond the first 3 pages of the search engine, you can still receive a significant amount of traffic. More organic traffic = more potential clicks(:
If you utilize SEO properly, you can generate a generous amount of passive income. This will allow you to focus on further development of your website and maybe even starting another website for more potential revenue!
Reasons Why Your Website Is NOT Making Good Money With Google AdSense
If you take a look at my website, you will realize that I don't have get-rich-quick methods! That's because I am not a scammer and I provide information that is realistic.
Google AdSense is NO exception. It takes time and dedication to succeed. You're not going to earn $10,000 per month immediately, but it's not impossible.
If anyone who makes a website, throw some AdSense advertisement on it and earns a full-time income right away. You wouldn't see people like me who are constantly publishing content.
In fact, most people don't make enough to consider a full-time income with Google AdSense. Let's get straight to the reasons why you aren't making a lot of money with Google AdSense!
Reason #1: Your website doesn't have enough traffic
Google AdSense is the platform and your traffic is the source of income. Without traffics, you wouldn't get clicks on your advertisements which results in ZERO revenue.
There are many factors as to why your website is not receiving enough traffic. The most common one is the slow web-hosts! We no longer live in the world of dial-up connection. Your visitors will not wait for your website to load… the longer it takes to load… the longer it takes for you to build a successful online business. The first thing I look at when it comes to loading time is the images on my web pages. The format JPG typically loads faster than a PNG, but PNG has better quality.
Another possibility is the popularity of your niche and the choice of keywords used. This is why I recommend using a keyword research tool to find low competition keywords. You can check out the image example below(:
You should also double check your content before publishing or revise your existing content to make sure it is high quality(:
Reason #2: Your Click Through Rate is Poor
Fortunately, this happens to everyone and its because the visitors are not clicking on your advertisements. This is why I recommend making the advertisements blend in, so you should play around with your advertisements and analyze it regularly.
Click here to check out this article for ad placements recommended by Google.
Reason #3: Reading Unrealistic Articles That Claims You Can Make A Fortune
Unfortunately, making money online requires a lot of motivation. The internet is filled with success stories, but not many with stories of their failure.
Often times, we are consumed by these success stories and that creates an unrealistic expectation. Instead of focusing on other people's success, you should focus on yourself.
The reason why I say this is that when you achieve less than expected, it discourages you from continuing.
You've already gone this far with figuring out your niche, building your website, finding a web-host, applying for Google AdSense, and getting the final approval. The next step to your success is following the steps I listed above and focus on high-quality content.
You've won half the battle, now the rest depends on you(:
Choosing A Strong Foundation For Your Online Business
If you are new or just started working on making money online. I highly recommend joining Wealthy Affiliate and utilizing the resources and tools provided.
I started with ZERO prior experience and knowledge with website building and earning money online. Wealthy Affiliate was able to provide me with the knowledge through their certification course.
It's extremely hard to start something new without proper guidance. I've tried watching YouTube videos and for the most part, they don't go into the little details that you need to actually get started.
Wealthy Affiliate was like a mentor holding your hands every step of the way. The best part about it is the ZERO upfront cost to get started with them.
If you want to learn more about Wealthy Affiliate, you can click on the banner below to read my FULL REVIEW(:
How To Get Paid By Google For AdSense Earnings
You will first need to reach a threshold for address verification. I am living in the United States, so I am required to have $10 in earnings before it triggers the address verification process.
Click here to check your countries threshold requirement
After verifying your address, you will be able to cash out once you reach a minimum of $100 in your Google AdSense account.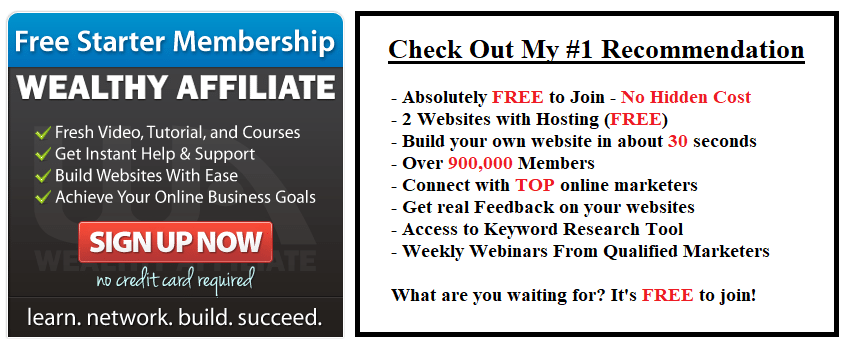 Thanks again for taking the time to read this extremely long article and hopefully I provided some good information for you today. I try my best to add new content on a daily basis, so feel free to leave a comment or contact me directly if you have any questions or concerns.
Best of luck to you all, and let's get started with making passive money while you're asleep(: Wake up and smile at the increase of revenue ^_^
Google AdSense is the main income for some bloggers, so it's your job to make sure you don't get disqualified and banned. Check out the following article to protect yourself from getting punished! CLICK ME(:

Kind Regards,