Welcome to my Two Dollar Click Review 2021. I came across a product called, "Two Dollar Click" and was intrigued by its crazy claim. It sounds like an easy way to make money, but is it too good to be true?
Well, you're probably wondering if Two Dollar Click is a scam and that's why you're here. In this article, I will show you if it's worth your time. By the end of this review, you will learn if it's to your advantage to try it out!
Two Dollar Click Review 2021
Name: Two Dollar Click
Website: http://twodollarclick.com/
Price: Free + Membership Upgrades
Owners: Jordan Welsh
Recommended? No, not at all!
Two Dollar Click – Product Overview
Two Dollar Click is a PTC (paid to click) website that claims to help you make money quick and easy. From my experience, the payout is usually not as good as it claims.
I remember earning less than pennies per click, so don't get your hopes up. In order to start earning money, you'll have to first create an account.
After you've registered for your account, you can start earning money on Two Dollar Click by clicking on advertisements and watching it for approximately 30 seconds.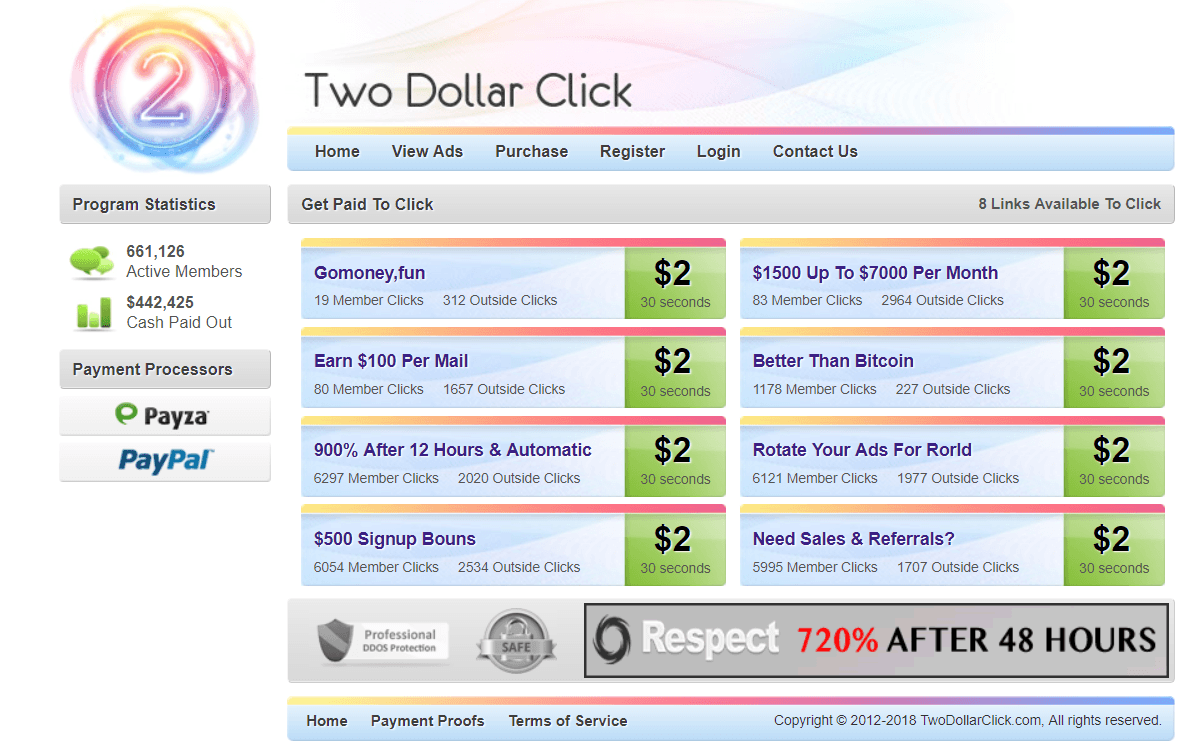 There is another way to earn money and that's through referrals. You can earn anywhere from 10 to 200% in referral earnings. However, the minimum payout is $1,000.00.
In my opinion, that's a lot of money and you'll have to stick to it otherwise you could potentially waste hours of your time. Fortunately, at $2.00 per click, that is approximately 500 clicks in order to reach the payout threshold.
Sounds like a simple click and earn system, but is it really that simple? Well, what happens is websites like mine who are looking to increase traffic would reach out to companies like Two Dollar Click for paid advertisement.
Two Dollar Click offers a purchase program for advertisements. Basically, a business owner can buy ads for as low as $2.50 for 25,000 views or $5.00 for 1,000 link ad hits.
Since they are offering $2.00 per click, they must be doing very well for themselves in terms of getting people to spend money on ads! However, I wanted to know if there's a catch to all of this and decided to dive deeper.
Breaking Down The Real Operation Behind Two Dollar Click
By now, you're probably excited about signing up for this money-making opportunity, but hold your horses and continue reading please! (: I did some research and found out that the owner of Two Dollar Click has been involved in other scam websites like Ten Dollar Clicks, NeoDollar, Six Dollar Clicks, Etc.
Basically, they get their money from business owners who advertise on their website, but what ends up happening is that the people who click on the ads never get paid.
I'm not surprised by my findings from the complaint board. There are quite a few complaints regarding the payout issue from Two Dollar Click. They just don't pay out to their members. Basically, you can reach their $1,000.00 payout threshold and still not get paid for it! In addition to reaching the minimum threshold, you'll have to wait 60 days before they send you your money (that's if they send you your money).
During the wait, they will try to reach out to you to convince you to upgrade your membership ($19.95 or $39.95 per month). Even after spending more money on upgrading your membership, they will still NOT pay you because they have no intention to do so.
The entire operation doesn't make sense! If Two Dollar Click charges $5.00 per 1,000 link ad hits (That's $0.005 per click), how can they pay you $2.00 per click? That's not a good business model in my opinion.
You look at paid advertisements like Google AdSense, they pay you a percentage of what the advertiser spends. That's how they make their money. If someone spends $1.00 per click, but Google pays you $5.00 per click. They would eventually go out of business! Yes, even Google can go out of business with that kind of business model.
Is Two Dollar Click A Scam?
Yes, absolutely! Two Dollar Click is definitely a scam because they are wasting your time for nothing. Basically promising something that they don't actually deliver. To me, it's almost like spending hours on surveys with no rewards in the end because halfway through each survey, they would stop you and claim that you don't qualify. After checking out complaints that date back to 2011, I'm surprised that they are still in operation.
I guess that's why product review articles like this are so important. Even though they are still around and we can't shut them down ourselves. At least we can bring awareness to people who are looking to make money online. If you are interested in making money online, I would stay away from Two Dollar Click! I don't recommend this website to anyone! You are better of building your own online business which I'll go over with you next!
Build Your Own Online Business
If you truly want to escape the rat race, the only way is to be your own boss, not relying on get-rich-quick schemes. I started Smart Affiliate Hub back in October 2017 and I can honestly say that it takes time to build it and make money from it.
I remember the first month of operating Smart Affiliate Hub, I was shocked to earn a few dollars. I thought I was incapable of making money online, so I networked with others and have concluded that if you want to make money online, it takes time, effort, and consistency. However, if you think about it. Nothing worthwhile comes easy!
If you want to become a doctor, you must invest money and time into your education. The same applies to make money online, it's not a lottery where you can just buy in and hope to get rich!
If you are interested in learning the process of starting your own business and making money online. I strongly suggest that you check out Wealthy Affiliate.
The nice thing about starting your own business is that you get full control over it. If you are into fitness, you can create an online business around fitness. If you are into food, you can create an online business around food.
That's the beauty and it's not as hard as you think. With proper training, guidance, and support, you can do it. I had no idea how to set up and run a website in the past. As a matter of fact, I started Smart Affiliate Hub with zero experience with making money online.
However, as a free member, you will have limited access to the training, so eventually, you'll have to upgrade to the premium membership. It's about $49.00 per month which might be a problem for some people.
That's why I'm offering a FREE WordPress installation service for my readers. With my service, your monthly expenses for web hosting will be reduced to as low as $2.75 per month which is way more manageable. Regardless of which option you choose, it's definitely worth it to invest money in yourself.
It's a small price to pay and lots to gain if you want to quit your 9 to 5 job and change your lifestyle completely. It won't happen overnight though! Your website is your foundation and your contents are seeds that you plant in your foundation.
With enough time and consistency, you will eventually reach the harvest point for your hard work. If you have any questions, comments, or concerns. Please leave a message down below and I will try my best to help you out!