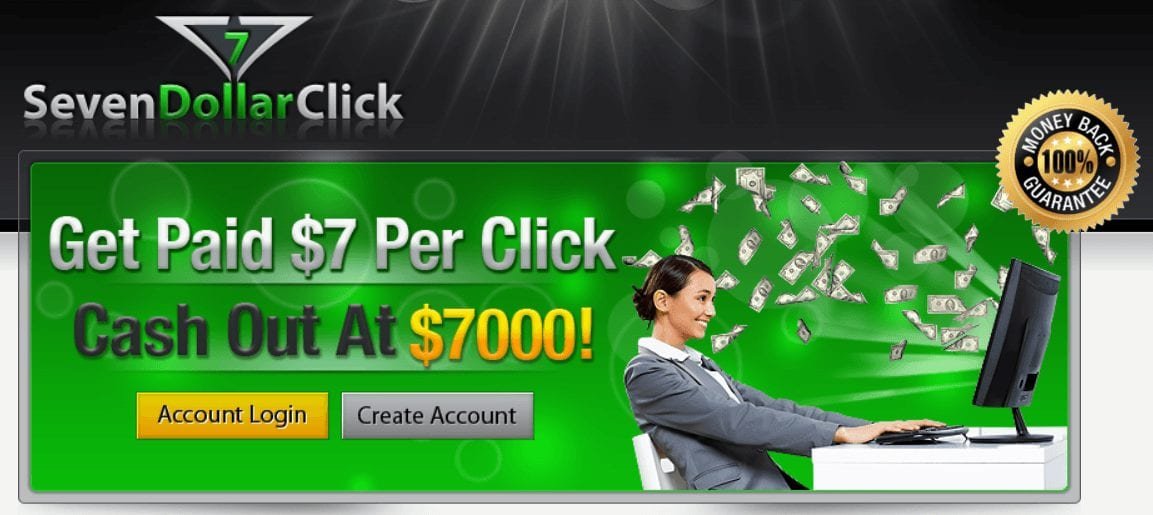 Today, I discovered yet another paid to click website called Seven Dollar Click. Not too long ago, I reviewed a website called Two Dollar Click, so I wonder if it's a legitimate make money online opportunity or just another scam that won't pay you.
I always try to give every product and service the benefit of the doubt, but it's hard to be too optimistic when the majority of these paid to click websites are not legitimate.
You're probably wondering the same and that's why you're here today. Let's find out if Seven Dollar Click is legitimate or if it's just another scam and a waste of time. Without further ado, let's get started!
Oh before you continue! I have a FREE eBook (latest version) that maps out exactly how I got started from zero to making money online. Simply click on the banner below to get your copy today!

Seven Dollar Click Review
Name: Seven Dollar Click
Website: https://sevendollarclick.com/
Price: Free To Join With Memberships
Owners: Unknown
Recommended? Continue Reading To Find Out
Seven Dollar Click – Product Overview
Seven Dollar Click is a free to join paid to click website. After signing up, I discovered that you can earn as a free member, but in order to cash out, you must become a premium member.
Basically, Seven Dollar Click is a website that pays you $7.00 per ad view for 25 seconds. Sounds like a gold mine so far! So I ended up clicking my first ad to see what happens. Basically, after you click on an ad, you will wait for a countdown. Afterward, to verify that you are human, you will have to select the appropriate number.
After clicking on the correct number, it will automatically record it under your account. You can check your stats by going to My Account and Stats.
As you can see from the picture below, I clicked on 2 ads which took 25 seconds each and I earned a total of $22.00 (The first ad was $15.00 and the second ad was $7.00).
The minimum payout requirement is $7,000.00 and in order to cash it out, you'll need to upgrade to their premium membership which starts as low as $59.99 per month, as low as $199.00 per year, or as low as $750 for a lifetime membership.
Good news is, you don't need to upgrade until you've earned $7,000.00! However, as good as it sounds… it doesn't really matter unless they're really going to pay you $7,000.00. With dive deeper to see how it really works when you try to earn with Seven Dollar Click.
Red Flags For Seven Dollar Click
After getting hyped up with the earning potentials. It is now time to realize that when something sounds too good to be true… it usually is. The following are red flags that I have discovered when conducting my review.
Red Flag #1: Takes 75 Days For Payout
First, you have to spend money to have withdrawal access… now you have to wait 75 business days to get paid. Assuming there's no special Holiday coming up or going on. That means you'll have to wait around 3 months in order to receive your funds.
Also, if you look closely. It also states that you'll get paid as long as you don't breach their terms of use. I have a feeling they will use this as an excuse to not pay you.
Red Flag #2: They are paying far too much!
If you take a look at the current paid to click industry, $7.00 per click is insane. Look at huge companies like Google and Facebook. Even with them, it is unlikely that you'll earn $7.00 per click unless the advertiser is spending a fortune.
Even with their membership plan, it is unlikely that they will recoup their money back if they are paying out this much money. As a starter, I received 140 available links to click which sums up to around $988.00 if I complete all of them. Which means it will take around a week or a bit more to accumulate $7,000.00.
With their lowest membership to access the withdraw option $59.99 plus 75 business days for payout, Seven Dollar Clicks will be negative $6,820.03 per withdraw. Let's not forget how many people are doing this.
You can argue that some people would join, view the ads, and never earn enough money for the withdrawal. However, if it's really as good as it seems… I just can't imagine why people would stop and not continue!
To me, this is your typical claim to entice people who are desperate to make easy money online.
Red Flag #3: No Payout Methods Mentioned
When I look at making money online opportunities, the most important is the payout method. How am I going to get paid? In the case of Seven Dollar Click, they don't tell you the exact payout method. What if it's a method that you can't withdraw from?
Red Flag #4: You Can't Buy Memberships From Your Ad Balance
Looks like you can't use the money that you've accumulated through ad clicks from your account. In order to purchase memberships, you'll have to send them YOUR money.
Honestly, if they're actually going to pay you $7,000.00. What's the problem with using that money to pay for membership in advance? There's only one explanation… they want YOU to pay first.
Is Seven Dollar Click A Scam?
I have concluded Seven Dollar Click is a scam and not recommended to my readers. After uncovering the red flags, it is clear to me that you're probably not going to get paid.
Personally, I don't work with companies that require me to spend time AND money before I can reap in the fruits of my labor. Seven Dollar Click is designed to make money off of memberships, referrals, and advertisers. Their goal is to entice as many of us to sign up and pay for memberships and referrals.
Since you have to wait 75 business days to cash out. You'll have to spend 3 months worth of membership fees with the fear of them shutting you down, disabling your account for violating their terms of use.
Instead, you should invest that money on something tangible. A real business that you can start and scale for less money! If you are interested, please continue reading.
A Legitimate Online Business Model
I'm not going to sugarcoat things. There are lots of scammers on the internet. They feed on our desire to make money fast with minimal work. Finding a legitimate online business model is like searching for a needle in a haystack of scams.
Well, I want you to stop searching because you've come to the right place. Simply download my eBook by clicking on the banner below. It contains the exact process of how I got started from zero to making a passive income online. It's extremely easy to follow with 2 options to get started.

One is absolutely free to start, but it does cost $49.00 per month if you want full access from website hosting, training, keyword research, and more. It's the exact platform that got me started.
The second option is much cheaper, but it's not free to start. For as low as $2.75 per month, you can have your very own WordPress website hosted on my recommend website hosting provider. Plus, with my FREE WordPress installation service, I will configure your WordPress website for you.
If you have any questions, comments, and concerns. Please leave a message down below and I will try my best to help you out.
Kind Regards,