Is there really a secret to wealth? Can you really discover some secret and magically become rich? Today, we will look into a system called, Our Wealth Secret. According to their website, millions of dollars have already been paid to members who watched their webinar.
Like most systems, we give it the benefit of the doubt before making claims. Therefore, I will try my best to reveal the truth about Our Wealth Secret. You will discover whether this is really the secret to wealth or another common scam. Without further ado, let's get started!
Before we continue, I'd like to offer you my free eBook (latest edition) that maps out my journey from zero to making a passive income online. It also contains actionable steps for you to take, so you can get started as well! Please click on the banner below to get started:

Our Wealth Secret Review
Name: Our Wealth Secret
Website: https://www.ourwealthsecret.com/
Price: $2,000.00 Up To $22,000.00
Owners: Unknown
Recommended? Continue Reading To Find Out
Our Wealth Secret – Product Overview
As hopeful as I am, making money online is no secret. What it takes is the right training, work ethic, consistency, persistence, and time. However, let's not throw in the towel and claim that Our Wealth Secret is a scam. Let's give it a chance by diving into their sales video first.
For the beginner of the sales video, I can already see how they are hyping you up to purchase their system. Of course, we want to live a better lifestyle and earn more money in a month than what most people make in a year.
Our Wealth Secret claims that people are making over $12,000.00 in two weeks. Some people are well in the six-figure mark after one to two months.
From experience, claims like that raise a huge red flag. I mean it's not impossible to make that kind of money, but not in such a short time frame.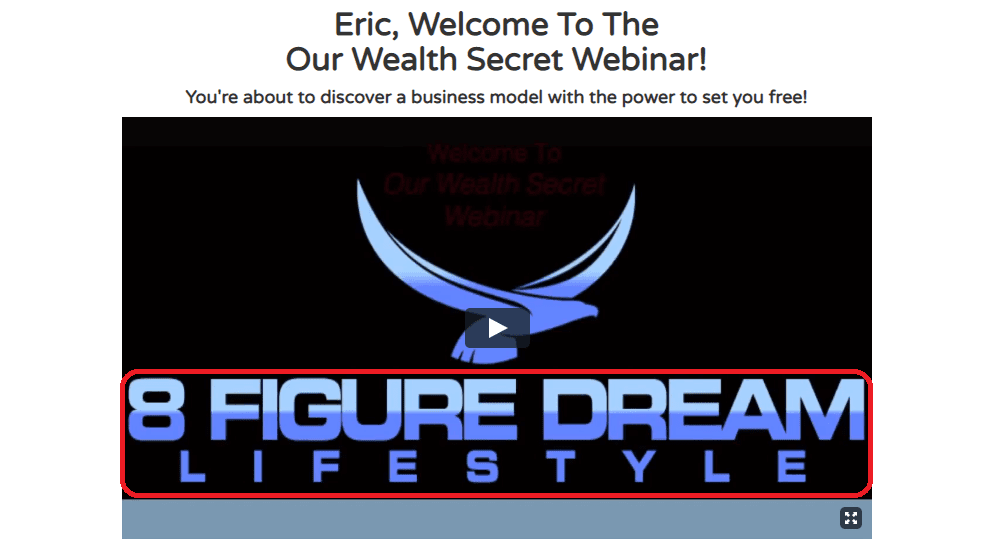 Turns out, Our Wealth Secret System is not the actual product. It's a sales funnel that funnels you to the actual product called 8 Figure Dream Lifestyle. I have already reviewed this product not too long ago and have concluded that 8 Figure Dream Lifestyle is simply a recruitment system, very much an MLM.
In order to make money from 8 Figure Dream Lifestyle, you'll have to front a significant amount of money to get started.
What To Expect If You Sign Up For Our Wealth Secret
Since we've discovered that Our Wealth System is not the actual system. Instead, let's see what 8 Figure Dream Lifestyle is all about!
In a nutshell, 8 Figure Dream Lifestyle is a high ticket product that sells digital information at different price points. It ranges for as low as $2,000.00 up to $22,000.00 dollars.
Basically, you will earn 100% commissions on the ones you sell. However, as amazing is it sounds… there's a catch. You must buy them yourself first as licensing fee.
Here's a breakdown of the cost + licensing:
Basic Package – $2,000.00 + License Cost – $195.00 = $2,195.00
Builder Package – $3,500.00 + License Cost – $295.00 = $3,795.00
Advanced Package – $6,500.00 + License Cost – $395.00 = $6,895.00
Pro Package – $12,500.00 + License Cost – $445.00 = $12,945.00
VIP Package – $22,000.00 + License Cost – $495.00 = $22,495.00
Each package is a one-time payment and the licensing fee is for the product creator. If you want to sell everything, you'll have to spend $48,325.00.
How To Earn Money After Paying For These Packages
After spending almost half a hundred thousand dollars. What comes to mind next is how to recoup your money back plus earn a profit. There are four ways to earn money and they are all based on recruiting people.
Once you buy into one of these packages, you have four ways to earn and it's all by recruiting people:
Personal Sales: For this, you can keep 100% of the commission.
Qualifying Sales: This is when your recruit sells a product, you will get the first sale's commission. Which means, your first sale will also go to whoever recruited you.
Roll Up Sales: To earn from this, you must buy into the different level of packages. For example, if your recruit starts with a basic package, but sells a VIP Package, they will only earn $2,000.00 and the rest of the money ($20,000 based on VIP Package) will get sent to you if you're at the VIP level.
Upgrades: When your recruits upgrade their packages, you will get paid the difference. For example, if they upgrade from Basic to VIP, you'll get paid $20,000.00.
With that being said, if you don't want to miss out of any commissions, you'll have to purchase the VIP package plus every single licensing fee which sums up to be around $23,825.00.
It sounds quite enticing, but in actuality, the money is just being passed from one person to another. Again, this is what I would consider a pyramid scheme, a multi-level marketing (MLM) operation.
To keep this profitable, your recruits will need to continue to generate sales. Once your recruits stop, you'll have to recruit more people again to stay in business.
Also, depending on your marketing approach, you might have to spend even more money on advertising. For Smart Affiliate Hub, I get most of my visits organically (free) from search engines and Social Media, plus my start-up cost was around $49.00 per month with Wealthy Affiliate.
I don't know about you, but I certainly don't have thousands of dollars to invest in a multi-level-marketing system. Recently, a company that goes by the name MOBE was shut down by the FTC.
If Our Wealth Secret gets shut down by the FTC, I would be out of my initial investments. Sure, I could earn it back before it gets shut down, but I don't have a crystal ball in front of me.
I can't predict what can happen in the future. Although the income sounds awesome, the risks are high. And I'll sleep better knowing that my online business (Smart Affiliate Hub) will not all of a sudden go away.
Is Our Wealth Secret A Scam?
I have concluded that Our Wealth Secret is NOT a scam. However, I do NOT recommend them to anyone. Our Wealth Secret is a funnel that directs you to the actual system called 8 Figure Dream Lifestyle.
I do appreciate that Our Wealth Secret was clear on this from the start. Most funnels like Our Wealth Secret never share that information until you're ready to pay.
The reason why I don't recommend Our Wealth Secret is because the 8 Figure Dream Lifestyle is actually a pyramid scheme, MLM, whatever you want to call it.
There's no actual product being sold, except for the system. To make money, you'll have to basically recycle the system and passing it on to the next person. Definitely not my cup of tea and business model.
If you are interested in learning more about a legitimate business model that has helped me generate passive income online, please continue reading.
A Legitimate Business Model That Has Helped Me
I'm not going to hard-sell you on anything. As a matter of fact, I am going to give you something for free. Just click on the banner below to download my free eBook that maps out the exact process that got me started from zero to making a passive income online.

It contains my short story plus actionable resources to get you started today! To create an online business, it will cost you money… I'm not going to sugarcoat that. However, it's not going to cost you 10s of thousands of dollars to get started.
In fact, with the information provided in my eBook, you can get started for as low as $100.00 per year! Take matters into your own hands and choose the right path.
If you have any questions regarding Our Wealth Secret or anything in general. Please leave a message down below and I will try my best to help you out!
Kind Regards,