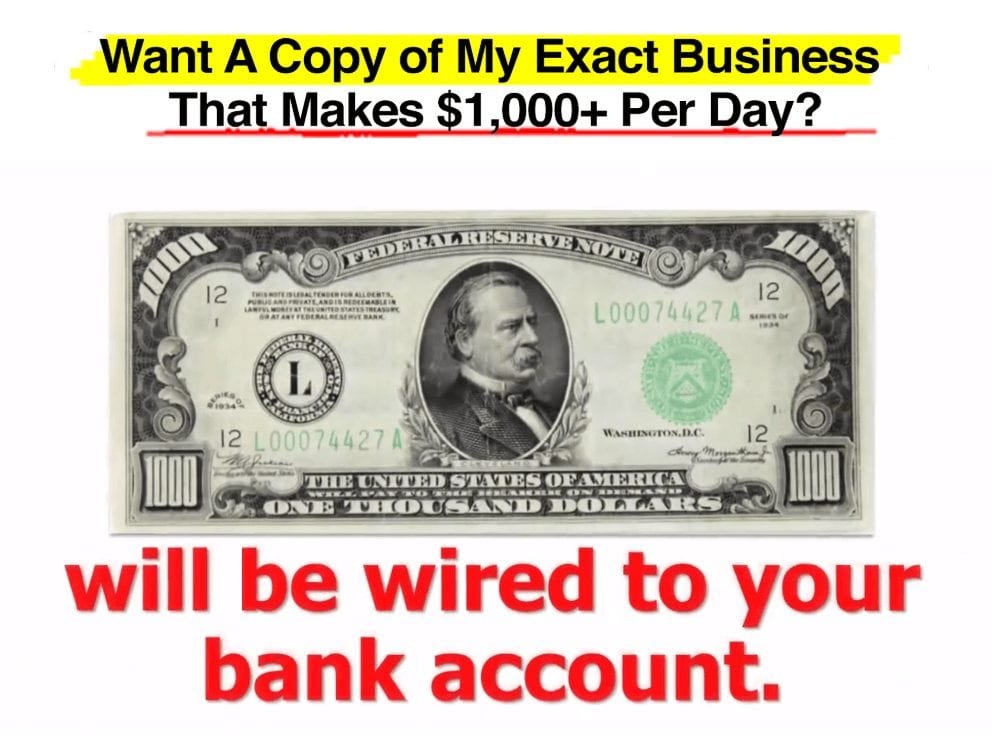 Copy Tim's exact business that makes $1,000.00+ per day! Once the red button appears, click it, and $1,000.00 will be wired to your bank account! This is a claim made by My Online Franchise.
I'm glad you're here because it shows me that you're taking the extra step to protect yourself from the evergrowing list of scammers online. Like other systems, I will deem it as innocent until proven guilty.
Here's another claim if you look at the tab for My Online Franchise: Get $500.00 To Watch This Video. Seriously, that's a lot of money being promised by My Online Franchise. Let's dive in and see if it's actually worth your time!
Before we continue, I would like to offer you a free eBook that maps out my journey from zero to making a passive income online. Simply click on the banner below to get your copy today!

My Online Franchise Review
Name: My Online Franchise
Website: http://myonlinefranchise.com/start/
Price: $49.00 plus massive upsells
Owners: Tim
Recommended? Continue Reading To Find Out
My Online Franchise – Product Overview
My Online Franchise is a life-changing opportunity based on their sales video. It claims that Tim is giving away an opportunity to clone one of his million dollar businesses. I definitely want to see what kind of online franchise this is! Based on the sales video, $1,000.00 could be wired to your bank account today.
Strange, at the beginning of the video, it says that $1,000.00 will be wired to your bank account today. So which one is true? Will be and could be is totally different!
For the entire 39 minutes of the sales video, you will hear about making millions of dollars and how Tim is going to give you the secret system that has generated over $60 million dollars for him.
Also, in 2010, he made over $1 million dollars in one week!— Why would he give away a system that generates over $1,000.00 per day? It's the same over-hyped claim that I've heard about a million times by now.
Not going to lie, even though I am skeptical about My Online Franchise, I just can't help but get excited about potentially earning millions of dollars with a done-for-you business.
The sales video targets your desire to live a better lifestyle. It triggers the issues that we face daily. What can more money do for you? What will your life look like if you're about to make over $1,000.00 per day? These are all questions to get you hyped up, so you'll end up buying his system.
It's certainly possible to make $1,000.00 per day online, but it's not as simple as what My Online Franchise claims. What I don't like about programs like My Online Franchise is how they make you believe that it can be done with no work at all.
Internet marketers like John Chow spent years building his six-figure monthly income-generating online business. He didn't earn a single dime during the first 8 months of his blogs life. What makes this system so special? Well, let's find out by diving deeper.
What To Expect If You Sign Up For The Auto Money System
After diving deeper into My Online Franchise, I realized that it's a one-page website with a video that funnels you to My Own Business Education (MOBE). I knew the name sounded familiar as well as the cost to get started.
Basically, you are buying into a program that teaches you how to become a MOBE affiliate. The products range from $49.00 to upwards of $29,997.00.
To assist you with closing sales, they provide you with a coach and process everything from payment to delivery of the product. Your job is to generate leads for them.
However, without proper training, you'll have a hard time generating leads. Also, if you want to promote their high ticket products, you'll have to invest in the products first. Yes, you'll have to buy the products yourself! Let's break down the costs for these high ticket products:
Silver – $2,497.00 one time + $27.00 per month
Gold – $4,997.00 one time + $64.00 per month
Titanium – $9,997.00 one time + $121.00 per month
Platinum – $16,667.00 one time + $198.00 per month
Diamond – $29,997.00 one time + $295.00 per month
That means if you want to qualify to earn commissions for all these levels, you'll have to spend over $64,000.00! Let's not forget about the monthly recurring costs on top of that. Your coach is there not only to close sales for you but to close you into buying these upgrades to unlock commission levels.— Your coach is just a commission based salesperson.
Check out what FTC's initial notice states:
Unless you are a well-known internet marketer with a large readership already. It is very unlikely that you will recoup your initial $64,000 investment. After all, in order to make money online, you'll need traffic plus conversion.
For the $500.00 or $1,000.00, you'll have to participate fully into the 21 step system. That means you'll only get the money if you complete the entire 21 days of training including what your coach tells you to do (includes the upsells).
Which means you'll be spending thousands of dollars in order to get $500.00 or $1,000.00 back. This is also with no guarantee that you'll make money with their system.
Now I see why they are able to make claims like free money because, in order for you to qualify, you'll have to spend thousands first. What a great system to help beginners learn how to make money online…not.
Is My Online Franchise A Scam?
My Online Franchise is 100% a scam because My Online Franchise is not an actual program. The sales video never revealed any information in regards to this million dollar opportunity. Also, the fact that MOBE is no longer in operation because it was shut down by the FTC tells you exactly how legitimate this system is.
If this program is such a great system, why didn't the sales video state that you're actually signing up for MOBE? Well, it makes sense because without hiding the truth about the system, you would never sign up. I mean, a search on Google will reveal to you why you shouldn't sign up for MOBE.
Therefore, I am going to conclude that I do NOT recommend My Online Franchise. Instead, there are far better alternatives to making money online! If you're interested in learning more about it, please continue reading!
Update: MOBE is shut down by the FTC, so My Online Franchise is also no longer in operation.
A Far Better Way To Make Money Online
If you are brand new to making money online, it's best that you avoid these so-called, get-rich-quick schemes. If you want to create something tangible, I strongly suggest that you start your own online business. Whether it's to become a freelance writer or an internet marketer/blogger.
You must treat your online venture as a real business. A real business takes work and time to build. Fortunately, there are platforms that provide you with proper training to guide you step-by-step.
To get you started on the right foot, I am giving away a free eBook that maps out my journey from zero to passive income online. Download your copy by clicking on the banner below.

It contains a platform that allowed me to create Smart Affiliate Hub with no experience with building websites. If you want to learn more about this platform, please check out my Wealthy Affiliate Review.
It is free to get started with no hidden fees. However, to fully take advantage of Wealthy Affiliate, you'll want to upgrade from the free membership to the premium membership.
It will cost you $49.00 per month which includes website hosting, Jaaxy keyword research tool, full certification courses, boot camps, live chats, plus more!
However, I do understand that $49.00 per month is quite expensive for people who are struggling to make ends meet. That's why I have included a FREE WordPress installation service for my readers. With this service, you can get your very own blog like Smart Affiliate Hub for as low as $2.75 per month.
If you have any additional questions, comments, or concerns. Please leave a message down below and I will try my best to help you out!
Kind Regards,