Have you ever encountered an article that sounds interesting, but the website takes forever to load? Website speed is a serious issue in the blogging community. Many bloggers go cheap on their web host and also have no clue how to optimize their blog to make it load faster.
How long does it take for your website to load? Not sure, you can get an idea by visiting GTmetrix. Failing to check your website speed and optimizing it can cost you lots of money. Most people just don't have the time nor patience to wait for your website to load.
In fact, most people will bounce off of your website if it takes more than 3 seconds to load. It's not surprising that the design of the most simple website carries the highest conversions. They just don't have as much unnecessary crap to load.
By optimizing your website and improve on your website's speed. Not only will you enjoy navigating through your website more, but your visitors will thank for the experience. In this article, I will go over how to use W3 Total Cache to speed up your website! Without further ado, let's get started!
What Is W3 Total Cache?
W3 Total Cache is a WordPress performance optimization framework designed to improve your website's speed and ultimately improve your user experience. This also leads to high conversions and better rankings on search engines like Google.
In short, it stores data from your previous visit and reuses it when you return. That's why a website loads faster the second time around. This process is known as caching.
Unlike most plugins, W3 Total Cache is not as beginner-friendly. There are lots of options to choose from and there's no such thing as a universal configuration. Don't worry though, because I am going to give you my configuration that works with MOST blogs out there!
Note: I do recommend backing up your blog before making any changes. Also, each time you change a setting. Go back to your blog or website and make sure nothing is broken. If it is, you might want to uncheck that particular setting.
Step #1. Install W3 Total Cache
First, you want to head over to your Plugins > Search for W3 Total Cache > Install > Activate. Or you can simply head over there to download the plugin and upload it yourself. Personally, I prefer to just install it through the WordPress database instead of downloading it on my own.
Note: Please uninstall or deactivate any other cache tools you may have on your blog. Having multiple cache tools running can cause major website errors.
Step #2 Enable Everything You Want To Cache
Now that you've installed and activated W3 Total Cache. It is time to get your speed up started. First, I want you to enable everything you want to cache. This includes Page, Database, Object, and Browser. Later, we will revisit each of these individually to fine tune your W3 Total Cache configuration.— Once you have enabled everything you want to cache. I want you to click on the Save All Settings!
Note: Make sure you enable preview mode, so you can check to see everything works before making these settings live.
Step #3 Copy My Page Cache
I recommend checking each of them individually while performing the save settings & purge cache function. This lets you go through each setting to see if something breaks your website. For example, when checking the cache front page, if my blog looks all weird, I know it's the reason why.
Step #4 Copy My Minify
I did not enable my minify cache because it breaks my website. But I did change some of the settings on the minify page if you're interested!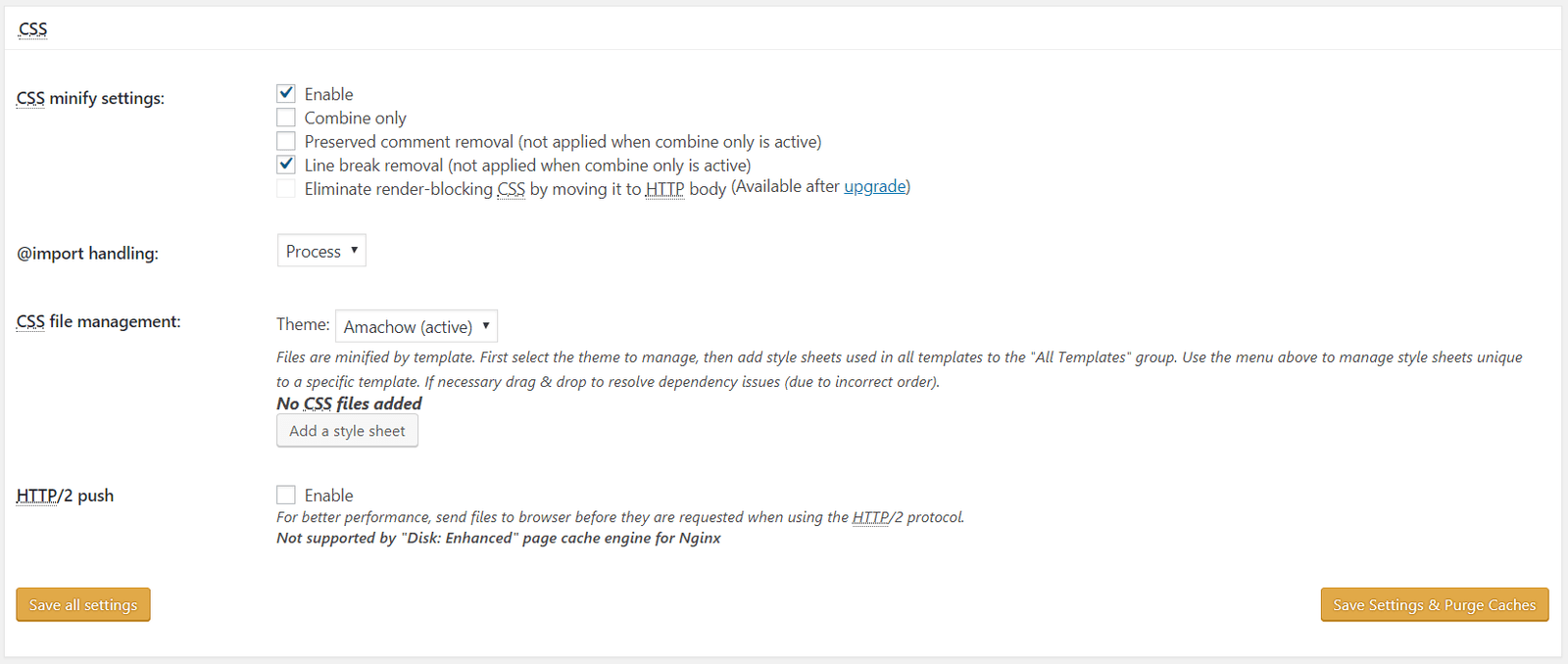 Step #5 Copy My Database Cache
I use a CDN, so that's why I have my database cache disabled. However, you can activate database cache if you're not using a CDN.
Step #6 Copy My Browser Cache
Don't mess with any of the settings below. Only the ones in the following picture:
Step #7 Activate Your Extensions
Depending on what services you use. You can activate them through extensions. This is a very useful feature that W3 Total Cache offers. It's compatible with many WordPress plugins & themes.
Tip: I recommend signing up for Cloudflare. They have a free package for personal blogs and websites. W3 Total Cache paired with CDN is like pairing great food with great wine. It will help decrease the load time of your website because a CDN brings your blog closer to where they live (faster load time = better user experience).
That's it! If you have any questions, comments, or concerns. Please let me know by leaving a comment down below.
Kind Regards,