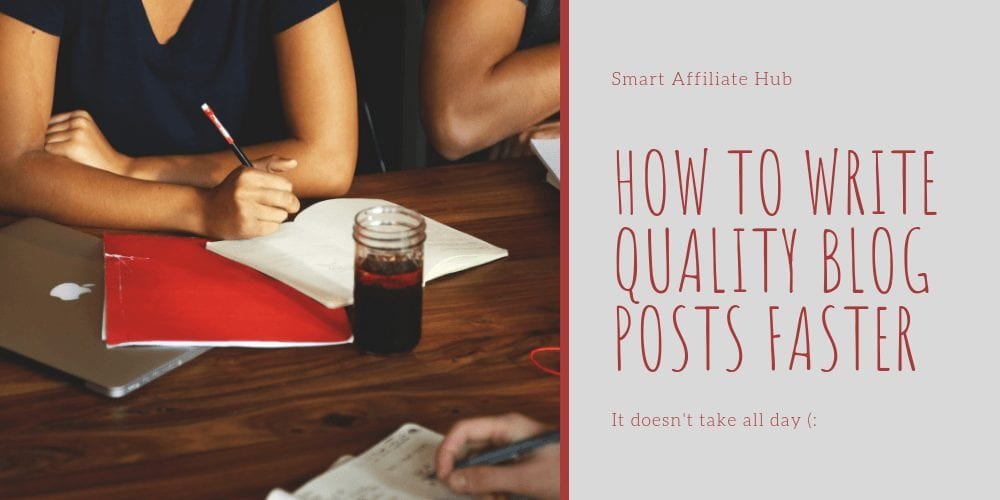 As of 1/26/2019, Smart Affiliate Hub has published 453 articles. I started blogging back in October of 2017 (roughly 467 days), so that's almost 1 blog post per day since launch.
Now I have blogging friends who started roughly around the same time I did but only has a fraction of what I've published to date. With this article, I'd like to answer some of my blogging friends how I am able to produce such a massive number of content.
Since we are limited by time, how fast I produce quality blog post is a huge factor.
Now I'm no blogging genius, nor do I have the knowledge to everything about SEO or making money online. In fact, I do quite a lot of research before writing my blog posts.
On average, it takes me about 2 hours to complete each article depending on how in-depth and informative it is. In the beginning, it took me much longer to write articles, but like riding a bike, you'll get better over time.
Now if you're an online business owner, then I'm sure you know the benefits of blogging. Quality content paired with great SEO and marketing strategies will help drive traffic to your website which can result in more money.
With that being said, let's go over a few tips that will help you write quality blog posts faster.
Create A Blogging Schedule
Before you even start writing your first blog post, you should create a blogging schedule. After all, everyone lives a different lifestyle. Some people have more free time than others.
You don't want to rush through your work just to meet your deadlines because that will sacrifice the quality of your content.
So if you can only produce 2 or 3 blog posts per week, then do just that.
Once you've established your blogging schedule, you can then start producing your blog posts.
Now let's move on to tips to help you write quality blog posts faster without sacrificing the quality.
Create A List Of Blog Topic Ideas
I use to question myself every single day on what to write about. Not only was it stressful, but it wasn't very efficient either. I hated the fact that I wanted to produce at least 1 blog post per day because that means I had to come up with a different topic every single day.
What I ended up doing really helped ease my workload. Instead of coming up with 1 topic per day, I sat down and wrote a list of blog topic ideas.
This list of mine is updated on a monthly basis, so it ensures that I always have something to write about. In fact, I use this list to batch out my work, so then I can work 2 days out of the week and relax for the remaining 5.
When coming up with topic ideas, you can get them by reading blog posts from your competitors. That's why you should turn your competition into inspiration.
By using their published work as an inspiration, you can create even better blog posts that talk about the same subject.
Create A Blog Template
A blog's template is like our skeletal structure. By creating a blog template, you can save yourself a lot of time in the long run because it gives you an idea of the flow of your post.
Besides having an amazing title, your blog post should always start with a strong introduction, following that would be the body paragraphs, and finally the conclusion. Depending on how thorough your blog post needs to be, you can always add more body paragraphs.
If you take a look at most of my blog posts, they follow the same structure especially my product reviews.
Let's say you want to write at least 1,000 words. With 4 subheadings, you'll know that you need at least 250 words each to meet your 1,000-word minimum.
Don't Procrastinate And Just Get It Done In One Sitting
Multi-tasking is the last thing you want to do when writing a blog post. Not only is it distracting, but it can also lower the quality of your work.
I've actually done it before and ended up procrastinating. I remember writing half a blog post and saving the other half for the next day. I ended up scrapping the entire blog post because I just didn't have the same ideas when typing the other half. I just couldn't make it flow.
So when you're blogging, you should turn off your phone and free yourself from distraction. A little bit of music is helpful only if you can focus on writing while enjoying a little bit of background music.
In terms of speed, distractions can cause you to take much longer to complete a blog post.
Change Your Work Location
One of the biggest advantages of blogging is being able to change your work location. Unlike the typical 9 to 5 job, you are not confined to one location.
Sometimes a change in your work location can give you new ideas which can be very refreshing.
In the beginning, most of my blog posts were written in my bedroom.
Now I spend most of my time in my living room or sometimes even at my local Starbucks. Whenever I change my work location, it feels like I'm giving more life to my blog.
I've even met a few fellow bloggers at Starbucks and that has helped expand my networking.
Just recently, I received an offering to write an article for a start-up company. I still haven't gone through with it yet, but it's crazy who you can meet out there.
Conduct Research And Link Back To Relevant Websites With Authority
For some of my blog posts, I like to include statistics found on other websites. Not only does it improve the quality of my work, but it's also great for SEO purposes.
Sure it takes more time, but it's only a little bit more. It's not that difficult to do a quick Google search to find a source. In fact, it's extremely helpful when searching for a source because they also help me better understand the subject which speeds up my writing time.
For example, the image below shows the statistics on how many internet users in the world in 2018. Not only does it provide a great visual for my readers, but it also enables me to write about it.

But you can't get any of that if you don't do research. The research will take time, but it will also help you better explain the subject which results in faster production when it comes to writing quality blog posts.
Edit Your Own Work
Currently, I'm the only writer and editor for my blog posts. My friend hired an English major from school to help him with editing his work. I'm not sure how much he pays the person to edit his work, but it's unnecessary.
When you rely on an editor to edit your work, it can actually cost you more time to get a blog post published. Let's think about it, first, you have to send the person your article, so it's all dependent on their work schedule to get your blog posts complete.
When I write my blog post, I have a set schedule to publish my work and I can't depend on others to make it happen.
Also, WordPress has its own built-in grammar and spell check, but if that's not enough for you, you can always use services such as Grammarly.
After that, just go back and read your blog post out loud to yourself. That's usually enough to catch most mistakes.
And even if it's not perfect, that's okay! You are not blogging to show off your English skills. You are blogging to express your thoughts and opinions.
In Conclusion
If you find yourself taking all day to write a blog post, then you're probably doing something wrong. Definitely check out the tips I have written above and use it as a guide.
It all starts with disciplining yourself by setting a blog schedule to keep you on track. Next, you have to create a list of topic ideas, so you never run out of them.
A blog template will give you a structure on how to write your blog post. Getting it done in one sitting will keep you from procrastinating as well as ensure that whatever you write is going to flow.
Changing your work location will give you a refresh, so you don't feel like you're doing the same thing from the same place over and over again. It's definitely a psychological thing.
Conducting research will help familiarize yourself with your topic which improves on the quality which is always beneficial to your readers. And finally, just edit your blog posts on your own.
By following these simple steps, you should be able to write quality blog posts faster. How long does it usually take you to write a blog post? Do you know what you're doing wrong that's costing you time? Let me know by leaving a comment down below.
Cheers,