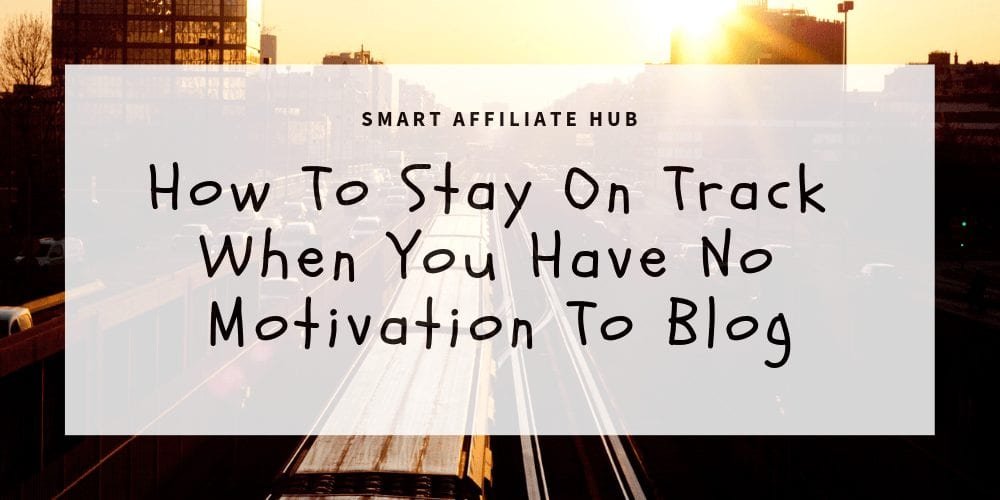 Blogging is a great way to drive organic traffic to your website. In fact, many companies have their own set of bloggers writing to drive traffic to their business.
In the beginning, blogging can be very exciting because you're typing for the world. But slowly, that excitement starts to fade away and you'll begin to see blogging as a daily regiment.
I still recall the very first day of my blogging career. I was completely stoked about driving traffic to my website. But in the early stages of your blog, you'll find it rather difficult to drive any sort of traffic.
Hence the motivation level slowly dips and eventually perishes.
An unmotivated blogger can't produce a blog worth reading and that's a fact. Your readers can tell just by reading your blog posts. If you're not motivated to write, your readers won't be motivated to read.
Do you want to run a successful blog?
In this article, I am going to give you my tips on how to stay on track when you have no motivation to blog. Without further ado, let's get started!
Tip #1. Reward Yourself For The Little Things
Blogging is not easy especially if you're trying to produce high-quality content. The research alone can set you back for hours if you're writing something full of statistics.
Often times, we focus on the end goal and forget about what it takes to get there in the first place. A huge goal should consist of many little goals along the way. Remember, if you fail to plan, you plan to fail.
A great way to motivate yourself when pursuing long-term goals is to reward yourself for the little things.
For example, when you earn your first commission, go and treat yourself to a nice dinner.
Obviously, you don't want to overdo it, but little rewards along the way can make a huge difference on your motivation level. It's hard enough to start with nothing and barely any recognition.
If nobody is going to recognize you for your hard work, the next best thing is to recognize yourself.
Tip #2. Stay Consistent By Setting A Time
One of the greatest benefits of blogging is also its worst enemy. Since you don't have a boss telling you what to do. It's very easy to procrastinate.
You don't want to wait until the end of the day to rush a blog post just to meet your quota. Writing and publishing low-quality content won't get you the gains that you desire.
It's like trying to work out at the end of the day after putting in 8 hours of work. You're just not going to be as productive as someone who dedicates a certain time to work out.
The same applies to a blog. You want to stay consistent with your blogging time.
For me, I dedicate my Money and Tuesday to blogging.
I'm thinking about moving it to Thursday and Friday instead due to schedule conflicts. But regardless of when you have time, it's best to stay consistent with it. Just choose a time that you can dedicate to blogging.
Tip #3. Constantly Learn And Implement New Strategies
Blogging is one of those things that you can spend a lifetime learning. In fact, very few can call themselves masters of the art. Besides writing, you'll need to learn skills like marketing, post formatting, technical issues, theme and plugin issues, etc.
That's why you should set aside some time to learn new strategies to help improve your understanding. Things that move your blog forward will only benefit you in the long run.
I remember running into a speed bump in the early stages of my blog. I didn't know how to proceed and that really killed my motivation. I thought maybe that was it… I should just give up.
Sure I could've reached out to Wealthy Affiliate (my previous affiliate marketing platform + web hosting provider). By understanding how to fix things on your own, it will help prevent issues in the future.
Tip #4. Remember Why You Started In The First Place
Often times, we forget the reason why we start something. Especially a blog! So whenever you feel like you're lacking motivation. You can always try to motivate yourself by remembering why you started in the first place.
Are you trying to change your life and make money online instead of working for someone else?
Are you trying to educate people who are interested in your niche topic?
Whatever the reasons may be. It's important that you remind yourself why you started in the first place.
Personally, I have a weekly evaluation for myself. I would write down the initial goal and how I'm doing. If there are any improvements that I can make, I'll also write it down and use it as a reference.
In Conclusion
Starting a blog is the easiest part of making money through blogging (In fact, I'm offering a free WordPress installation service to all of my readers). The hardest part is staying motivated. I'm not going to sugarcoat this for you. It's not likely that you'll make money during your first year of blogging.
And sometimes that's the main reason why people quit. Everyone wants instant gratification, but that's not reality. The truth to the matter is, it can take years until your blog starts to earn a substantial income.
You just have to stick it through and continue to produce high-quality content. During the early stages of your blogs life, you should leverage platforms like Social Media to get some attention.
Hopefully the tips I provided you with will help you to sustain your motivation whenever you feel like it's dipping. It's not easy, but if you're willing to overcome the difficult times, you can eventually become a well-known blogger making a full-time income at home.
Do you ever feel like you lack motivation when it comes to blogging?
How are you overcoming your lack of motivation?
Let us know by sharing in the comments below. If you need help with anything, let me know and I will try my best to help you out!
Kind Regards,