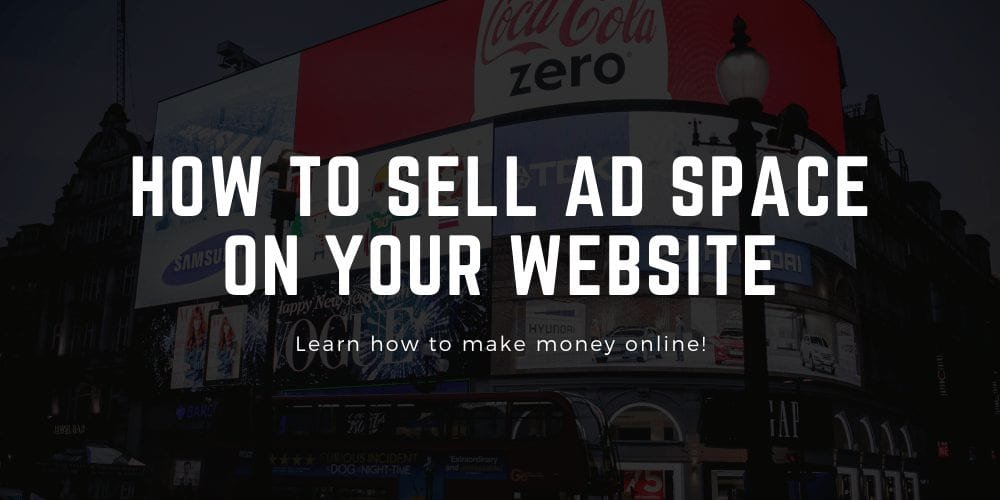 As your website becomes more popular, others will start reaching out to you in regards to ad space. Learning how to sell ad space on your website can help you earn another stream of steady income.
In fact, there are big name bloggers like John Chow who charges hundreds if not thousands of dollars per month just on ad space alone.
This concept is not new. Big companies like Google, Bing, etc are charging advertisers for online advertisements. As a popular website with a substantial number of traffic, you're the perfect candidate for leveraging traffic.
Some companies are willing to spend hundreds or even thousands of dollars on you because it's usually a bit less expensive compared to advertisement agencies.
Why? Because most people charge a flat monthly fee rather than per click or impression.
If you think you have what it takes to start charging others for advertising on your website. Then you've come to the right place!
How To Sell Ad Space On Your Website
Step #1: Preparing Your Website
There are a few criterias to meet before selling ad space becomes a great source of income. Does your website have lots of quality traffic coming into your website regularly?
How targeted are your traffic? General traffic are worth less than targeted traffic.
You don't need to have 5,000-10,000 visitors weekly to make money, but the more traffic you have, the more money you can make.
With tons of targeted traffic, you can bargain for more money. After all, traffic and leads aren't cheap.
Don't feel discouraged if you're running a brand new website though!
If you have just established your website, my recommendation is to focus on content production to gain more credibility and authority.
Eventually, you will not only receive more organic traffic, but advertisers will come knocking on your doors to offer you money.
Step #2: Let People Know That They Can Advertise On Your Website
People won't know that they can advertise on your website unless you make it clear. If you're at the stage where you are ready to sell ad space. Go right ahead and create a page (advertise your website here) and include that in your menu.
When creating your advertisement page. It doesn't hurt to showcase your traffic count through Google Analytics and other sources.
Sounds simple right? Do you see why it's important to have a website that generates good traffic and delivers good content?
Step #3: Creating Advertisement Space On Your Website
The good news is, you don't have to pay extra to have these advertisement spaces. I don't recommend having too many on your website because it makes it look cluttered and unprofessional.
Let me show you an image of where your advertisement space can be:
As you can see from my example, you can have 2 or maybe even 3 advertisement spaces on your website.
You can set different prices for each (#1 most expensive, #2 moderately priced, #3 cheapest).
Step #4: Sell The Reasons Why People Should Advertise On Your Website
You now have a website that is ready to make money by selling advertisement space, but how do you get advertisers to pay you money?
There are 3 ways to do it:
Social Media such as Instagram, Facebook, Twitter, etc. You can make a public post about your new service or you can reach out to people who are running websites similar to your niche.

Allow your website to find the advertiser's on it's own. If you have a good amount of traffic, advertiser's will come knocking on your door. Just make sure you have a method of communication such as a contact us page.

Similar to the Social Media, you can also find relevant businesses using the search engines like Google, Yahoo, Bing. You can contact them with a proposal of what you can offer and why they should advertise on your website.
A Plugin For Selling Ad Space
OiOpublisher is a WordPress plugin that I've previously used to manage and sell ad space here on Smart Affiliate Hub. The truth is, even with a quality website with good traffic, you may still be struggling to earn anything substantial.
What Is OIOpublisher?
OiOpublisher allows you to control your own ad space. Normally, you would sell your ad space to companies like Google AdSense.
When you do, they control what is displayed on your website and as the middleman, they receive a percentage of what you earn.
Here are some features that come with OiOpublisher:
You can sell reviews
You can sell banner ads
You can sell text ads
You can sell digital downloadable products such as eBooks
You can promote affiliate products
You can set up an affiliate program for others to promote your ad space for you
As you can see, it's a great product for what it's currently being sold for (currently listed at $47/on-time payment). Once you make a purchase, all you have to do is install it in your WordPress administrator panel and activate it.
Once the OiOpublisher is activated, you should see OiO Ad Manager on the left side of your WordPress administrator panel. This tab will allow you to access all of OiOpublisher's features.
This includes the plugin settings for setting up your payment method.
OiOpublisher is not the only plugin available on WordPress for selling ad space.
I've also looked into another one called BuySellAds, but what really enticed me to use OiOpublisher is the fact that the famous blogger/internet marketer John Chow recommends it.
Also, BuySellAds take 25% commission from your income and pays you the remaining 75%. Whereas, OiOpublisher will pay you 100% of your income.
The only drawback though is that OiOpublisher doesn't have a huge advertising base compared to BuySellAds.—OiOpublisher has a marketplace, just not as big as others.
The OiOpublisher comes with a form for your potential advertisers to buy now. This is very important and I've seen many advertisers move on from a potential website simply because it was hard to purchase ad space.
How Do You Get Paid?
OiOpublisher offers a large variety of payment options to make it easy for your customers to purchase ad space on your website.
PayPal is the preferred payment method that most people use and trust, so I highly recommend setting it up first before any other payment options.
Besides PayPal, you can also choose the following payment options:
Payza
Authorize.net
2Checkout
and an offline payment method
Each of these payment options must be set up individually through settings on OiOpublisher in your WordPress Administrator Panel.
Due to the simplicity of the buying process, all you have to do is set the price and check your emails regularly to approve ad requests.
OIOpublisher Marketplace
Although selling your own ad space, reviews, text links, banner ads, sounds like a lucrative business, but it's not that simple.
Most blogs without decent traffic will struggle to find an advertiser. That's why OiOpublisher provides you with a marketplace. However, it does come with a price!
OiOpublisher doesn't earn a direct commission from your sales, but they do charge you a fee of $19.95/month if you want to get a feature listing in their marketplace.
However, I'm pretty sure you can earn this back very quickly if you're running a blog with good traffic.
If you are new to OiOpublisher, you can sign up to their marketplace and get the first-month listing for free. Obviously, you don't need to be listed in the marketplace to use the plugin, but it is free for the first month.
What I Like About OiOpublisher Plugin
The process is automated and all you have to do is approve or disapprove requests
It allows you to track clicks and impressions
Free lifetime Support – Personally, this is the most important
You can run backup ads
The first month free listing on the OiOpublisher marketplace
Become An OIOpublisher Referrer
OiOpublisher has their very own affiliate program that pays you 20% of any marketplace listing purchase. And that's not the end of it! You also earn a commission every time your referrals makes a purchase or renews a purchase in the marketplace.
However, before you can become an affiliate of OiOpublisher, you must sign first sign up for a free OiOpublisher account by clicking here. Afterward, if you want to purchase the OiOpublisher plugin, you can do so as well.
My Personal Tips Before You Start
Money is important, but your reputation is worth more, much more. When being approached by an advertiser, you must understand what they do and how legitimate they are.
If your audience clicks on one of your advertisers link and gets scammed. You will get the blame for it as well.
I recommend conducting a detailed overview of the advertiser's website to make sure what they offer will NOT harm anyone (potential scams).
Have you ever heard of the saying, what happens in Vegas, stays in Vegas? Well, what happens on the internet, stays on the internet. People will now view you as an untrustworthy figure and will not recommend your website to anyone.
I hope this was helpful! If you need help with anything, please leave a comment down below.