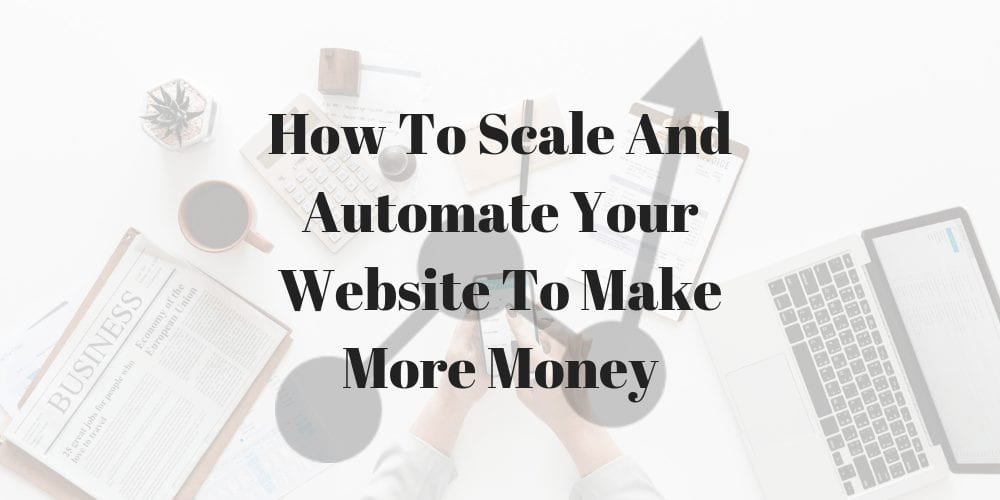 The beauty of making money online is having the option to automate tasks. It's the perfect opportunity to apply the mentality of working smart instead of working hard.
The truth to the matter is, anyone can start a blog and make lots of money. First, the reason why I chose blogging as my internet money-making venture because I want to spend more time doing what I love.
Hence why automation is extremely important if I want time freedom. I'm not implying that you don't have to work at all. I'm talking about achieving the most with the shortest amount of time working possible.
When it comes to blogging, many beginners believe that all they have to do is to write as much as possible. That's why I'm going to provide you with different methods to help you reduce your workload, so you can focus on things that matter most to you.
Keeping Up With Your Competition
Anything worthwhile is going to be competitive. That's why businesses are focusing all of their efforts to stay ahead of their competitors. With limited time per day and how many hours people can actually work. Automation became an essential part of a successful business. The same applies whether you're running a brick and mortar business or an online business.
It's actually more important for bloggers because you probably don't have a team to help run your business. That's why companies like ClickFunnels is so successful. Not only is it a great funnel creation software, but an all-in-one business solution with automation.
In short, with so many available tools and services, you can now automate your online business or blog with ease. It's simple, there's only so much you can do on your own.
Imagine email marketing without email marketing service providers like AWeber. Can you imagine having to manually send out emails to all of your subscribers? Just keeping track of your subscribers alone is going to be a challenge.
Create An AutoResponder Series
Since I started talking about email marketing services, it makes sense to create an autoresponder series. As the name implies, an autoresponder sends out emails according to your set schedule.
Basically, you can create a series of email and have it sent out to your subscribers automatically. In my case, my autoresponder sends out 1 email per day. Some are designed for informational purposes and some are designed to recommend a product or service.
Let's say you have 30 emails stored in your autoresponder series with 1 being sent out per week. If you have 1000 subscribers per month, that works out to be 12,000 new subscribers per year. In a year, you would've potentially sent out over 360,000 emails and that's all automated.
If your email list contains relevant subscribers. You can make a ton of money as long as you're promoting products and services that solve their problem.
Create An Online Video Course
Content is king! If you create helpful content online, it will benefit both you and your audience for years to come.
That's why many bloggers prefer to write guides and tutorials. It's a great way to gain backlinks to help you rank on search engines like Google.
I'm a blogger, not so much of a video person, but I do recommend creating online video courses. There are many people who have limited time or hates reading.
You don't want to handicap yourself by not offering something you can create on a smart phone. Yes, you don't need to invest thousands of dollars in recording tools.
Companies like Udemy is a great place to sell your online video courses. Udemy is well-known, so you don't have to worry about the marketing aspect making this extremely automatable.
Create Or Outsource Infographics
Most people won't read through your entire article. There's such an abundant amount of blog posts out there, so what makes yours different? To scale and automate your website, you'll need to constantly drive traffic.
Shareable content entices people to share it within their network circle. This brings more awareness to your website and that's exactly where infographics come in.
Let's say there's a graph with statistics on how many people uses the internet. Would you rather look at that or would you rather read an article to find out instead?
As long as your infographic delivers value. It will continue to encourage social shares which will help increase your traffic count and potentially conversion.
If you are great at designing infographics, you can save yourself a good deal of money, but it also takes time out of you.
Regardless of how you get your infographics, it's a great way to automate your website while providing extreme value to your audience.
In Conclusion
With the methods that I've mentioned above, you should be able to scale and automate your website. However, there's one final piece of the ingredients to make this all work for you. And that is to take action.
Reading and understanding the methods above will only get you so far. If you don't implement what you've learned, you won't see any results.
If you have any questions, comments, or concerns. Please leave a message down below and I will try my best to help you out!
Cheers,