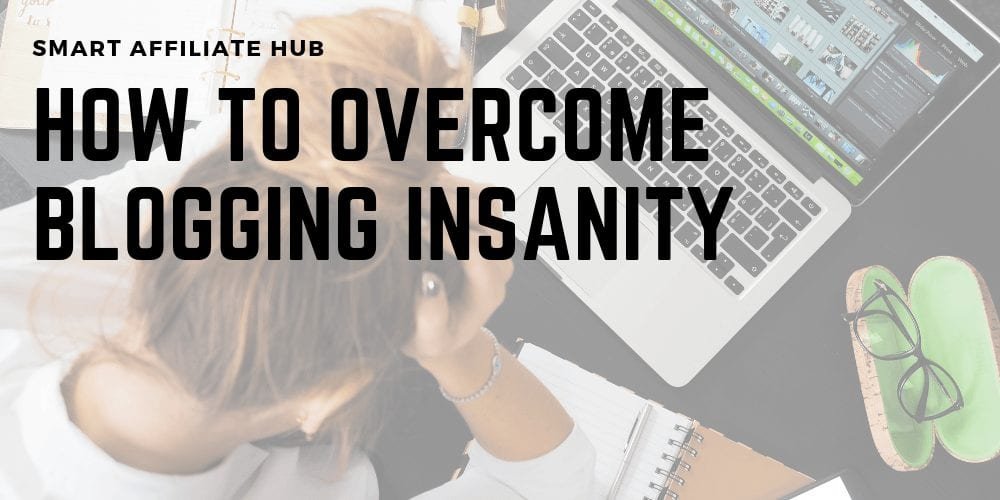 What I like most about blogging and making money online is that sense of fulfillment. The fact that I am able to be my own boss and work wherever I want, whenever I want.
Knowing that your income is not dependent on a regular 9 to 5 job really takes the load off of your shoulders. Just last week, I was thinking about spending the day with my little cousin.
Normally, I would have to plan ahead, but thanks to the power of affiliate marketing. I was able to take care of my online business at a later time.
The Cons Of Blogging
However, there is a problem when you work for yourself. You can't exactly abandon your blog for extended periods of time unless you have it all planned out.
For example, I batch my work, so even if I'm gone for a month or two. Smart Affiliate Hub will still have content that gets published (every other day).
I use to blog every single day, but I've recently decided to slow it down a notch. It's important that you stay consistent with your publishing frequency.
But what's the point in sticking with it if it's going to turn you insane? Let's face it, you do need to take a break every now and then.
Life is unpredictable and sometimes it just gets in the way of you and your blog. So instead of pushing yourself to the edge, why not take a step back and change your game plan? – That's why I only publish every other day now.
So can you really take a break from blogging? In this article, I am going to provide you with some tips on how to overcome blogging insanity.
How To Overcome Blogging Insanity
Tip #1. Set up an expectation: Before you start blogging, I want you to set up an expectation for yourself. It varies from person to person. At your current state, how frequent can you publish fresh new content for your blog?
Tip #2. Designate Your Work Days: Unlike a regular job, you don't have to work every single day. On average, it takes about 2 hours to create 1 blog post (depending on the type of blog post).
So instead of working every single day, you can take 2 to 3 days out of the week to focus on creating content. I find it easier to produce multiple blog posts at once since I'm already in the working mode.
Tip #3. Diversify Your Blog Posts: Instead of writing 10 product reviews in a row, why not step back and write something else that still relates to your niche?
Note: Product reviews are great for attracting viewers who have the intention to buy something. Here's an article I wrote on how to write a good product review.
It's normal to feel bored or tired of doing repetitive work. That's why I recommend writing different types of blog posts as often as you can.
Let's say you wrote an article on X product. Maybe for your next blog post, you can write about something else that is not related to a product.
Tip #4. Batch Your Work: What I like about WordPress is the ability to batch your work. Simply choose your favorite editorial calendar plugin and use WordPress's built-in timestamp feature to schedule out your work.
This is seriously the best way to ensure that your blog runs itself even if you're out traveling the world. In fact, I will be in Beijing soon, but Smart Affiliate Hub will continue to publish a new blog post every other day.
Tip #5. Change Your Work Environment: Sometimes, the culprit of why you're going insane is your environment. The nice thing about blogging is that you can blog from anywhere.
Instead of working from the same spot, why not move around? Personally, this gives me a sense of refreshment. It might not be as nice as hanging out and do nothing, but it's still helpful in my opinion.

Tip #6. Minimal Rambling: I'm probably going to get a lot of heat for saying this. Yes, it is important to stay on topic because your audience is reading your blog posts for a reason. But if you're like me, I like to share a little bit about myself.

After all, I don't want you to feel like you're just reading ANOTHER blog post. I want you to get to know me just as much as I want to get to know you.
Rambling helps decrease your stress as well as provide you with the opportunity to help your readers better understand you as a person rather than just another typical blogger.
Tip #7. Listen To Your Body: There are days where I simply don't blog because I just don't feel like it. If this is happening to you, then you should listen to your body and stop.
Forcing yourself to write a blog post when your body is telling you not to will only result in one thing. A poorly written blog post that nobody cares to read.
If you don't enjoy writing your blog post, how can you expect your readers to enjoy reading it? Blogging is supposed to be fun! If you're not having fun while you're writing then you're doing something wrong.
In Conclusion
As soon as you view blogging as a job, then you've lost. You need to step back and re-evaluate yourself and your blog. It's supposed to be fun with extraordinary perks.
By following the tips provided above, It should help you better manage your blog in terms of content production as well as how much fun you can potentially have with your blog.
I hope this was helpful! If you have any questions, please let me know by leaving a comment down below and I will try my best to help you out.
Kind Regards,