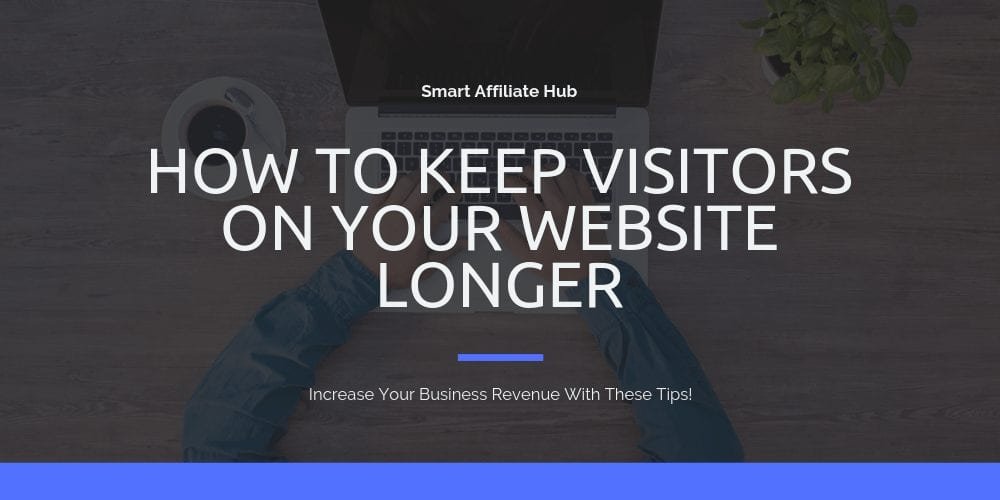 Do you want to learn how to keep your visitors on your website longer? No matter what your end goals are. The longer you can keep your visitors on your website, the more likely they are to convert.
Driving traffic to your website is a great start, but again it's only the beginning.
If your visitors are leaving as soon as they land on your website, your high-quality content means little to nothing.
In this article, I'm going to go over some key points to help you retain your visitors. Without further ado, let's get started!
Building Trust With Your Visitors
Many visitors who tend to stay longer are frequent viewers. However, people don't become frequent viewers until they have trust in you and your website.
This is why it's so important to create quality, helpful, and engaging content to help build that trust.
When people visit your website, they are there for a reason. It could be for entertainment, information, or to find a product to purchase. Your goal is to fulfill that reason.
Here's an example: Let's say your visitors typed, "How to lose weight with no gym equipment at home" on a search engine like Google.
Your content should solve exactly that. By offering a real method to lose weight with no gym equipment at home, your visitors will appreciate the information and will likely consider your offers in the future.
Even though you might not earn a sale right away, but that's okay! As long as you are the go-to source, your visitors will come back and maybe make a purchase based on your recommendations at a later date.
However, if your article does not offer the right solution, rest assured, your visitors would NEVER come back again.
Over time, your articles will become more trusted to your viewers as long as your content stays relevant. This is extremely important if you hope to establish a successful online business.
Let's use Apple, Microsoft, and Samsung for example! Why do we buy their products? The answer is simple. We trust their brand.
Whether you are thinking about making your very own website or has already started on one. The following tips will definitely help you with gaining trust from your visitors.
Please note, these are my opinions and has so far helped me accomplish a lot over the course of 2 years.
Tips To Help Build Trust And To Help Retain Visitors
#1) About Me Page With Personal Photo
This should be the first thing you write about on your website because this will allow your visitors to get to know a little about you.
You might also want to include a personal photo of yourself, so your visitors can picture your presence when reading through your articles.
Lastly, you want to include an autobiography, so your viewers can learn more about you and what you are hoping to accomplish with your website.
#2) Write Unique Content That Solves A Problem
As an affiliate marketer, you want to make money by promoting a product right? Most beginners make the mistake by focusing too much on selling and that reflects on their content.
Whether you are starting out or a veteran, the selling part of your website should be the last thing you focus on.
Potential buying customers come to your website to find information because they are unsure of the product they are planning on buying.
The internet is a marketplace that contains millions of products and most are very similar. So sometimes, they want to make comparisons.
Your job is to inform your visitors about what products you recommend and why. This is when quality content comes in!
I always recommend trying the product yourself before writing a review because you want to offer your true opinion and not something that is copied off of the internet.
I've visited many websites to figure out the positives and the negatives in their articles and I realized a common mistake; biased reviews.
Even if the review is negative on a product. You can still make a sale by being brutally honest. Your visitors are here to find out the truth about a product.
You might feel like negative reviews will not get you a sale, unlike a positive review. The truth is, by being honest, you are more likely to have a returning visitor.
This will benefit you in the long run because the chance of your visitors coming back for another product review increases substantially. If you need feedback on your product reviews, please contact me by Clicking Here.
#3) Engage With Your visitors By Responding To Comments
This seems very troublesome, but it actually takes a few minutes to answer each comment left by your visitors. If you delivered high quality and unique content, you might receive lots of comments. By answering your visitors, this will increase the likelihood of them returning to read your responses.
Normally when I visit a website, I always try to find comments left by other users like myself. This helps me to determine if the author is active and helpful.
Engaging with your visitors will also benefit you in search engine optimization. Google and other search engines love websites that are active, unique, and engaging.
Besides the positive results from search engines, you should respond to your visitors anyway. If someone takes the time to leave a comment, the least you can do is to leave a response.
#4) Include Internal Links In Your Articles
You want to include internal links to where it makes sense. Let's say my article is about search engine optimization using keywords.
I would include a link that directs my visitors to my Jaaxy Keyword Research Tool Review.
If you do that, you are not only providing great information for your visitors, but it will also allow them to check out your other articles. The more high-quality content you have, the more likely you will earn your visitor's trust.
Additional Tips To Help You Build A Successful Online Business
I didn't start Smart Affiliate Hub knowing everything. In fact, I never majored in marketing, so in the beginning, I knew very little about making websites and affiliate marketing.
What really gave me the push to start my own blog was when I discovered Wealthy Affiliate (my recommended platform for those who want to learn how to make money online).
As a skeptic as well as someone who was scammed many times in the past. I really didn't want to invest money in learning how to make money online.
Fortunately, I found Wealthy Affiliate, a platform dedicated to teaching people like you and me how to get started from point A to point B.
They offer a free membership program with the option to upgrade if you think they are worthy of investing your money and time.
By signing up for their free membership program, you'll be able to build 2 free websites using their platform as well as learning the fundamentals.
I'm also giving my free course on how how to start a blog for affiliate marketing today. You can get complete access for signing up here.
I hope this was helpful! If you have any questions, please feel free to leave a comment down below and I will try my best to help you out.
Kind Regards,