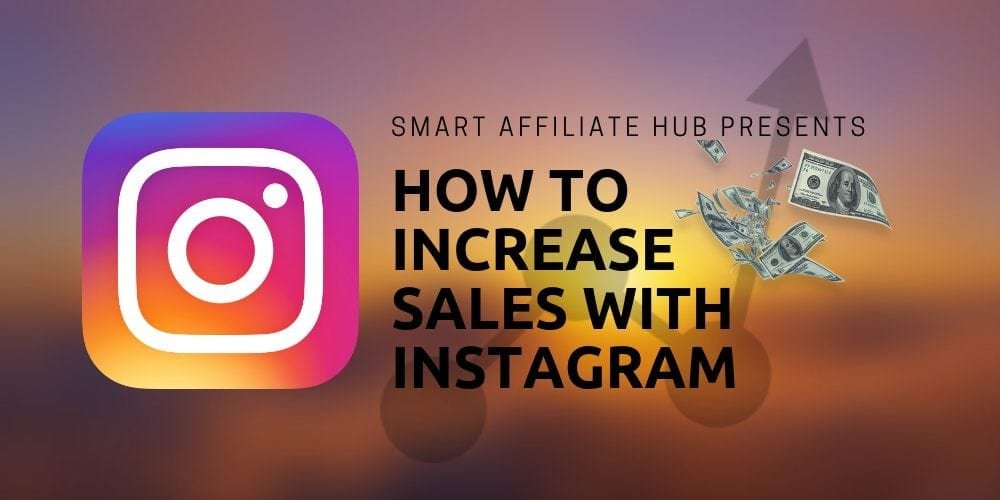 I've been talking a lot about Social Media lately, but today, I want to focus on one in particular; Instagram. You see, Instagram is undeniably one of the most popular platforms for brands, marketers, advertisers, and consumers.
According to statista.com, Instagram has reached over 1 billion monthly active users and that number has continued to grow year after year! There is absolutely no sign of this slowing down at all and that's why it's important that you and your business get a piece of your Instagram pie!
If you take a quick look on Instagram right now and search for hashtags related to your business. Chances are, your competitors are already all over Instagram. If you haven't created an Instagram profile for your business yet, I suggest that you go and create an account now.
Obviously having an account on Instagram is not enough. You'll need to have a marketing strategy if you want to increase sales on Instagram. In this article, I will go over how you can do so! Without further ado, let's get started!
Don't Focus On The Number Of Followers

Having a lot of followers may look impressive, but what good is it if none of those followers are actively engaged with your content? In other words, you should focus on the relevancy of your followers. If you're selling fitness supplies, you wouldn't want people who are searching for iPhone accessories following you.
It's almost like getting traffic to your website. Do you want quality traffic with people who are interested or just some random person on the streets who has no idea who you are or what your website is about?
Tip: A good way to increase your followers is by letting your existing customers know about your Instagram account. You can get started by sending out a message to your email subscribers. Let them know that they will receive some sort of incentive for being a follower on Instagram.
Tell your email subscribers that you will offer special discount codes exclusively for Instagram followers on a regular basis. It's a great way to create more sales as well as increase your Social Followers.
Post New Content Consistently
Similar to blogging, you'll want to stay consistent with posting new content. An inactive Instagram profile is a dead profile. You want to keep your followers hungry for new content and by posting less than once a week, most of your followers would forget about you.
Whereas if you're posting quality content on a daily basis, it will keep your readers on their toes and eager to come back to see what's new! That is what you want to accomplish.
However, there's no need to spam your follower's timeline. Keep it consistent, but not annoying. Personally, I publish one new blog post per day, so on Instagram, I would have one new post per day. Any more than that, you should have it added to your Instagram story.
Start A Live Video On Instagram
Instagram now has a live feature for you to connect with your followers real-time. During your live broadcast, it will allow you to build value into your business and connect with your customers since they can leave comments.
Make sure that you don't ignore these comments and do your best to let them know that you care. Otherwise, people will just leave and never come back.
During your live streams, you can also take it as an opportunity to answer questions. For example, if your follower has a question regarding how to lose weight and you're in the weight loss industry. You can then use the live stream to answer that question specifically.
Add Eye Catchy Photos And Videos To Your Instagram Story
The Instagram story is a great place to add your content because it is found on the top of the Instagram page. Let's just say it's hard to miss it unless you really don't want to see the stories. Unlike a regular post, you can post different stories throughout the day and it won't annoy your readers by spamming their timeline.
All of your stories for the day will be accessible from one click of your Instagram story, but don't overdo it. Most people won't check out 20+ Instagram stories from you, that's just the way it is.
Note: Instagram stories only last 24 hours and it will disappear, so make sure you strategize your marketing. Throw in some eye catchy videos, but also offer some promotions to your business.
Give A Great First Impression
Believe it or not, the first impression will make or break your business with your consumer.  It's exactly the reason why having captivating titles are so important. It's more important than the content itself!
Apply the same mentality to your Instagram. When someone finds your profile, what do you want them to perceive you as? What do you want them to see?
The first impression is usually going to be your profile picture as well as your biography. What I recommend is either a picture of yourself or your business logo plus a detailed biography that sums up what your business is all about.
There you can also include a link that directs your followers back to your website. With that said, focus on giving a positive first impression! Just keep it simple and keep it real!
It's Not Always About The Money
As a business person, everyone knows you're here to make money. But you should always try to maintain a balance in life. When posting content, it doesn't always have to be a promotion to sell.
Throw in a bit of humor and just have fun with your followers. Just keep it appropriate and let your followers know that you are a real person with feelings for others. Don't be a typical sales profile.
Use Hashtags With Your Content
Hashtags will enable you to showcase your content to the right audience. You can either use existing hashtags that other people are using or you can create your own hashtags. For example, let's say you're running a special event for Apple Pie in 2018, you can use #applepie2018.
Or you can also use a hashtag for your brand name! I do it all the time on Twitter and Instagram. If you like my blog post, don't forget to share with #Smartaffiliatehub.
If enough people use my hashtag, I will get a lot more visitors because the hashtag not only contains the posts that I just promoted. It also contains every other post that uses the same hashtag.
Partner With Other Social Influencers
You don't need to reach out to celebrities because chances are, they won't even respond to you. However, Social Medias like Instagram has their own celebrities known as Social Influencers. These people will usually have high engagement rates and an awesome relationship with their followers.
If they tell their followers to check out your posts, most certainly will and you'll see a surge in the sudden increase in traffic. If you're unsure where to find influencers to help you promote your brand. You can check out Klear.com.
Pay For Instagram Ads

You can create your own Instagram advertisement by checking out business.instagram.com. It's not free, but it's a great way for new brands who are struggling to build an audience. An advertisement will help increase your brand's exposure which can potentially increase your followers as well as customers.
With Instagram Ads, you have the following options:
Video Ads
Photo Ads
Carousel Ads
Story Ads
Since this method does cost money, make sure you know your marketing budget before you proceed!
In Conclusion
The main goal is to have quality content that increases your following count with relevant people. Also, make sure your profile gives off a positive impression otherwise you risk losing potential followers. As long as you follow the tips above, you should see an increase in sales with Instagram.
If you're currently using Instagram, is it generating sales from your followers? If you are, please share with us your strategy if it's not already listed in this article.
Like always, if you have any questions, comments, or concerns, please leave them in a comment box below. I do read every comment and I do try my best to answer everyone!
Kind Regards,