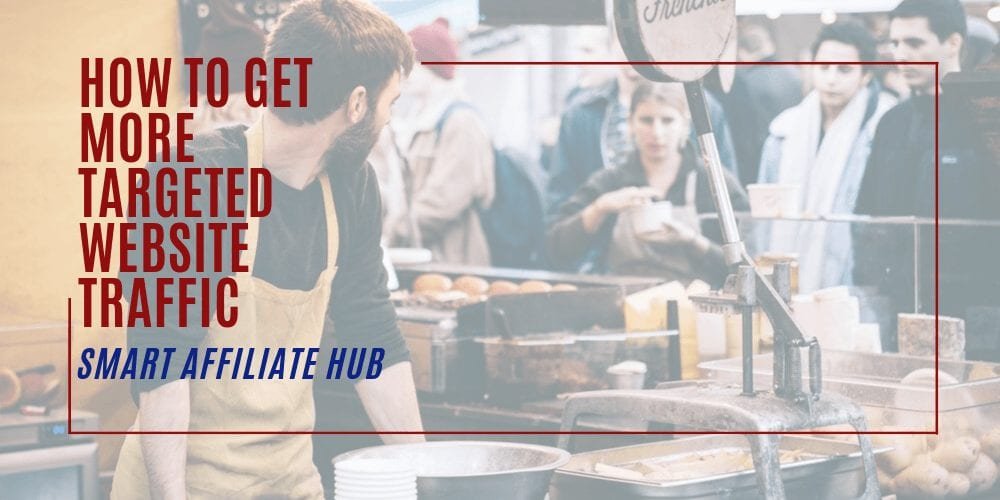 Are you frustrated by the fact that you're getting traffic, but not seeing any conversions? This can be discouraging at first, but there ways to improve the quality of your traffic.
Over the past couple of years, I've created hundreds of articles and I've learned that I made lots of mistakes. Slowly, I am going back and revising most of them. In this article, I am going to show you how to get more targeted website traffic.
The Importance Of Targeted Traffic
Before we get started, I'd like to go over the importance of targeted traffic.
Imagine this, for example, You're at a shopping center passing out fliers to the general public. How many of these people do you think you'll be able to convert into visitors and hopefully customers?
The truth to the matter is, you're likely to convert very few because the people you're passing out fliers too have little to no interest in your offers.

Whereas if you're passing out fliers in a targeted area, you're more likely to succeed even if there are not as many people around.
For example, you're offering a shoe service, the best place for you to get targeted traffic is to pass out fliers outside of a shoe store. Or better yet, you can ask the owner of the store if they could leave brochures by their register stand.
Now that you understand the importance of getting targeted website traffic. Let's go over how you get more targeted website traffic.
Method #1 Use Targeted Keywords
Keywords are a single word or phrases people type on search engines. For example, how to lose weight is a keyword phrase.
By including these keywords in your content, it will indicate to Google that your content is related to those terms. Therefore, it's likely going to be displayed in their search engine results page (SERP).
If you're operating a brand new blog, you might want to target long-tail keywords (keywords that are more specific) because you'll be competing with other websites with higher authority.
Fortunately, there are tools that you can use to find appropriate keywords in your niche. If you are interested in learning more about keyword research, please check out my articles on UberSuggest and Jaxxy Keyword Research Tool.
Once you've found the right keywords, you can include them in your title tag as well as within your content. By doing so, you will eventually receive organic traffic that is highly targeted.
Method #2 Include Relevant Content And Products On Your Website
You want relevant content and products on your websites because if you use keywords that are not related to your article or website. You are pretty much click-baiting and chances are, you will get the traffic, but they will NEVER return again.
Imagine if you search on Google to learn how to make money. And my website shows up because I had a relevant keyword, but when you check out my content, you find out that I have nothing related to making money.
For Example, Smart Affiliate Hub is a blog about how to make money online and the content that I write is geared toward helping you learn how to make money online.
At the end of the day, your objective is to provide valuable information or products to your visitors. If they can't find what they're looking for, they'll just go somewhere else.
Method #3 Join Social Media Groups That Are Related To Your Niche
Utilizing Social Media is a very effective way to get targeted traffic. Many people on Social Media are trying to establish their business, but there are also people who are looking for information from these businesses.
The more you socialize with others, the more exposure you get. I always like to put myself in the viewer's perspective. If there are 10 options for me to choose, I would always go to the one with the most engagement.
Method #4 Paid Advertisement Using Google Adwords or Other Services
This is probably the most and least popular with marketers because it's going to get you GREAT targeted traffic, but it will also cost you money. However, sometimes it takes money to make money (:
I would only recommend this if you already have a decent amount of HIGH-QUALITY content. It makes no sense to pay for traffic when you have nothing to show or offer.
In Conclusion
Getting targeted website traffic is not a difficult task, but it does require a bit of strategizing. You can't expect to push out content hoping that it will drive traffic.
You must think with a marketers mindset. How can you get your content in front of the right people effectively? The traffic you get needs to be targeted otherwise you'll be wasting your effort trying to cater to people who can care less about what you have to say.
The 4 methods listed above will help you get on the track. But first, you must produce the content otherwise you have nothing.
If you are new to this, I highly recommend that you check out my course on How To Start A Blog For Affiliate Marketing.
There, I try to provide you with a step-by-step roadmap on how I started blogging as well as making money from affiliate marketing.
Even if you have a blog already, you might learn something new from the course. Best of all, it's absolutely free to check it out.
If you have any questions, please feel free to leave a comment down below and I will try my best to help you out.
Cheers,