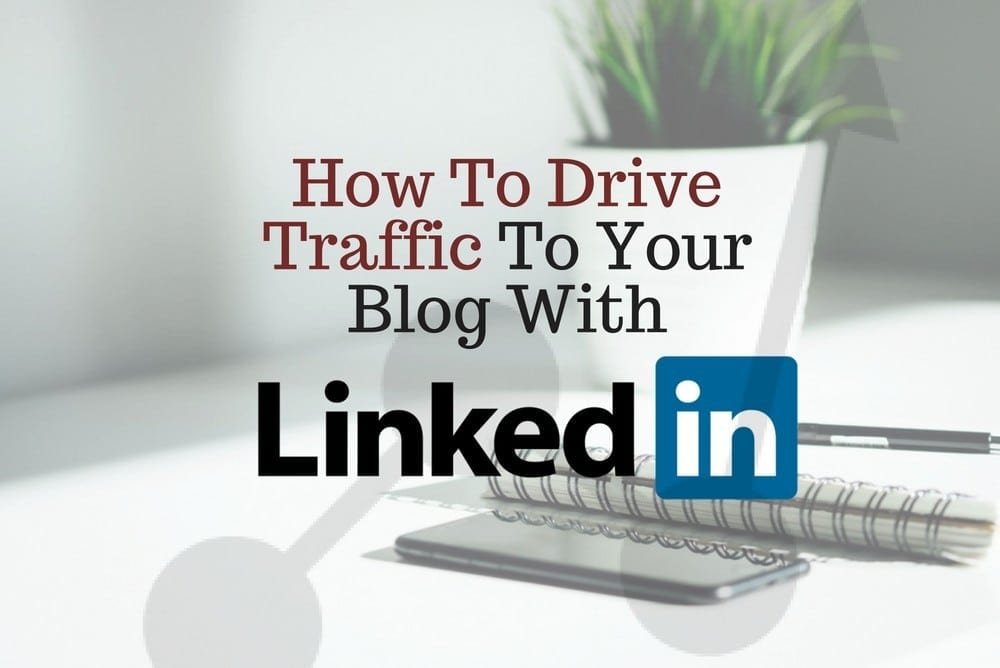 If there was one thing I could've done years ago, that would be to create my LinkedIn profile. Well, it's better late than never right?
Anyways, I signed up for LinkedIn earlier this year and I've been using it every time I add a new blog post.
Currently, it is one of the few sources that is driving lots of traffic to my blog. In this article, I will go over ways to drive traffic to your blog with LinkedIn. Without further ado, let's dive right in!
What Is LinkedIn?
LinkedIn is a network designed for business owners and for people who are looking for career changes. There you will find millions of professionals from various fields. If you are looking to grow your online business, LinkedIn is a great source to start.
According to hootsuite.com, over 44 percent of LinkedIn users have incomes over $75,000. What does that mean for you as an online business owner? It means customers with money to spend.
Ready to sign up? Hold your horses because I have a step-by-step tutorial here to help you build traffic on LinkedIn and drive them back to your blog!
Step #1: Create Your User Profile
Save
Sorry, I know this one is quite obvious… you can't do anything until you have a profile of your own. When creating your profile, you want to make sure to add links to your blog inside your LinkedIn profile.
Also, you'll want to add a link to your blog under your profile summary. There, the links are not clickable, but it's still another opportunity to gain exposure to your blog.
Step #2: Post An Update
Similar to Facebook or Twitter, LinkedIn lets you post an update on your profile. Once you've posted an update, your connections (friends) will be able to see it on their own profile.
It's important to do this at least twice per day because you're not going to reach out to everyone on your first post. Most people don't spend as much time on Social Media as yourself.
Keep in mind, when posting an update, you want it to be relevant to your niche. If your blog is about how to make money online. You don't want to post updates on how to lose weight. The more compelling it is for your connections, the more likely they are to click through to your blog.
Step #3. Install and Activate LinkedIn Auto Publish Plugin
LinkedIn Auto Publish Plugin will automatically add your latest blog posts to your LinkedIn profile. This will save you time and allows you to work more efficiently! Click here to learn more about Linkedin Auto Publish Plugin.
Step #4: Join LinkedIn Groups
Join LinkedIn groups and participate in group discussions. Each time you leave a comment in a group discussion, a link to your profile will pop up. That means more users can check out your profile and potentially click through to your blog.
You can also answer questions on LinkedIn, it's a great way to build yourself as an authority. Also, you'll feel great about helping people out!
Step #5. Start Your Own LinkedIn Group
Now that you understand how the LinkedIn group works. It's time for you to start your own group! What's great about starting your own group is that you can post a link to your blog in the group profile. If you have a group with 100,000 users. That's 100,000 people you can potentially reach out to!
In my opinion, the best feature that LinkedIn offers to groups is that you can email every member of the group. It's almost like having an email list except you don't have to pay for it. However, this doesn't replace having your own email list! If you don't have an email list yet, feel free to sign up for AWeber (currently offer 30-day free trial).
Step #6. Follow People In Your Space
With millions of professionals on LinkedIn, you're for sure going to find people in your niche space. Follow them and engage in their posts. If they post something new, don't be shy and leave a comment or feedback. Let people know you exist and you'll naturally get more followers.
Step #7. Continue Building Your Profile
Similar to your blog, it will take time before you become popular on LinkedIn. Like other forms of Social Media, the key is engagement. If you socialize, you're more likely to make friends. You're not going to make new friends or connections if you're constantly hiding in your own space.
In Conclusion
To effectively drive traffic from LinkedIn to your blog. You'll need to build a strong foundation on LinkedIn. By following the steps above, you will have a fairly powerful LinkedIn profile.
In the end, it's all about getting more views because the more people who view your profile. The more likely they are to check out your blog!
Do you have other ways to drive traffic from LinkedIn to your blog that I have not covered in this article? Please let me know by leaving a comment down below!
Kind Regards,