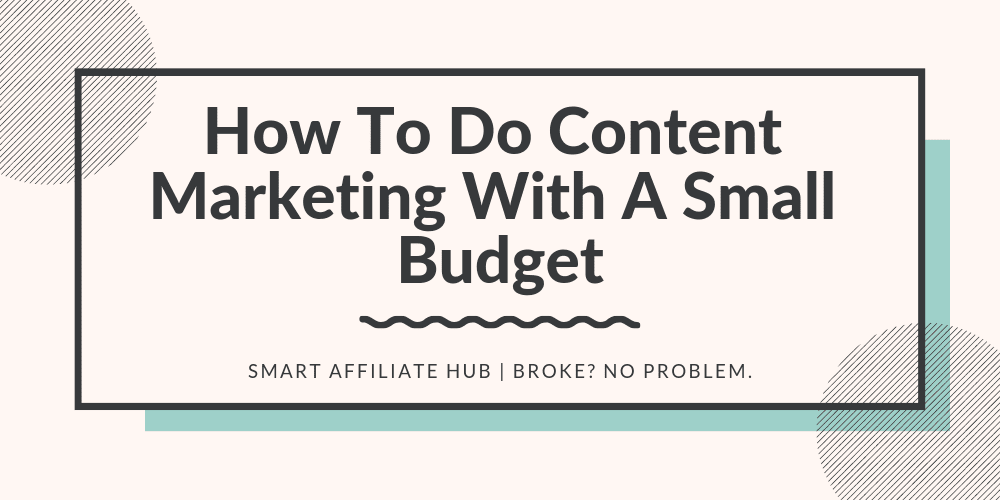 No money, no problem. Content marketing can be done with no money spent on marketing campaigns. In fact, it's exactly what I do here on Smart Affiliate Hub.
Majority of my traffic is generated through search engines like Google. As long as you can provide quality content that engages with your readers, you'll do great when it comes to content marketing.
Let's face it, marketing is expensive. Let's take a look at a graph that I found on webstrategies.com that shows the overall changes in marketing budgets in the next 12 months.
So if you're starting as a brand new marketer, you better have a deep wallet if you want to compete with already established marketers and companies.
In this article, let's focus on what you can do if you have a small budget. Ready? Get set… go! Oh by the way, if you're currently running a blog, how are you driving traffic to your website?
#1. Social Media
It comes to no surprise after seeing the image above that you can reach a ton of people on Social Media. Surprisingly, many internet marketers are not taking advantage of Facebook, Twitter, Instagram, Linkedin, etc.
So far, I don't believe there are any Social Media platforms that charge money, so you can sign up for an account right now for free. By building your Social presence, you can regularly share your latest blog post to get people to check it out.
To increase your Social presence, you should add Social Share buttons to your blog, so other people can share your content with their followers.
Personally, I use Social Warfare, it does cost money if you want to upgrade to the pro version, but it's well worth it. In my opinion, it looks great and it encourages people to hit the share button.
Now if you're on a low budget, there are free plugins. Just to name a few:
Simple Share Buttons Adder – As the name suggests, this is a simple plugin allows its users to add Social Share buttons above and below content area.
Easy Social Sharing – A free social sharing plugin that allows you to choose from 18 social networks. It allows you to add a side social floating bar on either left or ride side. Plus, you can add social share buttons above, below, or both above and below content area.
MashShare – A lightweight plugin that displays Facebook, Twitter, and Subscription button (to get more, you'll need to upgrade to the pro version). By default, it will show a total share counter as well as view count.
Try out different options to see what works for you. After all, these plugins are free, so you have nothing to lose!
#2. Building An Email List
Email marketing costs money, but the people who are on your email list will not cost you additional money to remarket to. As long as you captured their emails through a relevant campaign, you should be able to build a list of highly targeted customers.
For example, if people subscribed to your newsletter for an ebook on digital marketing. You should see great conversion as long as you send out emails that relate to digital marketing (information or product recommendation).
With that being said, whenever you write new content for your blog, you can send your email subscribers an email to get them to come back to your website.
As long as you provided value, these people will probably share your content on their social profiles to drive new people to your website. Which is also why I mentioned Social Media first on this list.
If you're not sure how to build an email list. I have a written tutorial on how to build your email list using my recommended service provider, AWeber. You can try it out with their 30-day free trial.
#3. Networking
Which people have the largest follower count or inspire the most number of people? Celebrities and influencers of course! That's why it's important to network with people who are successful in your industry.
At first, you might feel intimidated because you fear that you'll get ignored. Well, you will but you'll have a greater chance of success if you ask compared to not asking.
If you network with people in your industry, not only can you earn yourself a new friend, but they can also offer you some feedback to push yourself even further.
Next, if you can impress people in your industry, they might even share your content with their followers through social media. Better yet, they might even offer collaboration opportunities in the future.
Let's say you met John who has a follower count of 100,000 people. That's 100,000 people you can get your content in front of just by networking with one person.
#4. Guest Blogging
Guest blogging is a great way to get your content in front of people for free. Especially if you focus on guest blogging for experts in your niche industry.
If you can land a guest post on an experts blog, you'll be able to leverage their traffic and momentum. This will drive their traffic back to your blog and hopefully add-on to your email list.
Did you notice that I mentioned your niche industry? Well, it's because you want to get targeted traffic back to your blog. Let's say you run a make money online blog. Your content will not convert very well if you guest post on a fitness blog.
Then again, you probably won't get accepted in a fitness blog if you only write about how to make money anyway. So make sure that you search a blog that is relevant to your niche before you offer to guest blog.
And definitely, follow their guidelines. It would suck if you wrote an article and it gets rejected.
In Conclusion
Hopefully, this article was helpful! Marketing can be expensive, but there are methods available to anyone who is willing to put forth the effort to make it work.
To recap:
Use Social Media to your advantage. It's absolutely free and remember to use social share buttons on your blog!
The money is in the list, email marketing enables you to bring people back to your blog or view your offer without additional cost for remarketing.
Networking is mostly free if you attend local meetups. Get together with people in your niche and trust me, you will learn something new and you might even earn yourself free marketing plus a chance to collaborate with the experts.
And lastly, reach out to experts in your niche and offer to write a blog post for them. Leverage their traffic to build your own.
Now go out there and market your content with a small budget. Let me know if you need help with anything. Also, I'd like to learn from you as well. Do you have other content marketing methods for people who have small budgets?
Kind Regards,