2020 is over! What a crazy year that we had to endure. Unfortunately, we are still hurting from COVID-19, both emotionally and financially. But at least we are slowly seeing the light at the end of the tunnel. The vaccines are out and hopefully we can leave COVID-19 behind us soon.
Even though a lot of people have lost their jobs or part of their income. The constant stress of making ends meet continues. That's why I want you to look at 2021 as an opportunity to better yourself. Today, I want to talk about how to change your life in 2021 by starting a blog.
I want you to include financial freedom in your New Year's Resolution. Personally, I have failed the majority of my New Year's Resolution because I didn't have a plan.
If you really want to achieve financial freedom, you'll need to clearly define your goals and a plan to achieve it. Let's not allow a future pandemic to completely destroy your finances. Let's prepare ourselves with multiple sources of income! Let me show you how to start a blog.
Getting Your Own Domain Name & Web Hosting
A domain name is essentially your brand. For example, Apple.com is Apple LLC's domain name. Domain names are quite inexpensive since they only charge you on an annual basis.
Some web hosting companies will even offer you a domain name for free for the 1st year. But before you pull the trigger and purchase a domain name, you'll want to contemplate on what you want your domain name to be.
I've put together an article on how to choose your domain name here.
Here are a few companies that I've worked with that offers a free domain name for the 1st year:
Both HostGator and BlueHost are reputable companies when it comes to web hosting. They are fully compatible for WordPress websites (like my current website).
HostGator and BlueHost are under the same parent company called Endurance International Group. But only BlueHost is actually recommended by WordPress themselves.
However, if you want something fast and reliable, I definitely recommend SiteGround. It's more expensive overall compared to BlueHost and HostGator, but you do get what you pay for. The customer service on SiteGround is unmatched.
If you don't have the money or if you're unsure if blogging is fit for you. Then I recommend signing up with Wealthy Affiliate, but only as a free member.
As a free member on Wealthy Affiliate, you don't need to pay a single dime. You'll also be able to build your very own WordPress website under a sub-domain name.
You won't be able to operate an actual profitable blog as a free member on Wealthy Affiliate, but at least you'll learn and find out whether blogging is right for you.
Regardless of who you end up hosting your website with. The cost to start is extremely low compared to a full blown brick and mortar business.
Writing Your First Blog Post
The next step is to write your first blog post. Unfortunately, I've seen this happen too often. Someone would sign up for a blog and fail to continue.
So if you've already signed up with a web host and purchased a domain name. The foundation is there, you'll just need to build on it.
Remember, a blog without content is nothing but an empty shell. Just as if you're building a house, but stopped during the foundation process.
Create A Blogging Schedule And Be Consistent
Unfortunately, you can't just put up a single blog post and hope to make a lot of money. When I first started blogging, I didn't make a single dime until I was almost 1 year in (if my memory serves me right).
It takes a lot of consistency to build an audience. People tend to stick around if you are consistently pumping out new blog posts.
If you only publish an article every now and then, it throws your readers off. They don't know when you'll publish your next article. So instead, they'll check out another blog that's more consistent.
Trust me, that is not good and I'm certainly not doing a very great job in staying consistent with my blog since COVID-19. And it has reduced my overall website traffic and income.
Having The Right Mindset
Most people fail when it comes to blogging because all they care about is making a lot of money. So when they're not seeing the money, they eventually quit.
There is no instant gratification when it comes to blogging. You're not going to become rich overnight. It's not an easy way to get rich.
With the wrong mindset, you will set yourself up for failure. You'll be excited during the first few weeks, but you'll eventually slow down and quit because you're not seeing the monetary value.
Marketing Your Blog Posts
The low cost of entry is a blessing and curse. Being so inexpensive to get started, you'll find yourself competing with thousands of other bloggers just like you.
So it's important that you market your blog posts wherever you can (as long as it doesn't appear as spam). You don't want to spam your blog posts URL on other people's blog posts or YouTube video comments.
By marketing your blog posts, you will drive more traffic and bring more awareness to your blog. What you want is to get your name out there. You want people to know about you!
I recommend Social Media for marketing since these are free platforms. They also allow groups to be made to share specific topics. I'm pretty confident that no matter what niche industry you're in. You'll find a group for it.
Build An Email List And Capture Emails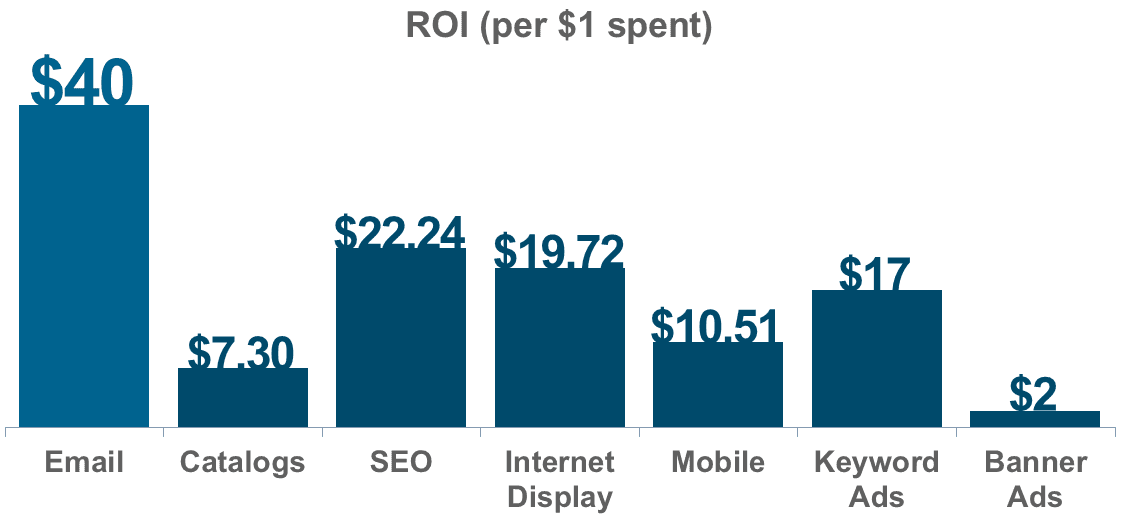 Email marketing is an effective method to build relationship as well as gain repeat business. If you've recently purchased something online, then you might have had a taste of email marketing.
Basically, email marketing can help you communicate and update your readers. You can also use it to promote affiliate products to earn commissions even though they were not on your blog at the time.
You see, most people who visits a blog will not remember the URL. So once they leave, there is a low chance that they will come back.
So if you can capture the email address of your readers, then it doesn't matter if they forgot about your URL. Your emails can bring them back such as new blog post updates.
But in order to entice someone to opt-in to your newsletter. You'll want to create a lead magnet. Something that offers your readers an incentive. For example, most eCommerce stores offer excusive discount codes for joining their email list.
The email service provider that I use is AWeber. I have used others in the past like MailerLite, but in the end, I chose AWeber and stuck with them for years.
For starters, I recommend signing up a free account on AWeber. It lets you build an email list of up to 500 subscribers. That way, you don't have to take on additional expenses as you're building your blog.
Blog For Your Audience
Throughout your blogs life, you will have to consistently publish blog posts. But remember to focus on blogging for your audience.
I understand that money is definitely the results that you hope to achieve, so sometimes you can be tempted to blog for money.
But at the end of the day, the satisfaction of your audience is what helps you make money. So when it comes to writing blog posts, you'll want to write to help solve problems.
Treat Your Blog Like A Million Dollar Business
Although your blog didn't cost you a million dollar to start. But if you believe that your blog is a million dollar business, you will take it more seriously.
It's all psychological. When you have a million dollar invested, you'll do whatever it takes to maintain it and be profitable.
If you stay focus, your blog can be far more profitable than a regular brick and mortar business. This is because a brick and mortar business have more upkeep cost.
The Hardest Part About Making Money Online
In all honesty, starting a blog is not hard, but getting started is. Most people fear that they won't succeed, so they'll never try.
If you're afraid to fall off of a bike, then you'll never learn how to ride a bike. The same applies to starting a blog.
Remember, a blog is just a resource. You are the deciding factor to your blogs success. Success is an attitude. It's not about the money.
That's why people who wins the lottery often lose it all. It's because the money was thrust upon them due to luck. So if you want to be successful at blogging, then you'll need to maintain the right attitude.
So if you want to be successful and make money through blogging, the most important part is starting a blog and having the right attitude to help you move forward during times when you are not making money.
I hope this short article was helpful! If you have any questions or need help with anything. Please don't hesitate to leave a comment down below.