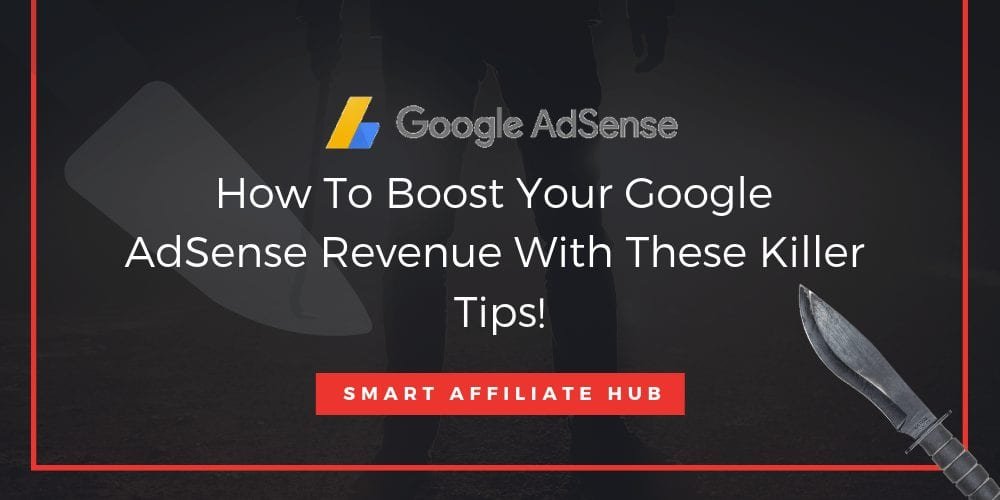 Are you currently running Google AdSense on your blog or website? Well, if you want to make more money from Google AdSense, then you've come to the right place.
According to the list found on Built With, there are approximately 11,647,959 websites using Google AdSense. It's not surprising that Google AdSense is one of the best ways to make money online as a blogger.
The hardest part is getting the initial approval.
Fact: Smart Affiliate Hub (formerly known as Online Self Employed) was approved for Google AdSense after 14 days after going public.
Once you're approved to run Google Ads on your website, Google will provide you with tools to add various advertisements on your website. The most common place to find Google Ads is within blog content.
How you make money running Google Ads is simple. I'm not going to go in-depth with this, so if you want more information. Please check out my article to learn everything about Google AdSense.
In short, you make money whenever someone clicks on an advertisement placed on your website.
When this happens, Google takes a cut as the advertising agency. The person who pays for the ad is usually an independent blogger, website owner, or a full-blown business.
It's not easy to make good money through Google AdSense as a new blogger or website owner. It takes a considerable amount of visitors to even have a chance to turn your website into a full-time income source.
In this article, I am going to share with you, How To Boost Your Google AdSense Revenue With These Killer Tips! Without further ado, let's get started!
Tip #1. Search For Keywords That Pay Handsomely
Google Ads are not displayed randomly. They are designed to be as relevant as possible to the content that surrounds it. This is to maximize click-through-rate.
Let's say you run a blog on fitness products. It doesn't make sense to have Google Ads that talk about how to make money online. Your audience is not there for that, hence fewer clicks and less money to be made.
So when you create content for your website, you want to use keywords that pay handsomely. That way, you'll get ads that fit within the parameters of those keywords.
When you combine both high paying keywords and Google Ads, you'll get more clicks and more money per click.
Now finding keywords that pay handsomely is a very simple task. Google provides a tool called Keyword Planner. This will allow you to search for keywords, phrases, or websites to find out the keywords they are targeting.
Once you get the results, you can sort the information by price to view which keyword pays the most.
Here's an example picture down below:
Another great tool that I personally use is called UberSuggest by Neil Patel. It's absolutely free to use and you can use it to find long-tail keywords that relate to the content of your website.
Here's an image example of UberSuggest in action:
So keyword research does not only benefit for SEO, but it can also help you make more money with Google AdSense. Are you using this strategy right now?
Tip #2. Use Proper Ad Placement
Improper ad placement is usually the biggest culprit to why someone is not making money with Google AdSense. You want to think about where you place your ads if you want to maximize impression as well as click-through-rate.
First, you must ensure that your ads are placed in areas where your visitors will definitely see it. But at the same time, you don't want to overdo it because it can make your website appear to be spammy and annoying.
My recommendation is to place 1 or 2 ads at most on your sidebar for great visibility. And you can place some within your content, but do it generously so your audience can actually read your blog post.
Ad-Sense theme by mythemeshop.com is a great WordPress theme for maximizing your Google AdSense visibility. In fact, I've used this in the past. The only reason why I no longer use it is because I want to ensure my readers can absorb my content without getting distracted by advertisements.
Again, it's important that you don't overdo it. Believe it or not, you can make more money with fewer ads compared to a website full of it.
Tip #3. Design Your Ads To Blend In
You can design your ads in terms of colors and borders to blend in with your website. You definitely don't want to have ads on your website that screams, hey look at me, I'm the odd one!
When placing ads on your website, it should fit right in with your content and flow like a river. You still want your ads to be noticed, but in a pleasant way.
For example, if you're using a black background as your website theme, try using a lighter color such as gray to compliment your website without looking odd.
Tip #4. Check Your Results And Tweak Your Ads
Many new bloggers don't spend enough time checking their results and tweaking their ads to maximize their income. Making money online with Google AdSense is very easy, but it still requires effort.
There's no way you can make a decent living if you don't plan on testing and tweaking your ads for maximum results. Don't make the mistake of adding ads to your website and letting it be.
I found an awesome list of WordPress A/B testing tools in an article by Kinsta.com. By using A/B testing with your ads, you can test out 2 pages with different ad placements to see which one performs better than the other.
Once you've concluded which one does better, you can run another test with another page. This requires more effort, but you'll yield greater results because you are maximizing your earning potentials each and every time.
In Conclusion
Google AdSense is by far one of the most popular make money online methods for bloggers. In fact, Google provides you with everything you need to be successful once you're approved.
Just to recap on How To Boost Your Google AdSense Revenue With These Killer Tips:
Search for keywords that pay handsomely to maximize earnings per click
Use proper ad placement to increase impression and click-through-rate
Design your ad to blend in with the rest of your website
And lastly, check your results and perform A/B testing
Personally, I don't run Google Ads on my website because I make money through email marketing and affiliate marketing. Also, I don't recommend you running Google Ads if your website is new.
First of all, you won't have enough traffic to make any substantial amount of money. Secondly, running Google Ads can be counterproductive. During the first year of your website or blog, you should focus on building an audience base.
By having Google Ads on your website, you are basically sending your audience away for a few cents or a few dollars. It's just not worth it!
Instead, you should focus on building your email list because it will allow you to communicate with your audience.
It's all about the lifetime value of a visitor. Would rather earn $1.00 from each visitor as a one-time deal or make money over and over again because you have a way to communicate with those who subscribe to your newsletter?
I hope this was helpful! Whether you decide to use Google Ads or not to make money online. I wish you great success! If you have any questions, please feel free to leave them in the comment section down below and I will try my best to help you out.
Cheers,