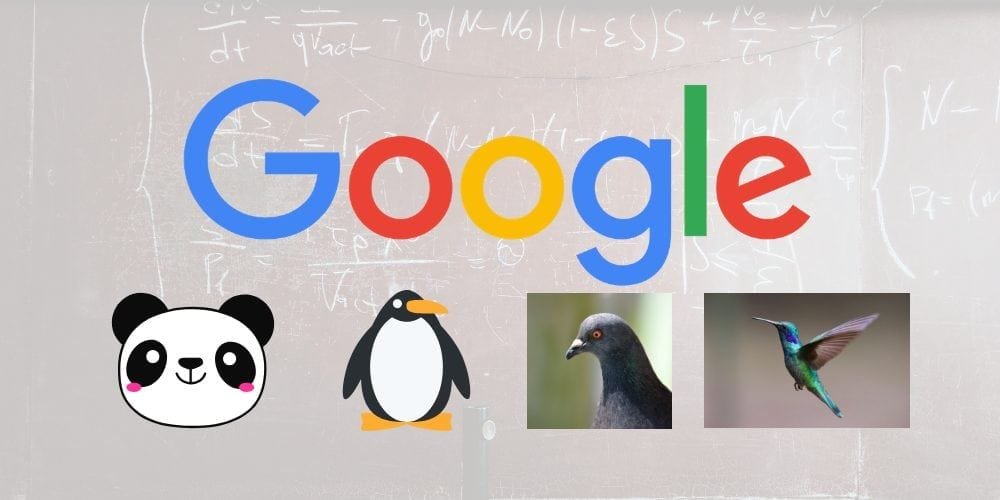 Over the years, Google has made some drastic changes in their search algorithm to combat manipulators. Basically, there are people out there who try to game the system to outrank others effortlessly.
The problem with gaming the system is often not providing value to the searchers which is what Google frowns upon.
We are so used to finding the answer on the first page of Google. Can you imagine not finding what you're looking for? This happens, but not too often because Google is pretty good at presenting you with relevant information.
Nobody knows exactly how Google ranks a website or when they decide to penalize one. However, you can be sure of two things. First, they look at their search result system. This is something they have full control over. Secondly, they also observe your website(s) such as how you are getting your links, quality of content, social signals, analytics, etc.
Even though the search algorithm changes are good for user experience. It can be a nightmare for some online businesses. You can literally lose all of your traffic overnight.
Good news is if you're doing everything the right way. You shouldn't have to worry about getting penalized at all. In this article, I will go over steps you can take to avoid getting penalized by Google. Without further ado, let's get started, shall we?
Avoid Links Within Duplicate Content
First, Google and other search engines frown upon duplicate content. What's even worst is building links within duplicate content. What usually ends up happening is that any links built on duplicate content will NOT get indexed and you'll probably get a red flag. Once you're flagged, it will take longer for future links to get indexed.
That's why I always recommend everyone to check their Google Search Console at least once per week and check where they are getting their links from.
How to get rid of bad links:
Reach out to the website's owner and politely ask for your link to be removed.
Disavow them and claim no responsibility.
Hopefully, this doesn't happen to you, but we can't rely on hope. That's why we due diligence and check our backlinks to see why they are not increasing your rankings.
Unnatural Link Building Through Exchanges
Link building through exchanges is a common method used by many bloggers. It's a quick way to get links from different websites, however, like get rich quick schemes, it does not provide you with long-term results.
First, Google will see unusual link building activities. Similar to Social Media, when you get an unusual surge in activity, they will flag you as a bot. Not only that, by building through exchanges, you're going to get a lot of low-quality links from websites who may already have been hit by a penalty. This is not good news for you!
Also, Google pays a lot of attention to content quality and relevance. The problem with link exchange is that bloggers don't care about the quality or content. Their main focus is getting the links. If you want to get quality and relevant links, you can't take shortcuts.
Avoid link building through exchanges and focus on creating high-quality content. Share your work on Social Media and as long as your work is high quality, people will naturally link back. It takes longer, but it's all about the quality not the number of your backlinks.
Don't Stuff Your Keywords
Most people don't do this anymore, but just in case, I want to inform you all to not do it. First stuffing your keywords will make your blog posts hard to read.
Back then, people will just stuff keywords they want to rank in a blog post and didn't care about the actual content. Nowadays, Google does penalize you for that and when it comes to keywords in your content, it should only be 2 to 3% of the entire article.
However, this does encourage bloggers to write longer content! The longer your blog post, the more keywords you can have within. Maybe that's why a long detailed blog post tends to rank higher on the search engines?
In Conclusion
I want you to remember this! Quality content + Proper Keywords = Positive User Experience.
That's exactly what Google wants. Before anything happens, you must first write quality content. Whenever you do it, make sure you focus on the value and the problem it is trying to solve. If someone is searching for how fast a does a cheetah run. That's exactly what you need to answer.
Using proper keywords will not only get you ranked on Google, but it will also help other bloggers and regular people find you. Again if your content is high-quality, people will naturally stick around your blog longer and maybe even link back to you because it's easier to link to someone rather than recreating the content.
Finally, with quality content, keywords, and positive user experience, people will start to follow you on Social Media, share your work, leave comments, etc. These are all positive signals for Google. It tells them that your content is engaging and should rank you higher than the person above you (if they are not getting the same results you are).
If you have any questions, please leave a comment down below!
Kind Regards,