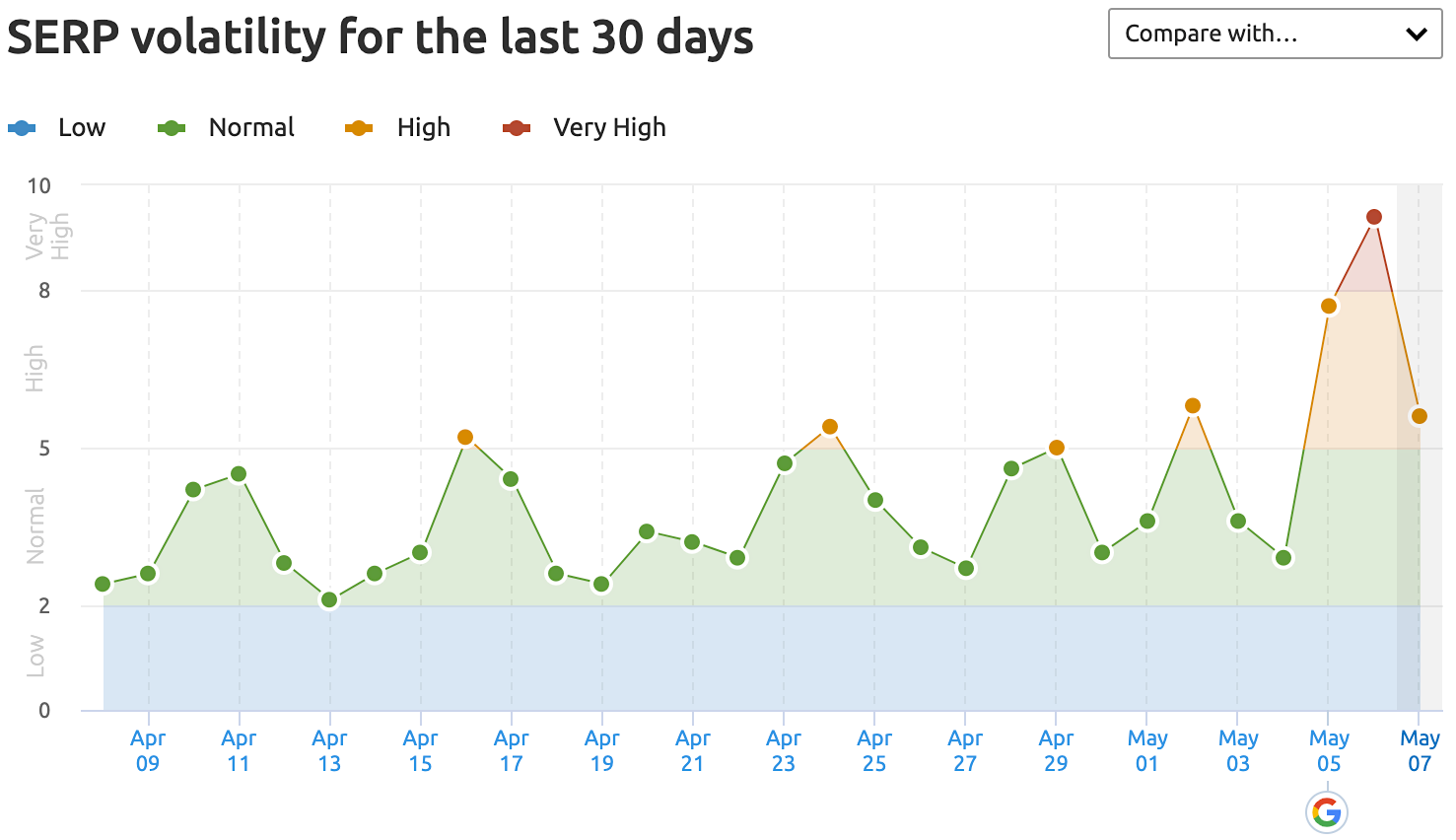 On May 4, 2020, Google's Danny Sullivan confirms that they will begin rolling out the second core updates to their search algorithm. Whenever you hear the word "core", you know it's a big deal.
Google's core updates are major updates to the Google Search Engine algorithms and will typically impact a lot of websites. If you just take a look at the image above by SEMrush, when you see red, it means there is a major change in the search engine rankings.
If you haven't recently checked your website traffic, now might be a good time to do so. Personally, I use SEMrush to track my keywords position.
It gets updated daily, so whenever there is a shift whether it's positive or negative to the keywords that I am tracking, I will get notified through email.
Another good place to check your website traffic is through Google Analytics. Personally, I do see a small decrease in organic traffic ever since the update was pushed out.
If your website was unfazed, great! But if the Google's Core Update made a huge negative impact on your website, that's okay too. You'll just have to learn from this and improve upon it.
Industries That Were Affected
According to SEMrush, the follow chart breaks down the industries that were mostly affected. As you can see from the chart down below, industries most impacted are Travel, Real Estate, Health, Pets & Animals, and People & Society.
Regardless, most if not all industries were affected, with some more than other. For example, "News" seems to be the least affected.
Ranks do change as Google and other search engines update their algorithm. It's job is to ensure that they are presenting the appropriate content to their search users.
This can be very frustrating for bloggers, website owners, internet marketers, etc. But there are ways to help minimize the negative impacts of these core updates.
Tip #1. Update Your Old Content
Months or years after you publish a blog post, it can become irrelevant. As of the beginning of 2020, I started to update my older blog post to give it a refresh and it has done wonders for my organic traffic count.
That's why sometimes you'll see previous blog posts listed as my latest blog post. Typically, I would update the content along with a new title tag. This is to ensure that my blog post contains the latest information.
Just today alone, I deleted 7 irrelevant blog posts and updated 2.
That way, your older content can still rank on Google and not go to waste. I've seen many of my older blog post go from page 3 to page 1 after an update.
In general, I try not to update my older content unless I have to. For example:
Content requires updated information such as pricing or core changes will usually get an update.
Content that is no longer relevant to my readers will usually get deleted or 301 redirected to an URL on my website to make it relevant again.
As time goes, you'll discover dead links on your website. SEMrush saves a lot of my time by pointing those out. When I see it, I would go back and update that article with the appropriate links.
Basically, I would go back to update my content whenever it is absolutely necessary. If you have older content that is no longer ranking well on Google, you might want to go back and update them.
Tip #2. Beef Up Your Content
Some contents are meant to be short and quick to read. However, Google favors heavy content because they generally provide answers to their search users. If you look on Google, websites that are positioned on the first page are usually pretty lengthy when it comes to content.
In cases like Contact Pages, About Pages, you might not need to have thousands of words. But information content that should be more in-depth will require attention and that is to beef it up.
One thing to keep in mind though is user-experience. If you can get your message across with a few hundred words, leave it alone. You don't want to add unnecessary words just to beef it up.
A nice little tip is to compare your content to someone on the 1st page of Google. Are they beefed up to the max? If they aren't then you shouldn't have to either.
Most people would rather get straight to the point.
Tip #3. Fix Your SEO Errors
There are many great tools in the market for SEO, for example, I use SEMrush to audit my website. This gives me enough information to fix things on my own without the need to hire an SEO expert.
And no, just because you have a lot of errors, does not mean you will have trouble ranking on search engines. It all depends on the type of error that your website is getting.
For example, having the same title tag, meta descriptions will do more harm than a broken link. Not that a broken link shouldn't be addressed, but having the same title tag and meta description will create problems when it comes ranking.
Again, you don't have to fix all SEO errors, but mainly the important ones.
In Conclusion
Hopefully those of you who also operates a website are not affected negatively by Google's May 2020 Core Update. But if it is, you can try the things that I mentioned above.
Keep in mind, there is no guarantee when it comes to protecting yourself from algorithm updates. If there was, nobody would fear these changes.
And these changes are there to provide a better experience for search engine users like me and you. Overall, the best recipe to protecting yourself is by providing an excellent user experience.
Hopefully this was helpful! Did the Google's May 2020 Core Update affect your website? Please share your experience down below by leaving a comment.