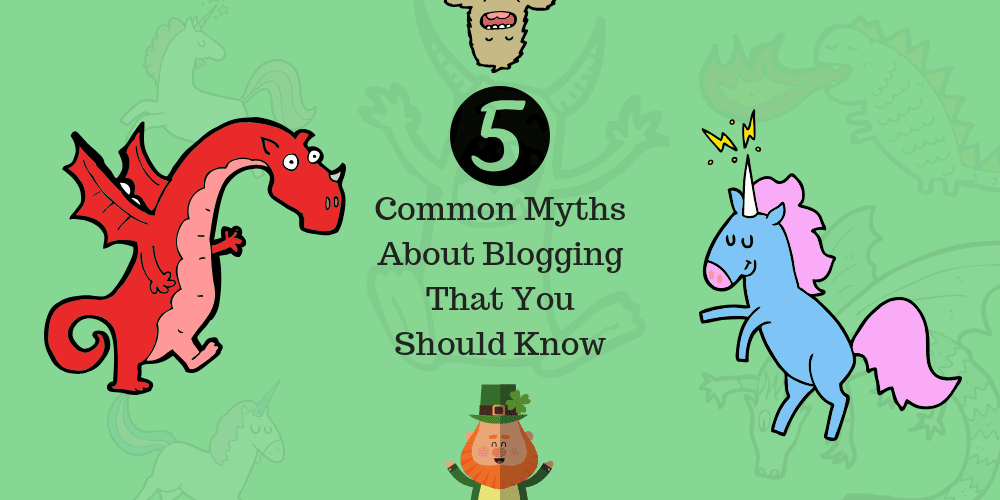 After blogging for over a year now and have experienced both the sweet and sour side of blogging. I want to help you debunk five common myths about blogging that you should know.
Haven't Started A Blog Yet? Get My Free WordPress Installation Service Here.
This is extremely important because you don't want to limit yourself when writing blog posts simply because of myths you've heard from other internet marketers.
After reading this article, you should be free from the common myths that are preventing you from creating the best content that you can possibly produce. Without further ado, let's get started!
Common Myth #1 – People Won't Read The Entire Blog Post
Short and straight to the point is the best recipe because people won't read the entire blog post. This is false and will possibly cost you a loyal reader. You see, most people do skim content to see if it's worth reading before going back to read it from the start to the finish.
It makes sense because nobody wants to read a blog post with 1000+ words only to find out that the information they were seeking is not available in the blog post. It's such a waste of time!
Tip: Instead of worrying about people reading your entire blog posts, focus on providing value to your readers. If they are searching for a solution, provide the solution. As long as you can provide value, your readers will stick around to read your entire blog post.
Common Myth #2 – You Need To Write Super Long Blog Posts
If you take a look at my blog posts, you'll notice that they are all different lengths. Some will contain over 2000 words while others are merely 500 words. It varies depending on the topic and the information that I would like to provide to my readers.
You don't want to write blog posts for the sake of writing a blog post. Often times, people would ramble on and on just to meet their desired word count. This is not only a waste of your time but a waste of your readers valuable time.
Tip: What matters is not the length of your blog post, but the value that you've provided to your readers. And trust me, they'll know exactly what kind of value that you've delivered at the end.
Common Myth #3 – Shorter Content Gets More Backlinks
The length of your content does not really matter when it comes to building backlinks. What really matters is the quality of your content. Just imagine this… if you are an authority in your niche, but also looking for another blog post (not your own) to provide additional value to your readers.
Tip: Would you care about the length of the content or the thoroughness and how it can help your readers?
The answer is obvious, but here's some truth to why shorter content usually gets fewer backlinks compared to a longer blog post. You see, when you're writing a short blog post, it's probably less thorough and helpful and that's why writing longer blog post is more attractive.
Common Myth #4 – Longer Blog Post Takes Too Long To Write, So It Reduces Publishing Frequency Which Is Not Good
We're all different with different lifestyles and priorities. I try to produce at least 1 blog post per day, but that doesn't mean you have to do the same. Especially if you don't have time to create quality content.
If it takes you 2 days to create a super thorough and valuable content, then so be it. It is far better than creating 1 mediocre blog post per day just to say that you did it.
Keep in mind that high-quality content will always perform better than mediocre content. You'll get way more social shares, likes, user engagement, and reduced bounce rate. These are all positive signals for search engines like Google.
Tip: When you first start blogging, test the water by producing every other day just to see how it goes for you. Are you able to consistently produce high-quality content every other day? If it's a piece of cake, you can produce more content or if it's overwhelming, you can reduce your publishing frequency. This will give you an idea of what a workable schedule is for you.
Common Myth #5 – Keywords Are Not Important For Long Content
Google is a great company and they are definitely good at what they do. However, as a content creator or a blogger, it is actually our job to inform search engines like Google to help them understand what keywords we want to rank for and what our content is about.
Over the years, internet marketers have been paying more emphasis on long-tail keywords to help them rank. Whether your content or short or long, it's important that you research your keywords before writing, so you can target a specific audience.
Tip: Use Google Keyword Planner to help you find keywords that are relevant to your niche. If you want to use an actual keyword research tool, do consider Jaaxy (a program that is now built-in with Wealthy Affiliate).
Also, don't stuff your keywords! Keep it to a minimum, so your blog post makes sense. The general rule is to not exceed 3 to 4 percent of your content when adding keywords.
My Final Thoughts
Hopefully with the information that I've provided to you. You can now focus on the quality and the value of your content rather than focusing on things that don't matter.
If you have content already, definitely go back and update those blog posts to ensure that it is indeed providing value, not just to meet a number such as a word count.
Going forward, I hope you will apply what you've learned from this blog posts because learning is important, but applying what you've learned is going to make the difference.
With that being said, if you have any questions, comments, or concerns. Or maybe you need help with evaluating your current blog, please leave a message down below or reach me privately through our contact us page and I'll do my best to help you out.
Kind Regards,