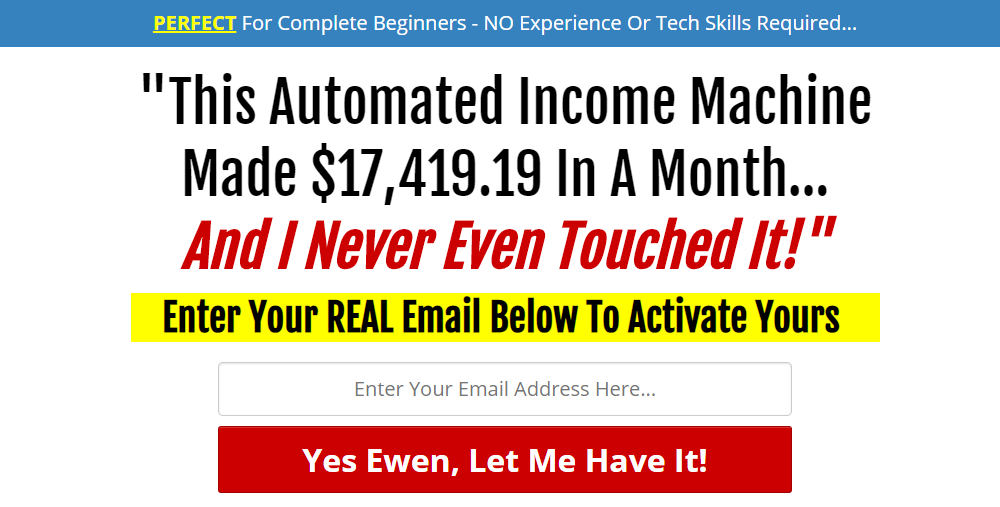 Fast Track Cash Review 2021
Website: http://www.fasttrackcash.com/
Name: Fast Track Cash Review
Price: $27.00 with 3 upsells
Claims: Make money on complete autopilot 24 hours a day, 365 days a year.
Founder: Ewen Chia
Ewen Chia is an internet marketer from Singapore who has been working in this industry for a very long time. Today, I will be revealing a product that was brought to my attention from a fellow reader.— Fast Track Cash.
The sales page was clean and it claims to be the fastest way to make money online (in minutes). After reviewing many products on how to make money online. Any form of bold claim raises a red flag, so I decided to look deeper into this product. Is Fast Track Cash a scam?
As an update, I went back to Fast Track Cash by Ewen Chia again and realized that they've changed their domain name to affiliateatms.com. This again reinforces my previous claims.
Companies don't change names often. When an online business changes its domain name, it's likely for a very specific reason. They are trying to re-brand themselves because everyone knows their previous name is a scam.
What Is Fast Track Cash By Ewen Chia?
Fast Track Cash is an internet marketing course that goes over the basics of affiliate marketing. It comes with both downloadable PDF eBook and a series of online training videos.
In short, the videos are going to teach you how to make YouTube videos and promoting affiliate programs or lead magnets in the description of each video that you create.
You will also learn how to drive traffic to your YouTube videos to increase conversion. Maybe I've been doing this for too long because the information that was provided by Fast Track Cash was not impressive. I discovered most of the information provided by Fast Track Cash is free from my recommended platform.
What You'll Get For Buying Fast Track Cash (Videos)
Video #1. This video contains the introduction to YouTube Marketing.
Video #2. This video contains information on different types of strategies you can implement to YouTube Marketing.
Video #3. This video contains information on how to sign up for different affiliate programs. Fast Track Cash recommends that you sign up for ClickBank (reputable) and how to apply the affiliate links to your YouTube video description.
Video #4. This video contains information that is similar to Video #3. The only difference is, you get a tutorial on how to sign up for programs that contain cost-per-action (CPA) offers.
Video #5. This video contains information on how you can promote products before it gets released, so you can get started before your competitors. By doing this, you are positioning yourself on the top pages of search engines or YouTube, so once the product gets released, you get the majority of the traffic.
This sounds great, but only if you know where to look for upcoming products before it gets released. In this training video, you will learn how to find products that are related to making money online.—What about people in other niches? Where can they find products before it gets released?
Video #6. This video contains information on how you can make videos without showing your face via PowerPoint presentations.—Sounds perfect for me haha!
Video #7. In this video, you will learn about a screen recording program known as Camtasia. This is useful for doing video tutorials. However, there are alternatives to this program in the market if you are concern with the price.—Some are free of charge!
Video #8. This video contains basic SEO instructions on how to optimize your videos by adding proper title, descriptions, and tags.
Video #9. In this video, you are taught to copy and paste content from other sources. I don't condone this because I view it as plagiarism. Chances of you getting caught and penalized are high!
Video #10. In this video, you are taught to game the system by purchasing likes and traffic to your video from vendors on Fiverr. The traffic you get will not make you sales right away, but it does help make your videos appear higher on the list for the keywords that you are targeting. However, do so at your own risk because Google frowns upon paid traffic like this and Google owns YouTube.
Video #11. In this video, you will learn how to find keywords that popular YouTube videos are targeting, so you can use it for your own videos as well.
Video #12. In this video, you will learn how to use proper thumbnails to attract visitors. This is great, but please don't click-bait people into watching your videos.
Video #13. In this video, you will learn how to generate text to speech, so you don't have to talk in your videos. I understand some people are shy… as I am myself. However, people like to hear the real and natural voice, not some computer generated speech.
Video #14. This video explains the importance of responding to viewer comments to increase its ranking potentials.
Video #15. This final video explains how important it is for you to stay active and post frequently to bring in more traffic, so you can increase your revenue.
My Final Thoughts On Fast Track Cash
Fast Track Cash provides decent training for beginners, but a lot of the information is outdated. This will greatly affect the results for beginners. I am a firm believer for getting it done right the first time, so you don't have to go back to fix it.
I don't see Fast Track Cash as a scam, but it's far from being a recommended program by myself. Will it really help you become successful? Can you really make money online in minutes? I think there are better options out there.
Fortunately, they have a 60 Day Money Back Guaranteed. Try it out and if you don't like it. Just ask for a refund(:
I was once like you, searching for a way to make money online and that's how I stumbled upon my recommended platform, Wealthy Affiliate. They are currently one of the most active affiliate marketing platforms with up-to-date information on how to make money online.
Did you enjoy this product review? Hopefully, this article gave you a better understanding of what Fast Track Cash offers and I would really appreciate it if you could take the time to share this article on your social media platforms.
If you have any questions, please kindly leave a comment in the comment section below.
Decent, but not worth the money
Summary
This product has a lot of useful information, but also lots of outdated information. Therefore, I just can't justify the cost nor recommend this product to my readers.