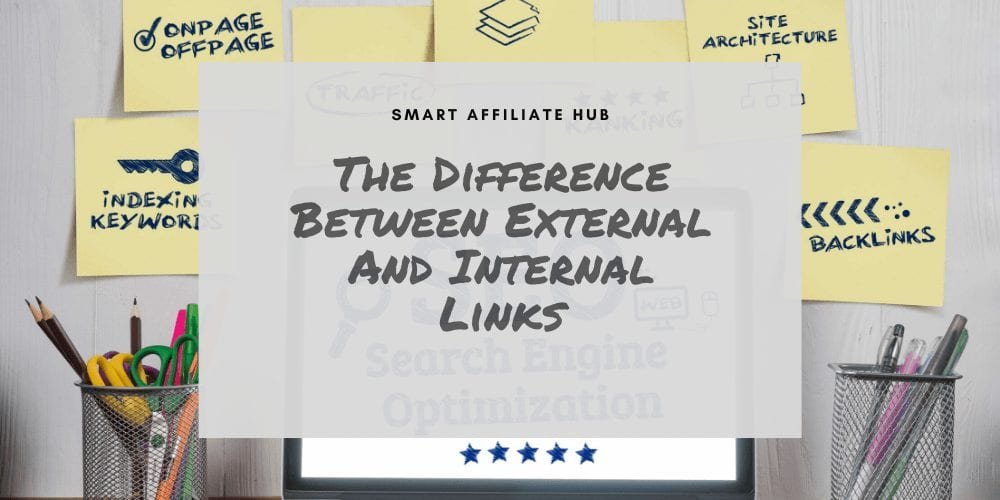 Optimizing your website and its content for search engines is an absolute must. In order to build authority in the eyes of search engines like Google. I'd like to go over the difference between external and internal links.
Most importantly, I'd like to go over how they both can help you build more credibility and rank better on search engines. Without further ado, let's get started!
What Is An Internal Link?
An internal link is a URL that redirects the visitor to another page on your website. However, you want this link to make sense. For example, you don't want to talk about how to build a website and redirect them to your privacy page.
With a good integration of internal link, you will allow Google and other search engines to crawl your content as well as your internal links.
An example: Let's say I am writing an article about how keywords can help you rank high on search engines. Within the content, I recommend a tool called Jaaxy with the use of internal linking like this – Click Here For My Jaaxy Keyword Research Tool Review.
What Is An External Link?
Similar to internal links, the external link is also used to redirect, but externally. Unlike an internal link, external links are used to redirect your visitors to another website such as a retailer or an informational website.
An example: Let's say we are talking about how many users are on the internet. I would provide an external link to the source where it displays the world internet user statistics by Clicking Here.
To sum it all up again, if I provide a link on my page that redirects to another website like Google, Facebook, YouTube, etc. It is considered an external link.
Do External Links Help With SEO? Googles Response
Absolutely my friend, Google has pointed out how external links can help show the credibility of your website! You can find more information on that by Clicking Here.
What you are trying to achieve here is providing credible sources for your visitors. This will eventually boost your website authority on Google and other search engines.
Besides, if you're running a blog or an informational website, you'll want to provide the best information out there anyway.
The more sources you cite and redirect, the more credibility you can build with your visitors and search engines.
However, don't take this the wrong way and focus entirely on redirecting your visitors. You want to continue writing high-quality content because eventually, you'll want people to check out your other pages too.
Some More Examples To Simplify The Concept For You
Example #1
Let's say your website is about medicine! When you write articles related to medicine, you want to provide links that direct your visitors to a credible source such as a medical website.
Here's why: Would you believe in someone who is not a doctor, recommend you medicine? or would you believe in someone who is offering information, but also provides a source with credible medical information?
Example #2
Let's say your website is about Dragon Ball Super and it's characters. When providing information to your visitors. You can redirect your visitors to Wikipedia, so they can learn more about the individual characters.
Redirect Your Visitors To Authority Websites
External links can help only if you use it the right way. If you use authority sites like Google, Wikipedia, Facebook, YouTube, News, etc.
You will be able to build authority much faster than external links to NEW websites with barely any authority.
Authority websites have the most traffic and most credible source anyways, so why wouldn't you want to redirect your visitors to them?
Money Making Tips When Using External Links For Certain Websites
Affiliate Marketing Website:
If you are an affiliate marketing website, you want to keep your visitors on your website, so you can earn a commission when they visit and buy a product that you recommend.
You don't want to redirect your visitors to another affiliate marketing website that sells the same product because you can potentially lose that sale.
Informational Website:
If you are operating a website designed to offer information only. External linking will help you with improving your SEO. However, you won't make any money unless you have some form of monetization plan.
What I recommend is to sign up for Google AdSense by Clicking Here.
Google AdSense will allow you to monetize your website, but remember, NEVER ask your visitors to click on ads. You can check out their program policy by Clicking Here.
Fun Fact: Did you know Smart Affiliate Hub (formerly known as Online Self Employed) was Google AdSense approved after 2 weeks?
You can learn more about how I did it. Please check out my internal link to that article by Clicking Here.
Another effective way to make some money to support your information website is through donation.
If you are interested in making a donation button for your website, you should check out PayPal because the money can be directly sent to your PayPal account.
To save you some time, click the following external link to get redirected to PayPal Create A Donate Button For Your Website.
Negative Effects For Using External Links – Solution Available
The problem with using external link is the potential risk of sending off your traffic to another website and never seeing them again.
This is bound to happen, but I do have a simple solution to fix this problem.
When you are providing an external link to your visitors, make sure you [√] the box where it says open in a new tab or window. This will keep your page open.
This still isn't a guarantee, but at least your page is still there, so they can still refer back to it after checking out your external link.
In Conclusion
Internal and External links have their pros and cons. You can build more authority in the eyes of Search Engines, but you can also lose on potential sales.
However, the trade off is with better rankings you will eventually grow more traffic for your website.
If you are interested in learning more about how to build a business online or more specifically how to start a blog for affiliate marketing. Please check out my free course by signing up here today.
In this course, I talk a lot about my #1 recommended platform. This platform has helped me establish Smart Affiliate Hub with no prior knowledge or experience.
I hope this was helpful! If you have any additional questions, please feel free to leave a comment down below and I will try my best to help you out.
Kind Regards,