Choosing a domain name for your website is probably one of the most important decisions to make in the beginning. Once it's chosen, you don't want to keep switching it.
By choosing the wrong domain name, it can negatively impact your website. And that's why I want to show you how to choose a domain name for your website.
Your domain name is your brand. For example, Apple Inc. owns Apple.com. So you'll want to choose one that fits.
What Is A Domain Name?
A domain name is the name before the domain extension (.com, .org, .net, etc). It is within a unique URL that directs the user to your website.
Some examples of popular domain names are Apple, Google, Instagram, Facebook, Tumblr, Twitter, SnapChat, Etc.
Once you've purchased your domain name, you will have the rights to it for as long as you pay for it annually.
Unfortunately, most decent domain names have already been taken, so it makes the decision difficult.
Just when you think you've come up with the best domain name for your website; it has already been taken.
Before Choosing Your Domain Name
Before you decide on the domain name, you might want to consider what correlates with your niche subject.
For example, www.howtoloseweightfast.com would be a website that provides information on how to lose weight fast.
It also helps with search engine optimization because your domain name would match keywords being searched on Google, Bing, Yahoo, etc. But this is not absolutely necessary.
If you have trouble coming up with a niche subject. Feel free to check out my other article on how to come up with your niche.
Does A Domain Have To Contain Keywords?
Again, absolutely not! And in some cases, I don't recommend it. Unless you can find yourself an easy to remember domain name.
You wouldn't want a super long domain name such as www.howtoloseweightwithnoeffortatall.com. That looks unprofessional and hard to remember.
Why your domain name doesn't have to contain keywords: Let's take a look at www.samsung.com and www.apple.com:
Both of these domain names have nothing to do with electronics like mobile phones, tablets, television, laptops, etc.
However, they will still appear in the search results if you search for mobile phones, tablets, televisions, laptops, etc.
Strange right? That's because search engines are not only looking at domain names for relevance. They search for keywords within your entire website especially text-based content.
Choose Your Domain Wisely
Since you don't have to choose a domain name that contains keywords for your niche.
You can focus on a domain name that makes sense and looks professional.
Which one of these would you prefer? www.apple.com or www.appleelectronics.com or www.appletechnology.com.
Personally, I recommend choosing a domain name that contains ZERO keywords, so you can establish a unique brand name for yourself like Apple, Google, Twitter, Facebook, etc.
You can still create a domain name with keywords, but it needs be short and easy to remember. Or it can impact your overall brand name and look less professional.
Important Tip: You want to avoid adding numbers to your domain because it makes it hard for people to remember.
Your goal is to get people to return to your website, not forget about it the moment they leave.
Another thing you should avoid is using hyphens because it is another thing people tend to forget such as placement. Example: www.smartaffiliatehub.com vs www.smart-affiliate-hub.com
Which Domain Extension Should I Use?
After you've decided on the domain name, the next step is choosing a domain extension. We will go over the common extensions that you will be encountering.
Before you make a purchase for your domain, you will notice different available domain extension with various pricing.
These are considered Top Level Domain Extensions (.com. .NET, and .org)
There are about 280 domain extensions available, but the Top Level Domain extensions are recommended if you want to start your very own business.
.Com Extension
The domain extension .com is an unrestricted open domain extension. It is considered a domain extension for commercial use but has been widely adopted as the DEFAULT and REGULAR domain.
.Org Extension
The domain extension .org is another unrestricted open domain extension. It is commonly used by non-profit organizations and trade associations.
.Net Extension
The domain extension .NET is another unrestricted open domain extension. It is commonly used by network-related companies such as www.netzero.net – This is NOT recommended for online entrepreneurs.
Don't Wait And Register Your Domain Now
Lots and lots of domains are registered every day and the longer you wait, the more limited it becomes.
There are some websites that make money by registering potential domains that might be worth money in the future.
Buy A Domain From Someone Else
As stated earlier, some websites make money by selling registered domains. If you find one that you feel confident about.
You can try to buy it off of the owner. However, can be very expensive and an investment that you should take seriously.
I've seen domain names selling for up to $20,000!
After Choosing Your Domain Name, Protect It!
This is not required, but it can help ensure you receive all the traffic for your website. Let's say your domain name is www.smartaffiliatehub.com.
Someone with www.smartaffiliatehub.org might be stealing some of your potential visitors. I haven't done this yet for Smart Affiliate Hub, but I will soon.
What you can do is purchase all domains that are similar to your own. This can cost you a little more up-front, but fortunately, it is annually.
Check Out My #1 Recommendation
Are you thinking about starting an Online Business? Or are you thinking about improving your Online Business?
My #1 Recommendation is going to provide you with 2 free websites (website hosting included) and it takes roughly 30 seconds to create, certification courses, and tools to help you succeed.
The best part about this recommendation is the fact that it is absolutely FREE to join. You do NOT need a credit card or any form of payment to sign up.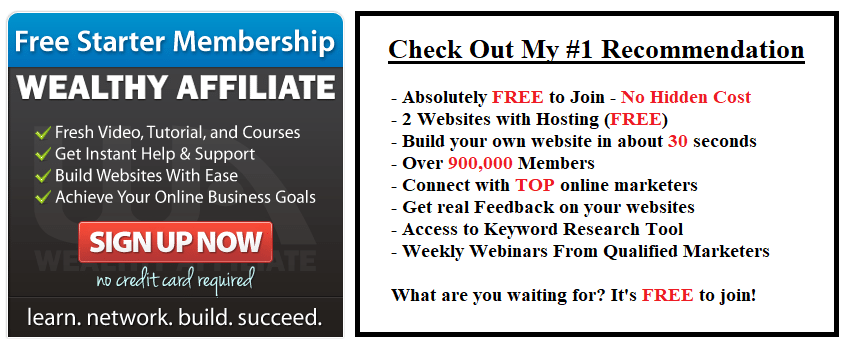 If you are still having trouble with choosing a domain name for your niche website.
Please do not hesitate to contact me or leave a comment below and I will personally offer you my suggestion.
Kind Regards,