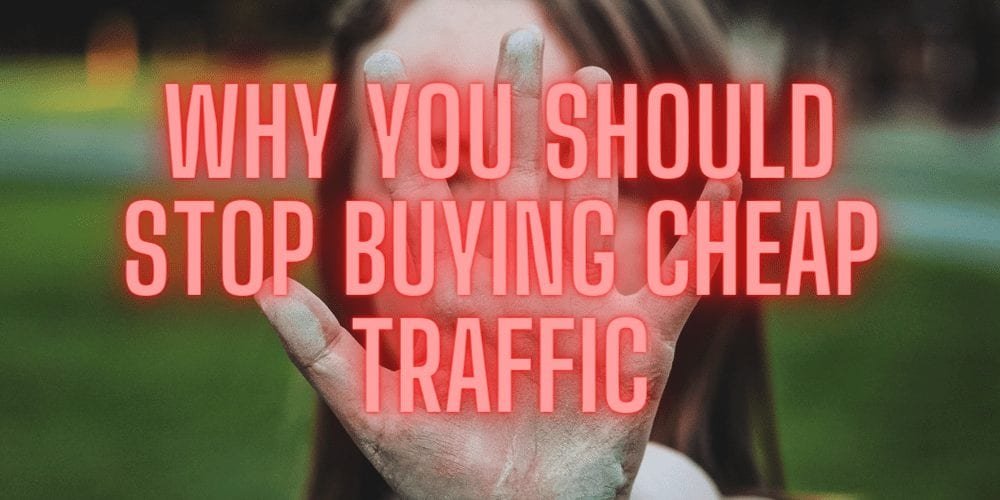 The cost to acquire traffic through paid sources can get expensive real fast. Hence why there are service providers who offers you a set number of traffic for a fraction of the cost.
But of course, there are services like Google AdWords, Instagram Ads, Facebook Ads, etc. They are all operated by giants in the advertisement industry. However, it can be an expensive lesson learned if you don't know how to utilize them properly.
One of the biggest problems that new affiliate marketers face is the false promise of certain paid traffic services. In this article, I will go over why you should stop buying cheap traffic.
There are Two Types of Paid Traffic
High-Quality Traffic: These are targeted traffic and you get them through PPC advertisement. PPC stands for pay-per-click and this doesn't come cheap.
When you use services like Google AdWords, Facebook, and Bing. You target your potential visitors through keywords, geographic locations, etc. So you know the traffic coming in are interested in what you are promoting (highly targeted). This results in higher conversions which increases the chance of you making a sale.
Low-Quality Traffic: These are usually purchased in mass amounts, such as 5000 or more. The problem with these traffics is the low conversion and near ZERO chance of making a sale. The traffic is not targeted to your specific niche and often times, not even organic traffic (real people).
I'm sure you know what kind of traffic to choose because what is the point of having traffic and not making money?
In other words, even though you will spend more money on High-Quality Traffic services like Google AdWords, Facebook, and Bing, but you are more likely to make money to make up for the upfront cost.
The Low-Quality Traffic is exactly what it is, low quality and will only cost you money for nothing, but a number.
Even though you have to spend more money to get higher quality traffic. If I tell you that you can still get the same high-quality traffic and still save a lot of money in the long run.
How To Get High Quality Paid Traffic
Step #1: You can sign up by clicking the following: Google AdWords, Bing, and Facebook.
Step #2: Identify the pages you want to advertise. If you are selling multiple products, I advise you to advertise for each of them individually. This will require more time, but will almost guarantee whoever clicks on the advertisement is interested in the product.
Step #3: Use keywords that your buyers are likely to type in search engines like Google and Bing. This is very important because you want to target traffic that is interested in what you're advertising for. Check out my Jaaxy keyword research tool review by Clicking Here.
Step #4: Create a title and image for your advertisement. This is your first impression, so make it count(:
Is your website or page ready for advertisement?
Even though you have an advertisement and started receiving clicks. What is going to stop your visitors from leaving your website without finding out what you are promoting?
You see, we hate clickbait, so if your content is not good enough and relevant to what you are advertising. The chances of your visitors staying and making a purchase is just as bad as low-quality traffic.
In other words, before you start making your advertisement with Google, Bing, or Facebook. You want to make sure your promoted content is good enough to give your visitors the reason to stay, read, and buy.
An effective way to ensure that your traffic is doing exactly what you want them to do. Building a landing page (sales funnel) using softwares like ClickFunnels is the way to go.
Your landing page will display your offers. The offers can vary such as a product promotion or for lead capturing (list building). ClickFunnels makes it so you can create these pages with minimal effort.
Learn Your Pay Per Click Terms
Advertisements or Ads:
This is a display used to attract visitors on the search engine or websites that are using Google AdSense. When a visitor clicks on the ad, they would be forwarded to your website or the page you selected.
Keywords:
When you're creating your advertisement, you will be asked to select keywords that you want your advertisements to show under. For example: If your keyword is how to make money online, your advertisement will appear when people are searching for how to make money online in the search engines.
The good news is, there are no limits to how many keywords you can use, but make sure they are relevant.
Ad extensions:
Ad extensions allow you to add a phone number and your physical location. This is only recommended for LOCAL businesses. You can skip this if you are only an online business.
Ad-Group:
Ad-Group contains ads that share the same keywords. For example, you are advertising multiple methods to earn money, but under different names. You can include the ads on the same Ad-Group because they are all relevant to making money.
Location:
This is where you want your advertisements to display. If you are a local business, you only want to target people near you. However, if you are a business opened to everyone in the world, you want to expand your geographic to everyone.
Quality Score:
This is a score for your website and how relevant your advertisement is. The score is scaled from 1-10 and 10 being the best. If your advertisement is not relevant to your website, that would decrease your quality score. This is why using relevant keywords is so important!
Clicks:
This is the number of clicks on your advertisement.
Impressions:
This is the number of times your advertisement was displayed on either search engine or a website that contains AdSense.
CTR (Click through ratio):
You can calculate your click-through ratio by using the number of impressions your advertisement had and dividing it by the number of clicks. Example 100 impressions and 10 clicks equal to 10% click through ratio. Basically, you want a higher click-through ratio because that will improve your overall quality score.
Negative Keywords:
These are keywords you don't want to trigger and display your advertisements. If used correctly, you can save yourself money from people who are not that interested. For example, you are selling basketball shoes. You wouldn't want people who are looking for shoes in general.
Content/Display Network:
By turning this off, you will prevent your advertisements from showing up in places that are not relevant to what you are promoting. If you turn this on, you will increase the impressions, but you will not get as many clicks because it is not relevant to what people are looking for.
In Conclusion
Instead of spending hundreds of dollars on low-quality traffic that wouldn't do you any good. You should spend that money on Google AdWords, Bing, and Facebook to get traffic that is interested in your advertisement enough to click it.
But don't send your paid traffic to a page without intent. The page that your paid traffic sees should serve a purpose. Whether it is to gain an email subscriber or to sell a product. For this, I highly recommend using ClickFunnels.
I hope this was helfpul! If you have any questions, please feel free to leave a comment below and I will try my best to help you out.