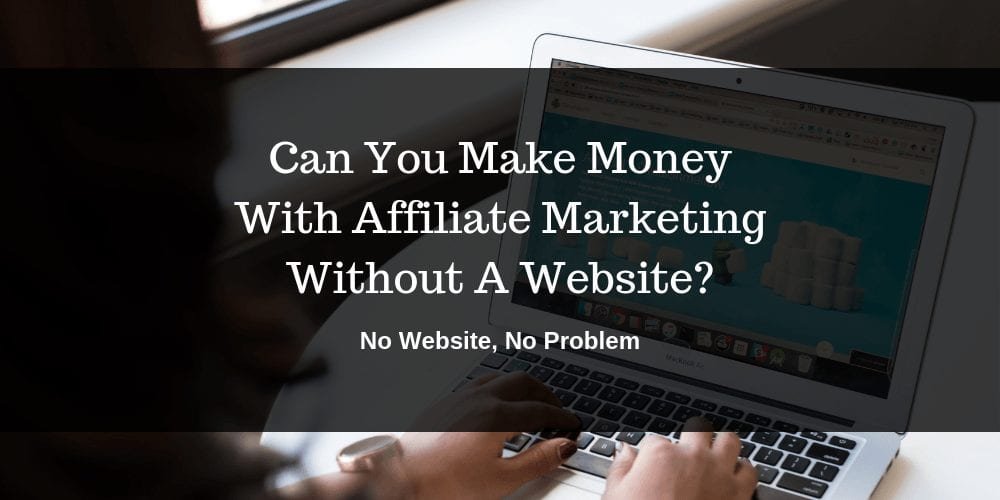 Can you make money with affiliate marketing without a website? Even though I highly recommend that you create a website, but the truth to the matter is. You can definitely make money without a website.
Keep in mind, a website enables you to generate traffic through content marketing. Unless you have thousands of dollars to throw away, I recommend sticking with a website.
Here on Smart Affiliate Hub, I don't need to spend money on advertisement to generate traffic. Instead, its blog posts like this that help me generate traffic organically.
How To Do Affiliate Marketing Without A Website
The good news is, there are various ways to make money with affiliate marketing without a website. Some are free and some are paid methods. Let's continue to learn about both.
Free Methods To Do Affiliate Marketing
YouTube – This is an extremely popular method because YouTube has a large audience base. Besides making money through Google AdSense. A YouTuber can create product review videos to bring awareness to a product. In the description box, he or she can include affiliate links. As long as you have a strong follower base, you can make a significant amount of money using this method.
Social Media – This is next on my list because you can find and join groups that are interested in your affiliate offers. If you take a look at Instagram, there are many so-called influencers who can sell almost anything they recommend. The reason why is because people trust influencers.
Guest Posting – If you don't have a website (again, I recommend that you do). You can write on someone else's blog. Make sure you coordinate with the website owner before you start writing anything. Always try to recommend a solution to a problem. For example, if the blog you're trying to guest post for talks about weight loss. You want to recommend weight loss products.
Paid Methods To Do Affiliate Marketing
Solo Ads – The money is in the list. This is a very popular paid method to do affiliate marketing. If you don't have an email list of your own, you can leverage off of others. The cost per click using this method ranges from pennies to dollars. All you have to do is write a short email with your affiliate link. As long as the list is relevant to your affiliate offer, you MIGHT see results. Otherwise, an email list with irrelevant subscribers will just be a waste of money.
Search Engine Advertisement Networks – One of the most popular is Google Ads because of how popular Google is. Instead of trying to rank on the 1st page of search results. You can skip all of that by paying for advertisements. Another popular one is Bing, but I've never used it myself, so I can't really comment on it.
Social Media Advertisement – Over the years, Social Medias have slowly adapted to integrating advertisements within their platform. If you go on Instagram, Facebook, etc. You'll notice that there are lots of advertisements now. You too as an entrepreneur can create those advertisements by paying per click.
The Cons Of Doing Affiliate Marketing Without A Website
People buy from those they trust. The problem with doing affiliate marketing without a website is how difficult it is to build trust.
Especially in the make money online industry. The reputation is so bad that people will rarely click-through if they don't know you.
Let's say I make a post on Facebook about how to make money online. Most people probably wouldn't buy, but at least some will click-through. Why? It's because they know me and trust me.
Also, without a website, you'll always have to chase after people to see your affiliate links. Let's not forget that you have little to no control. If a Social Media platform deems your links to be spammy. They can remove it and suspend your account.
Lastly, without a website, it is hard to build a brand. Look at Apple.com for example. Why do they have a website? Do you think they would be as successful if they only depended on the free and paid methods that I mentioned above?
Why Having A Website Benefits You As An Affiliate Marketer
I don't talk about this very often, but I love using Quora to generate relevant traffic. Why? When someone asks a question on Quora, they are looking for a solution.
Now Quora doesn't allow direct affiliate links, so instead, I would provide the solution plus a direct link to an article from my website if they are interested in learning more.
Tip: Quora can also help you build valuable back links over time. As long as your response is helpful, people will be more than happy to check out your website and link back.
Also, someone with a website looks more like an authority figure compared to someone who doesn't have one. In the end, this helps me build a larger audience base plus a loyal readership through email marketing.
There's no need to reinvent the wheel. If a large company like Apple has a website, you should too. It's expensive to get started with lots to gain.
How To Get Your Own Website Today
Now that you understand the importance of having your own website. I am currently offering a Free WordPress Installation Service in which you can get started for as low as $2.75 per month.
I will set everything up for you including the appropriate plugins. However, if you're not sure if creating a website is for you.
I do recommend that you check out Wealthy Affiliate. It's an all-in-one platform that enabled me to learn all about how to make money online. It is absolutely free to sign up plus it comes with 2 free websites that you can work on.
After giving it a shot, if you don't like creating a website, you can simply forget about the entire platform and move on.
I also recommend downloading my Ultimate Passive Income Model ebook. It details the exact process of how I started. It's also free to download, so there's nothing to lose!
If you have any additional questions, comments, or concerns. Please leave a comment down below and I will try my best to help you out!
Kind Regards,