Welcome to another daily blog from your host Eric! The topic bitcoin is currently hotter than the hottest thing ever… if that makes any sense.
This article contains my opinion, but nobody can give you a definite answer when it comes to investing anyways. Invest at your own risk(: By the way, Bitcoin predicted to reach $40,000 by the end of 2018!
Anyways, earlier today, Bitcoin's price dropped $1000.00 hours after reaching $11,000. However, people still have high hopes of it stabilizing and rising soon. It was reported that Global Digital Asset Exchange (CGDAX), the exchange of crypto-currency start-up company coinbase had a power outage. You can check out their status by Clicking Here.
According to Michael Novogratz on CNBC, "Bitcoin could be at $40,000 at the end of 2018. It easily could." This sounds like GREAT news for those who are currently investing or has invested in Bitcoins for a while now.
Currently, the demand for Bitcoin is an all-time high but is it too late for people who have NOT invested yet. Are you too late into the game?
Personally, I think you are, but who knows right? That's the beauty of investing. You take the risk of losing everything when you click the play button(:
The Bitcoin Bubble
The following is my interpretation of the bitcoin bubble. Basically, the bubble is the market and the cost of bitcoin is what inflates this bubble.
As the price increases, so does the air in this bubble. It started off as a completely deflated bubble, but as more and more people contribute to this bubble, it expands.
Nobody knows how strong this market or bubble is and when it will pop, but one thing is definite. The longer you wait to contribute, the riskier it becomes. It's almost like passing a time bomb in a rotation, the longer it takes to reach you, the more likely it is to explode.
Get Out While You're Still Up?
Well, that is totally up to how much risk you want to take. Personally, if I invested $300 and profited $9700.00, I would be completely content with the results and stop while I'm still profiting. However, this also means if the price really reaches an astonishing price, you might regret.
This is like gambling at the casino, greed is what causes many people to LOSE a lot of money. You need to know when to stop and just pocket your profits.
The main reason why I would pull out as soon as I can is that you NEVER know what will happen. What if the investors decide the risk is too high and starts selling?
It will naturally cause a chain reaction and others will follow. This could cause a panic in the market and when you find out it is happening. It's already too late.
At this current time, it doesn't seem very likely to happen, so invest wisely and don't put ALL OF YOUR MONEY into this so-called chance of great wealth.
Should You Start Investing In Bitcoin NOW?
The answer is YES and NO! If you have a lot of tangible income that you don't mind LOSING, then go ahead(: You never know, you might become a millionaire by taking the risk. At least even if the market plummets on bitcoins, you will not go bankrupt.
However, this is a BIG NO if investing in bitcoin means investing all of your money. Let's say you invest $10,000 right now and it goes up to $12,000 by next week. Naturally, you will continue to invest because who doesn't like the feeling of making money?
As I stated above if the ballers decide the risk is too high and starts selling. You wouldn't know until it's already too late. Let's say the ballers decides to sell, people like you will start to panic because they want to recoup as much money as possible.
When there is supply with less demand, it becomes very difficult to find a buyer. The longer you hold onto your bitcoin during this phase, the more money you can potentially lose.
Learn How To Make Money Long-Term
Investing is definitely one of the fastest ways to earn money, but it is also the fastest way to lose money. I'm not a pushover and definitely willing to invest, but only when I see it being reasonable in my opinion.
If you are currently investing in bitcoins or in consideration. I wish you all the best of luck. I truly hope this works out for you all, so you can donate to poor people like me(:
Instead of taking so much risk right now, why not look into creating an online business for yourself? You're not going to see quick returns like you would with investing in bitcoin. However, you also don't risk an arm and a leg.
Did you know you can earn a commission by promoting products for a retailer? This is called niche marketing or affiliate marketing.
Internet shopping has become one of the BEST ways to purchase what you want. You don't have to spend time walking around the mall, waiting in line, and dealing with traffic when driving.
Most retailer's online now offers next day shipping, so getting it on the same day is no longer an advantage for local retailer's. Besides, most deals are found online anyway, so you can save money while shopping(:
You're not going to get-rich-quick as an affiliate marketer. It takes time because you have to establish a brand. Why would someone trust you enough to click on a link to buy a product?
Most shoppers spend a lot of time doing research before actually buying the product. Obviously, there are those who know what they want and would go straight to the retailer's website.
What about people who want to know more about a specific product before making a purchase? Let's use an example, someone looking to buy a pair of basketball shoes.
When you make a search for the best basketball shoes in 2017, you will receive a list of relevant results on the search engines. Most of these results are websites created by affiliate marketers. They review these products and when you make a purchase by clicking their conveniently placed links, they earn a commission.
The part that takes time is getting on the first three pages as search results. Generally, new websites wouldn't be found on the first three pages of the search engine because they have NO authority.
My #1 Recommendation
If you consider becoming an affiliate marketer. I recommend checking out Wealthy Affiliate, they have been around since 2005 with over 900,000 members. This is the perfect platform for beginners because someone who has ZERO knowledge of website building or how online marketing works can be successful.
Look at me for example! I joined Wealthy Affiliate on October 14, 2017, and created this website on October 16, 2017. I spent a lot of time going through their certification courses and had help from other members. If it wasn't for Wealthy Affiliate, I wouldn't be here typing this article for you.
The best part about Wealthy Affiliate is the money factor. It is absolutely FREE to join and doesn't require your credit card information when registering.
They do however offer a PREMIUM membership for $49.00 per month, but this comes with lots of extra perks! You actually don't need to upgrade to receive 2 free websites along with hosting and their certification courses. Click on the banner below to check out my 2017, Wealthy Affiliate Review to get more details.
Thank you again for taking the time to read through this article and I hope you are now able to make an informative decision in terms of investing in bitcoin and becoming an affiliate marketer. If you have any questions or suggestions, please leave a comment below(: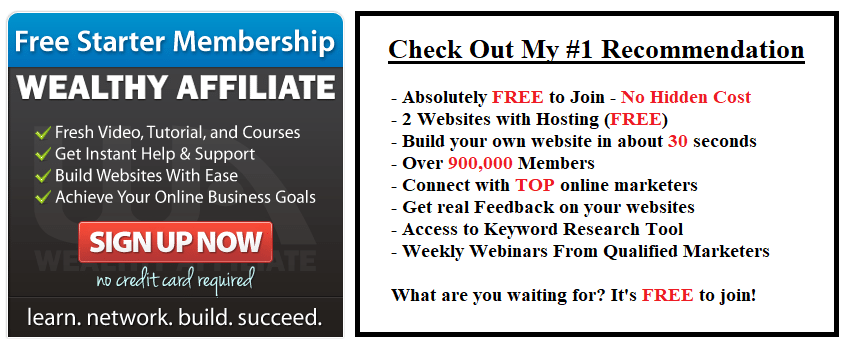 Kind Regards,