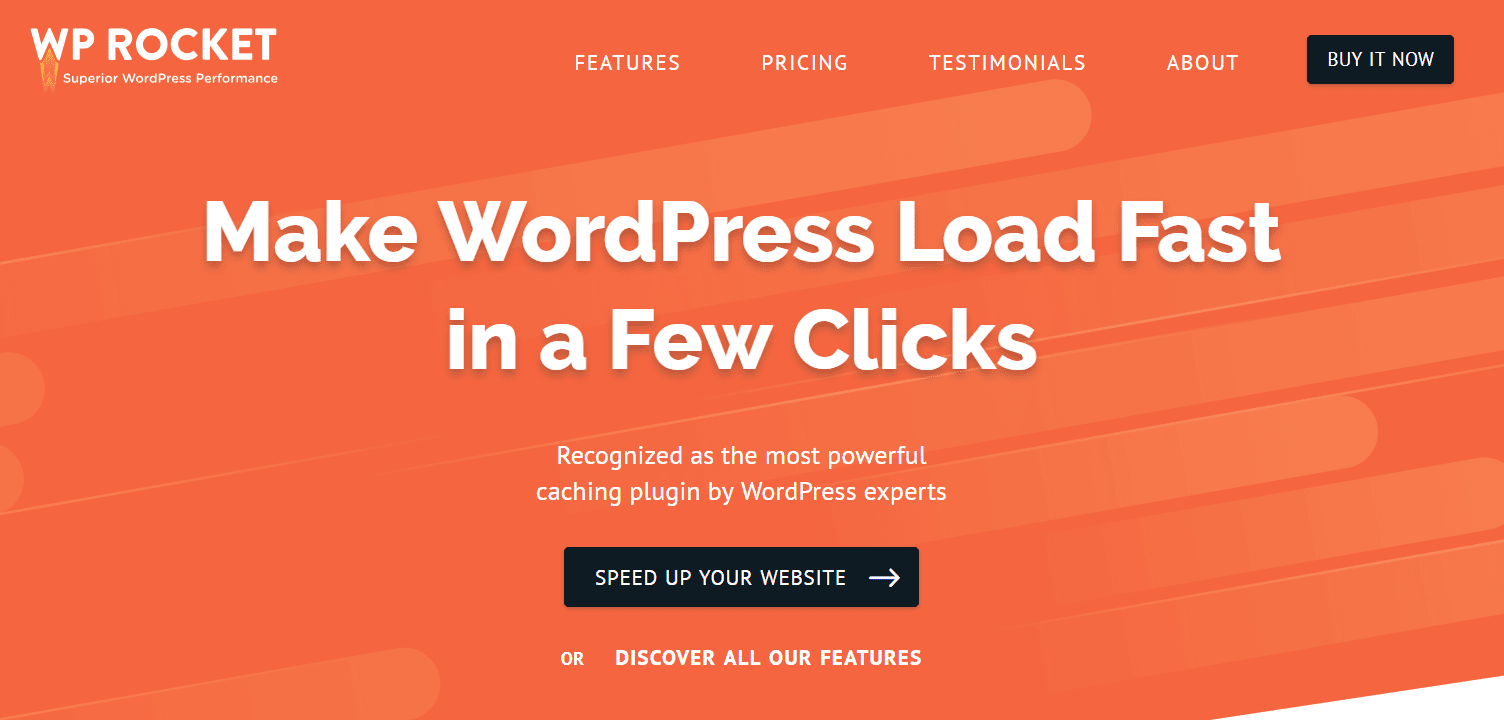 Last month, I reviewed the w3 total cache plugin and was quite impressed with how much it sped up my website. Even though I was impressed, I wanted more, an even better plugin! That's when I stumbled upon WP Rocket.
After using it, I have completely replaced the w3 total cache because it's simply a better cache tool!
WP Rocket is an all-in-one tool for WordPress performance optimization. Unlike many of its competitors, the interface is designed for beginners in mind.
When I first looked into configuring the w3 total cache too, it was quite confusing!— W3 total cache is not a bad tool, it just takes time to configure. For my free WordPress installation service, I will configure it for you!
If you are in the market for a cache plugin to speed up your WordPress website. You've come to the right place because I will showcase to you, the power of WP Rocket. A tool that is going to take your blog from turtle speed up to rocket speed!
What WP Rocket Has Done For Me
My website is hosted on Hostgator and it's certainly not slow, to begin with. I am going to show you my speed results from when I deactivate WP Rocket and when I have it activated. The first image is without WP Rocket and the second image is with WP Rocket.
According to the pictures, my fully loaded time reduced by 2.1 seconds! The total page size reduced by 60KB and the HTTP requests reduced by 19! My blog still has room for improvement, but the results from the simple functions of WP Rocket really blew my mind!
Now that we talked about how WP Rocket has helped speed up my website. Let's dive deeper into the product and see how it can help you speed up your website!
Unbiased WP Rocket Review
WP Rocket is not just a caching plugin, it actually does optimizations that you would normally need additional plugins for. As I mentioned earlier, the W3 Total Cache Plugin requires a ton of configuration. If you've used it before, you'll understand how confusing it can be for somebody who is brand new to it.
The worst part is, if configured incorrectly, it will actually slow down or break your website. With Wp Rocket, it's extremely simple to use and minimizes the odds of breaking your website. However, if it causes an error on your website, you can simply roll it back in their toolbar!
By simply activating WP Rocket, it will automatically set the following by default (enough to speed up most websites instantly):
Page Caching (Static HTML File Cache)
Browser Caching (on Apache, if available on the server)
GZIP Compression (on Apache, if available on the server)
Cross-Origin Support For Web Fonts (on Apache)
Detection And Support For Various Plugins, Themes, And Hosting Environments (Reduces the possibility of breaking your website)
If that's not enough to speed up your website, there are other areas that you can set on your own:
Cache Preload: Builds The Cache, So Your Website Is Fast (consistently)
Optimization: Minify and Combine Your CSS And Javascript Files
Lazyloading: Delays the images from loading until the user scrolls down the page.
Remove Query Strings From Static Sources
Disable Emjois/Embeds
Combine Google Font Files
Defer JS Loading
How To Configure WP Rocket For Your WordPress Blog
If you are interested in purchasing the WP Rocket, the following will teach you how to configure your WP Rocket. Make sure you test your website each time you changed a setting to ensure that your website is still functioning properly. Also, make sure you disable any existing cache tool that you may have on your blog to avoid conflicts.
Note: The interface is based on the current version WP Rocket 3.1.4, so own the road, the interface may change.
If you take a quick look at the dashboard, on the right sidebar, you can remove all your cached files. I recommend clicking on that everytime you change a setting. I would also check your website on a browser with incognito mode enabled to see if it's functioning properly.
The left sidebar is where you can configure the advanced settings of WP Rocket. Without further ado, let's start configuring it!
Cache – Basic Cache Options
The Cache Tab enables you to control the cache functions such as:
Enable/Disable Caching for Mobile Users
Enable/Disable Caching for logged-In WordPress Users
Enable Caching on HTTPS (SSL) Pages
Choose how long you want a page to remain cached before it gets cleared (Default 10 Hours)
File Optimization – Minification And Concatenation
The File Optimization Tab enables you to control minification and concatenation functions:
Minification: Reduces the size of your website's code by removing things like whitespace without changing any functions.
Concatenation: Reduces the number of files on your website by combining multiple CSS and JavaScript into one.
Combine Google Font Files: This is extremely helpful if you use multiple Google Fonts on your website.
Optimize CSS Delivery: Eliminate Render-blocking CSS and JavaScript for faster-perceived load time.
Remove Query Strings from Static Sources: Improves site speed score!
Be aware that minification and concatenation can break your website. I highly recommend that you enable each setting one at a time to check if your website is functioning properly. WP Rocket will warn you about it and if it causes an error on your website. You can simply go back and deactivate that setting and your website will revert back to normal.
Media – LazyLoad, Emojis, Embeds
The Media Tab enables lazy loading for images, iframes, and videos as well as disabling WordPress Emojis and Embeds.
Preload Your Cache Files
If you don't preload your cache files, your website will only build the cache for the page when someone actually visits the page. To increase the speed for all of your visitors, preloading your cache files will preload the cache files before someone actually visits the page.
The WP Rocket preload function enables you to do the following:
Sitemap preloading: preloads your cache file based on your sitemap.xml file. The only disadvantage this has is that it doesn't cache your newly published or edited posts.
Preload bot: automatically crawls URLs after you publish or edit a blog post. This ensures that your content is always preloaded. The only disadvantage for this feature is that it requires more resources which is not good for weak web servers.
Advanced Rules – Fine Tune Cache Rules
For most people, you will never change anything for the advanced rules! If you do mess with this section, it enables you to control how your cache functions for specific URLs, cookies, user-agents, etc. This is useful if you want to exclude things from being cached.
Database – Optimize, Reduce Bloat
Over time, your website's database will start to gather all kinds of file int he form of revisions, trashed comments, spam comments, transients, etc. Normally, you would need a separate plugin to clean up your database. WP Rocket comes with its own feature, so you can start removing unnecessary files in your database with ease!
CDN – Integrate With Your CDN Plus CloudFlare Add-On
If you use a CDN to speed up your global delivery (brings your blog closer to your visitors). WP Rocket can you help you integrate your CDN. If you use free plugins for this, you can delete it and just use the feature integrated with Wp Rocket!
If you use Cloudflare like me, WP Rocket dedicates an add-on to help you set up Cloudflare and control certain Cloudflare services right from the WP Rocket interface:
And that sums up the features offered by WP Rocket! Hope you enjoyed it. (:
In Conclusion
I think WP Rocket is a great plugin and has definitely helped speed up my websites! There are free alternatives, but with the easy-to-use features on WP Rocket, it will speed up the process for you. Time is money, right?
For $39.00, it will allow you to eliminate extra plugins because WP Rocket is an all-in-one speed solution. Save yourself time and avoid issues that involve with misconfiguring your cache tool. I am not an affiliate of WP Rocket, so I won't earn a commission whether you buy it or not. I just want to inform you of a plugin that I personally use.
If you have any questions, comments, or concerns in regards to WP Rocket or anything in general. Please leave a comment down below and I will try my best to help you out!
Cheers,